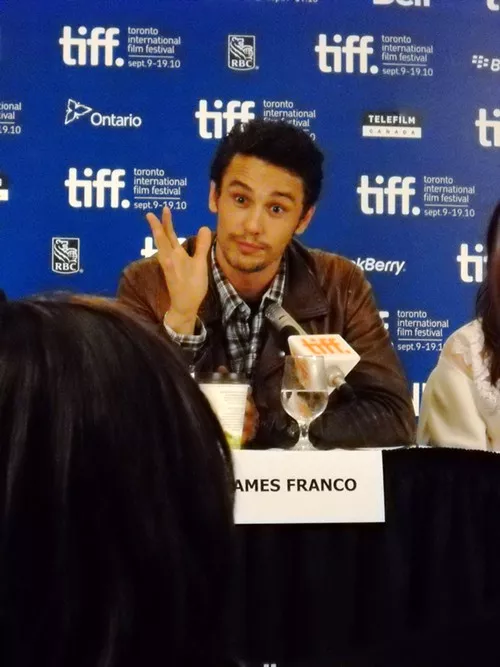 Today began by sharing air with one Amber Tamblyn, who I consider the best American actress under 30. She was not the main event, however—that would be living performance art project James Franco, who stars in 127 Hours, Danny Boyle's follow-up to Slumdog Millionaire, in which a man becomes trapped under a boulder while rock climbing and ends up cutting his own arm off. The subject of the film, Aron Ralston, was also present, lending the time more gravity than your average press conference.
TT
Oh hey, it's Amber Tamblyn, looking right at me. Maybe she recognizes me from our MySpace friendship.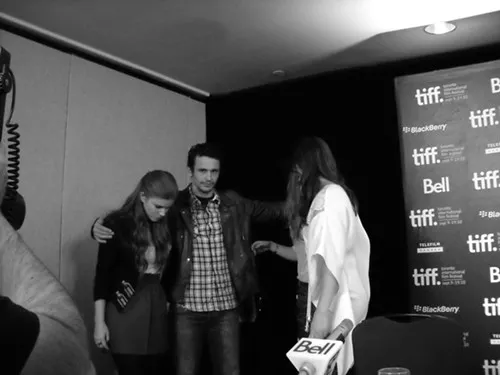 TT
Oh hey, it's James Franco, looking right at me.
Jack Goes Boating is the directorial debut of Philip Seymour Hoffman, a four-hander about sad New Yorkers. It was adapted from a play and feels like it—they almost always do, right, winds of change from Doubt?—and takes place in winter, so it's pretty muddy and dingy-looking. Luckily for Hoffman—a quarter of the square—he put the luminous Amy Ryan at the centre. His Jack is a social malcontent who falls in love with her Connie, a kind person who's not received much in return. They are connected by mutual friends John Ortiz and Daphne Rubin Vega, who are married and in trouble. It's tonally uncomfortable, which was probably Hoffman's intent, and though it's not a home run, there's great acting on display—another common theme in films adapted from plays.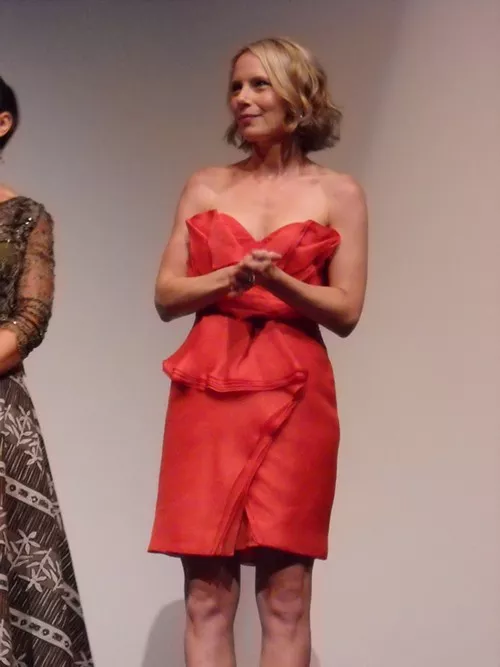 TT
Oh heyyyyyyyy Amy Ryan, you sexy bastard.
"Tonally uncomfortable" would be a nice place to start with What's Wrong with Virginia (the program tacks a question mark on, but the title screen does not, and that means something), the directorial debut of Oscar winner Dustin Lance Black (Milk). Tone is at least third on the long list of problems with this drama, which only gets interesting for about 10 minutes that come 100 minutes after you've stopped caring. He puts Jennifer Connelly in an unbecoming dye job and lets her unleash her crazy, the kind of thing actors love to play—but Connelly, an Oscar winner herself, should definitely look into a new agent since she hasn't had a good role, in a good movie, since Little Children (2006!), and she is too good to waste.
Set in Virginia Beach in the summertime, it's part mental illness study, part coming of age story, part power struggle—Ed Harris is the local sheriff running for the senate and who's been sleeping with Connelly since she was 16—and if that weren't enough, there's incest, suicide and bank robbery. It's not funny, it's not charming and it's only clear it's set in modern day when a character mentions the internet. In short, it's a first film. There were massive walkouts; I will continue to direct my hate at the more deserving Passion Play . What's Wrong with Virginia is mostly a light hand in the editing room.