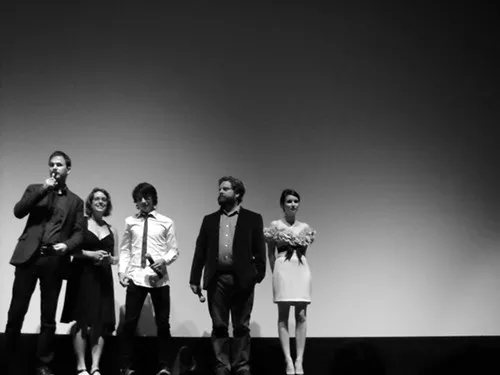 TT
It's Kind of a Funny Story: Directors Ryan Fleck and Anna Boden, stars Keir Gilchrist, Zach Galifinakis and Emma Roberts at the Ryerson Saturday night.
For the second day running, I was stuck in an unfortunate pattern of meh to great in regards to film quality—great if you're home on the couch, less so stretched across 12 hours out in the world.
My favourite film of 2006 was Stranger Than Fiction, in which Will Ferrell went the Jim Carrey route by taking a serious turn. It worked wonderfully, and then he followed the money, did a bunch of shit and seriously lost his way. He's trying to leverage back some of that blown respect with Everything Must Go, in which he plays a barely functioning alcoholic who gets fired then arrives home to find all his stuff on his lawn. His wife has locked him out, left him and frozen their joint accounts. He's got five days, by Arizona law, to sell all his stuff before it's no longer considered a yard sale.
The film is not quite there somehow—like Punch Drunk Love-level Adam Sandler, Ferrell needs a scene in which he busts out his signature belligerent yelling, or some kind of outburst, but he's just flat and defeated, and not in the Oscar-winning way. Rebecca Hall, the buzzy British actor who was in Nicole Holofcener's Please Give and also appears in Ben Affleck's TIFF entry The Town, shows promise, if not purpose, as a new neighbour (dear casting directors: she could be Molly Parker's sister). Even with someone likable in the role, it's hard to root for guys like this, and a third-act reveal comes too late to make the movie a strong recommend.
PHOTO INTERLUDE:
TT
Alexis "Rory Gilmore" Bledel was 10 feet from my face today.
TT
The Conspirator stars James McAvoy('s head) and Robin Wright.
TT
If you want to see a star, you have to stand in this dark-ass alley that smells like urine.
Like Justin "not a romantic lead" Long, here.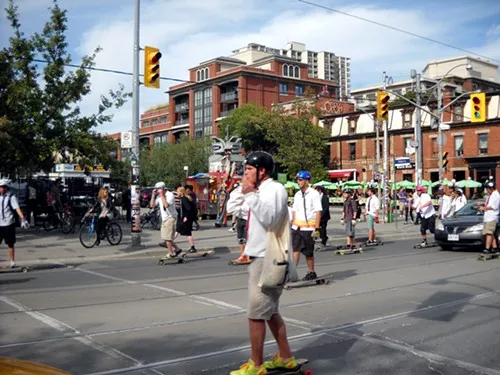 Then I ran into this mob skateboarding through traffic on Queen Street. Not sure why.
My review of Tamara Drewe will be in the paper this week, since it's an AFF entry also, so I won't go on too much about it—Stephen Frears has done much, much better but if you like fizzy, minor British comedies you should probably keep an eye out.
Passion Play was a Priority Press screening—meaning the Roger Eberts and Peter Traverses of the world get in before I do—which was a total waste of hype, because it plays like something that was in the can for three years then released straight to DVD once Mickey Rourke and Megan Fox caught some hype. Screenwriter Mitch Glazer (the Hawke/Paltrow Great Expectations) makes his mostly inept directorial debut with this bitter, unpleasant story about a Vegas trumpet player (Rourke) who stumbles into a travelling carnival to find Lily (Fox, who actually shows some range and it's wasted). He falls in love, they run away together, he tries to pay off an old gangster debt (to Bill Murray!) by offering her up in exchange for his life—she'll bring the gangster a good buck because she has wings. That's right. Bird wings. (He rescued her from the freak show. Has there been a good circus movie since Carny, by the by?)
Terribly shot and written, Glazer's got Rourke facing death so many times that an hour in you're hoping someone will just shoot him already, or at least you, and end this awful experiment. Way to squander that Wrestler good will, Mickey.
The best film of my day came 12 hours after the first one. It's Kind of a Funny Story is directed by the unstoppable team of Anna Boden and Ryan Fleck (Half Nelson, Sugar), starring Keir Gilchrist as a teen who commits himself instead of offing himself. A minimum stay is five days, so he's stuck with depressive Zach Galifinakis and cutter Emma Roberts (who gets second billing, despite the presence of Viola Davis and Lauren Graham, and the fact that she's got just a handful of scenes), among others.
A study of how crushing adolescence can be, especially now, Story is struck through with beautiful animations, a deft use of freeze frame and stop-motion, plentiful laughs and a showstopper of a fantasy sequence as the cast performs "Under Pressure" (it got a round of applause at the Ryerson). Galifinakis is beginning to turn into a real actor, as opposed to a comedian who gets movie roles, and Gilchrist brings the same sensitivity and charm to this role as he does to his main gig on The United States of Tara. This is a winner—watch for it this fall.