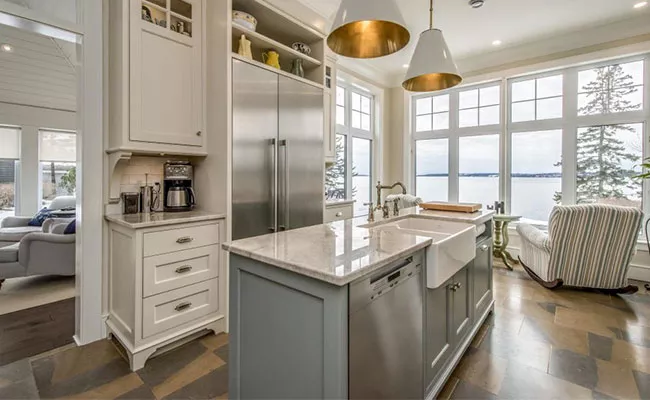 1.
Spice up the ceiling
Coloured ceilings work particularly well in homes with high ceilings (nine feet or more), says designer Sappho Griffin. "The fifth wall, as I call it, has been ignored for so long. It's always sort of been ceiling paint: white." A bold or dark colour on the ceiling works makes a space more intimate, while a lighter colour or "something with a bit of a shine" makes the room feel larger. the "fifth wall" also offers an opportunity experiment with wallpaper. "If you don't want a whole room in wallpaper—which can sometimes feel overwhelming, or you're worried about getting tired of it—just doing one wall, which would be the ceiling, is a great way to add something unexpected."
2.

Outside in
In Griffin's opinion, if you're going to bring a plant into your home, it ought to be the real thing. "Some plants are really sculptural, which is great. There seems to be more variety available these days because of extra interest people have had—and colour, too." Griffin points out that plants are not as pricy as art, so they're a good option to fill space without breaking the bank. "I think fake plants are a faux pas right now," she cautions. For serial plant killers, however, there are other ways to bring the outdoors into your place. "There's some great fabrics out there that have more of a floral design, be it with flowers or leaves—I think you can get that sort of fresh look without having to do it with something that's faux."
3.
Mixed metals
"I like the freedom of being able to create more of a dynamic, layered look," says Griffin. "Certainly, mixing the metals gives you an opportunity to find things that are complementary or contrasting." In the kitchen, for instance, one could use brass on the cabinet pulls and bronze on the light fixtures. Mixing metals on the same fixture is fair game as well.
"It doesn't tie you to one look. It gives you the opportunity to layer, and that's what I love about the direction design seems to be going lately."