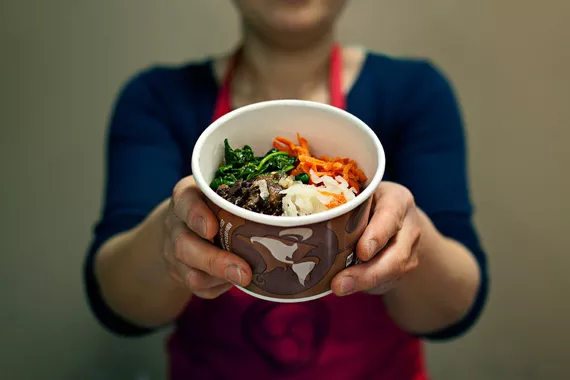 A far cry from the high-octane experience of the Seaport, the new Halifax Forum Farmers' Market is a much more relaxed and intimate affair. A mere three weeks old, the market takes place from 8 am to 1 pm every Saturday. While it's still working out the kinks, there's a quaint as all get-out atmosphere, a nice sense of community and languid pace established already. If for some reason you need more convincing other than the idea of an cozy pastoral market inside the Forum's bingo hall, here are three great vendors that will make the Saturday trek worth your while.
1. Honey & Butter A newcomer to the market scene, owner and operator Cait Holmes has only been running Honey & Butter for the three weeks the market's been open. She's started strong right out of the gate, and her sinfully sweet indulgences not only look adorable, but are wonderfully decadent to boot. Lemon tarts, her own spin on Oreos—including bourbon and vanilla bean—and homemade bagels should be more than enough to get you there.
2. El Gallo Mexican Cuisine While El Gallo has been a staple at the Seaport Market for quite some time, its outpost at the Forum market is still a great reason to visit—especially if you're more northerly located and are an absolute fiend for fresh tostadas, seriously zesty lime and cilantro dip, and the best guacamole you've maybe ever tried. If you're looking for no-nonsense, seriously authentic south-of-the-border cuisine, look no further.
3. Moonhei's Korean Delights Using locally sourced ingredients from market vendors, Moonhei's Korean Delights offers authentic dishes like bibimbap that are exploding with intense flavour, delicately spiced and expertly crafted. Using free-range chicken and eggs, and catering to vegetarians and vegans alike with meat-free alternatives, Moonhei's spicy, tangy, terrific Korean food is also absolutely perfect for a Saturday hangover meal.