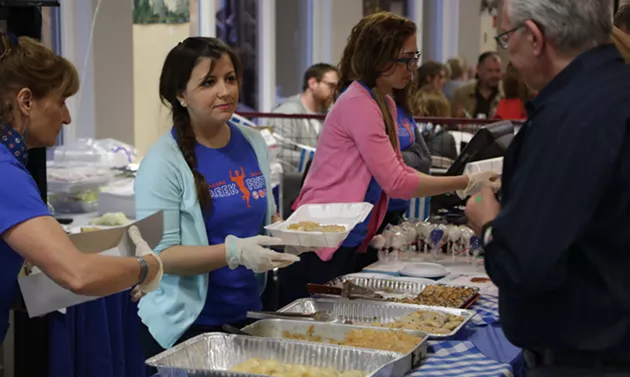 Halifax Greek Fest
St. George's Greek Orthodox Community
38 Purcell's Cove Road
June 7-10
It's year 33 for the
Halifax Greek Fest
, an annual celebration of culture where music, dancing, church tours and endless good food work together to make a weekend that's sort of synonymous with summer kick-off. We chatted with
George Kapetanakis
—The Armview Restaurant and Lounge owner and Greek Fest volunteer—about how to conquer the festival's menu. His number one tip? Get there early.
1. THE GREEK PLATE
"You get the variety pack there, and it's pretty damn delicious," says Kapetanakis. A favourite dish from the kitchen, this all-encompassing platter gets you pork or chicken souvlaki, moussaka, spanakopita, salad, lemon roasted potatoes and tzatziki. "The ladies down there have been working their arses off," he adds.
2.PORK SOUVLAKI WRAP
This snack comes straight from the grill and features hand-cut, long-marinated, grilled-to-perfection pork and fresh tzatziki. Kapetanakis calls it "a labour of love." "The donair is huge, it was invented by Greeks in Halifax, but the entire population of Greece eats this dish," he says. Added bonus? It's only $7.
3. BAKLAVA
You can't
not
eat this. Phyllo pastry. Walnuts. Honey. "You can't go wrong really," says Kapetanakis. "It's a little bit of sweet, a little bit of bitter, it's the quintessential Greek dessert." And if there's any time to go classic, it's now.