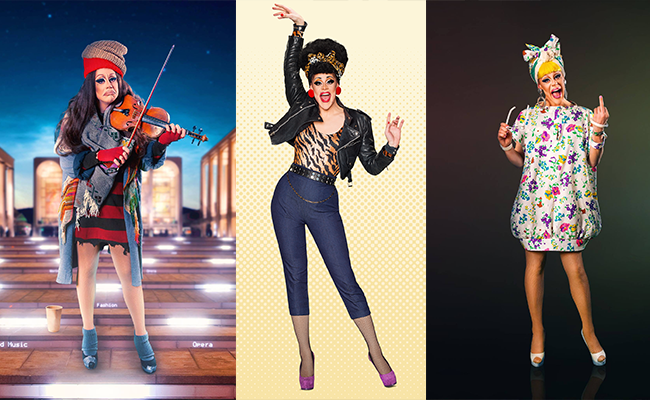 Thorgy and the Thorchestra July 27-28, 7:30pm Rebecca Cohn Auditorium 6101 University Avenue $25-$55
History—or rather, "herstory"—will be made when Thorgy Thor (AKA Shane Galligan) of RuPaul's Drag Race fame graces the Rebecca Cohn this weekend stage to give Canada its first-ever orchestral drag performance: Thorgy and the Thorchestra. Presented by Symphony Nova Scotia, it's a spectacle that's opening doors for LGBTQ+ representation in classical music—while snatching a few wigs here and there.
With an outrageous fashion sense, razor-sharp wit and virtuoso chops on violin, viola and cello, the reigning "queen of classical music" plans to wow crowds with her versatility and prowess. Ascending from humble NYC basement club beginnings, Thor hopes her Thorchestra dreams materialize when she plays to Maritime audiences. "It was an ego-booster when I heard we sold out the first show and needed to add another date—next stop international tour!" says Thor. "I am so humbled and have even cried while practicing for this—it means so much to me to combine my two selves and have so much interest from the public."
The show will feature Thor working her way through current pop and orchestra hits, all with an LGBTQ+ focus: Songs by Madonna, Lady Gaga and Whitney Houston paired with scores by Tchaikovsky, Copland and Smyth.
Daniel Bartholomew-Poyser, SNS's artist-in-residence, is excited to see Thor's dreams come true. Also the show's conductor, he was instrumental in reaching out to Thor and wants to create space for LGBTQ+ individuals in domains that haven't been welcoming. "As a member of the LGBTQ community, I'll use whatever I can to create queer-friendly spaces," he says. "There are so many people who aren't welcome in their homes, churches or their jobs—but they are welcome at my concert." It's going to be unpredictable for all parties involved. "I've never done anything like this in my life."
"It feels good to bring everyone together under roof," says Thor. "I'm hoping the younger generation of artistically inclined and queer-identifying kids feel inspired by me and say to themselves 'I, too, can be a man in a wig playing violin on stage.'"