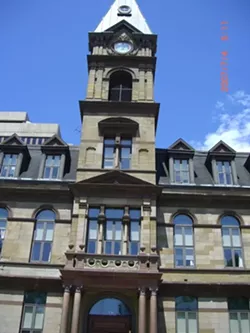 This week's meeting was yet again a short one, and even councillors are starting to comment on how little is handled at council meetings, as compared to last year. A reader complains that I don't explain why this is a bad development, which is a fair comment. A fuller, and more researched, explanation will have to wait for another day, but for now let me put it like this: the work flow coming out of council is plummeting.
And no, this does not mean that council isn't dealing with cats, so other stuff is getting done. (I'm all for council dealing with cats, but that's another story.) What it means in concrete terms is that councillors are asking for staff reports, and those staff reports take months and now even years to materialize back at council. It means that stuff everyone wants—district heating, for example—falls into a black hole in City Hall, and it takes a councillor or a group of councillors smacking the outside of the box a few times in order to get it moving again.
In short: the bureaucracy is getting gunked up, and is moving like molasses. This is not good governance. Like I said, I'll try to put some concrete numbers to this in the future, but for comparison's sake, compare this week's council agenda with the agenda from the same week last year. This week's meeting lasted about three hours, while last year's meeting lasted over six. This week's meeting had near-unanimous votes on all issues, while last year's meeting had wide-ranging discussion and tight, divided votes on several issues. And this comparison between this year's meetings and last year's meetings has held up for months, now, week in and week out, since the October election. We can debate whether substance-free council meetings is a good or a bad thing, but their reality is undeniable.
Changing recycling policy
The first of two notable issues dealt with this week is a city proposal to re-organize the way the province goes about recycling. The recycling program was set up 17 years ago, when the brand-spanking new HRM established the brand-spanking new Otter Lake Landfill, which included all sorts of brand-spnking new "diversion" ideals, meant to keep recyclables from ending up in the landfill. As we know, 17 years ago this was ground-breaking stuff, and Halifax has been resting on its laurels ever since, while the rest of the world has caught up and even surpassed our once golden waste system.
Anyway, the recycling part works like this: At the store, consumers are charged a 10-cent deposit on all beverage containers. Five cents of that deposit can be refunded to the consumer, assuming the consumer bothers to collect the bottles and bring them to an Enviro Depot. The other five cents, however, has gone to something called the Resource Recovery Fund Board, a provincial body established to, among other things, educate the public about the importance of recycling.
But most people don't go to the trouble of saving their own recyclables. Some people just put them in a blue bag on the side of the road on "garbage day," and if the truck picks them up, they end up at a sorting facility at the landfill, and the city gets that second five cents. Of course, we all know that there are legions of bottle collectors who troll the streets with shopping carts before the recycling truck comes around, and they pick up the bottles and take them themselves to Enviro Depot. A lot of people have developed informal relations with the bottle collectors and have skipped the blue bag exercise completely, leaving the bottles in a place where the collector can get them.
Then there are a bunch of charities, or non-registered groups like sports leagues, that use collecting recycling as fund-raisers. They ask supporters to set aside their recyclables, then little Johnny's or Susie's mom comes around once a month in the minivan to collect them and take them to Enviro Depot. This is a significant form of needed revenue for a lot of groups.
There are 22 Enviro Depots just in HRM, each with its own management and staff, and many that work with non-profit agencies to employ people with disabilities or other issues that may be obstacles to other employment.
So, in terms of the social effect of the recycling program, figure a few dozen charitable groups with several thousand participants that benefit through fund-raising with recyclables; maybe a 100 or so street bottle collectors, most of whom couldn't find other employment, who eke out some income; a few hundred Enviro Depot employees, including people facing employment obstacles and, lastly, thousands of simply frugal consumers, who want to collect back half of the deposit money they paid at the grocery store.
The "problem," though is that the Resource Recovery Fund Board is going broke. Is that a surprise, really? Can you name even one other consumer item that has seen no price increase over the past 17 years? That's zero new income, while normal inflation (and, admittedly, mission creep) has led to the increase in costs to the RRFB. Projections are that, with no changes, the RRFB will go bankrupt by 2016.
The province, which oversees the RRFB, has sensibly asked for input on how the situation can be addressed. There's nothing wrong with reviewing the mandate of the RRFB, auditing its expenses and so forth, and making those changes that make sense to keep the program moving forward in a coherent, efficient manner. But the city has used the opportunity to ask for a wholesale, radical change: under the city's proposal, the RRFB would be eliminated completely, the 10-cent "deposit" would be reduced to five cents, but no one besides the city would be able to claim it—all the Enviro Depots would be eliminated, and the only way to get bottles recycled would be to put them on the curb in a blue bag.
In real terms, the charities and street bottle collectors, as well as the people employed at EDs, would be shit out of luck. Same with those frugal consumers who redeem their own recyclables: it's true that they now only get half their "deposit" money back, but under the city's proposal they won't get any of it back, albeit they'd be out the same five cents, before and after the change.
I can't help but wondering if the city will find a new word for "deposit," or if the meaning of that word will stretch to include the reality that a refund is impossible. Or, maybe we'll get to some absurd Seinfeld future, where it makes sense for bottle collectors to rent a U-Haul and fill it with blue bags that they take to redeem in New Brunswick or Quebec.
With the exception of David Hendsbee, councillors all voted to, well, to "fuck the poor!":
The solution to the RRFB "crisis" is obvious: like everything else in the universe, the cost of the deposit should increase over time. Had the deposit amount simply kept pace with inflation, it'd now be about 13.5 cents, but let's give our street collectors a raise and call it 15 cents, or heck, even an even 20. Problem solved.
Council did the absolute worst thing it could do—voted to destroy a sensible system that is easily fixed while sticking it to poor people—but thankfully this isn't a council decision. The province has ultimate say on this, and likely provincial officials will thank city councillors for their input, ignore it, and then go ahead and raise the deposit amount.
Sidewalk plowing
The second notable issue at council was a proposal by councillor Linda Mosher to have the city be responsible for plowing all urban and suburban sidewalks on the city right-of-way. In practical terms, this means people will no longer have to shovel the walk next to the street in front of their house.
Lots of areas already pay a surcharge on their property taxes to get sidewalk clearing. I do, for my house in Dartmouth. It costs about $30, as I recall. Mosher's proposal, however, is for the plowing to be paid for through the general tax rate. In real terms, this means my taxes would go down a bit, but people who currently don't pay for plowing would see their taxes go up a bit. I can't imagine this would be much—20 bucks a house, maybe, because there are economies of scale.
Mosher simply asked for a staff report, which, given how things are going, may not come back to council until well into the next millennium. But, when it and if it ever shows up at council, there will be a big bitch-fest about standards, about plow drivers tearing up lawns, about too much salt... and, no doubt, another toe in the door for "tax reform." Stay tuned.