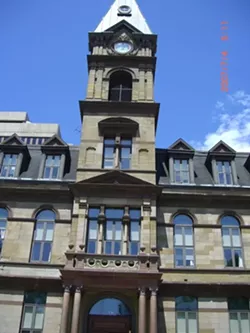 There were only two items of importance agendized for this week's council meeting: sidewalks and stormwater. The sidewalk discussion went on for three hours, but doesn't much directly affect readers in the urban area, except it raises interesting philosophical issues that we should worry about down the road. The stormwater discussion was postponed for two weeks, but is so important we'll discuss it a bit here as well.
Sidewalks
Sidewalks are one of the many unresolved issues left over from amalgamation in 1996. Before amalgamtion, the older parts of the cities of of Halifax and Dartmouth, and most of the town of Bedford, had built sidewalks along almost all residential streets. (There are some exceptions, but this is the general situation.) Since amalgamation, any developer of a suburban neighbourhood has been required to build sidewalks as part of the development agreement.
Still, that leaves an awful lot of people without sidewalks: all the people living in old neighbourhoods in the suburbs, in places like Cole Harbour and Sackville, in the parts of the old city of Halifax annexed in from the 1960s through the 1990s—Spryfield, Armdale and Fairview, for example—and even in newish pre-amalgamation neighbourhoods like all of Kingswood. And no one much in rural areas has sidewalks.
This situation was more or less reflected in the tax zones that were created with amalgamation: the tax rate for the urban areas is higher, reflecting the costs of building and maintaining sidewalks, while the tax rate in the suburbs is lower, because they don't have sidewalks. (Again, there are exceptions, but this is the general framework.)
Over the past 17 years, however, some neighbourhoods without sidewalks wanted to get sidewalks. These new sidewalks were built and paid for through something called a Local Improvement Charge. Residents first had to vote for it, but if it were approved by a majority vote, the sidewalk was built and the homeowners who had a new sidewalk built along the street in front of their houses would be charged an amount based on their property value. That charge is typically financed and spread over a decade or more, and shows up on the property tax bill.
As with all tax policy, there are multiple ways of going about charging taxes. None are "right" or "wrong," and there's never going to be a universally acceptable way to charge taxes. The LIC was and is a perfectly reasonable way of going about building sidewalks, or it's perfectly unreasonable, depending on your perspective. Let's examine that a bit.
Say you live in a neighbourhood without sidewalks, and you have two kids who have to walk to the school a couple of kilometres away. For the safety of your kids, you want sidewalks in the neighbourhood, so you vote in favour of the LIC. The small charge on your tax bill seems reasonable.
Your next door neighbour, however, has no kids. In the morning, he walks into his attached garage, gets in his car, pushes the automatic garage door opener, and drives to work, reversing the process in the evening. He never walks anywhere around his house, and has absolutely no desire for sidewalks. Sidewalks are, in fact, an imposition, because he'll have to shovel them when it snows. He votes against the LIC.
These sorts of dynamics get multiplied when people in different LICs start comparing themselves to each other, as the LIC charge ranges from an eighth of a cent per hundred dollar value, all the way up to eight cents per hundred dollar value. Put another way, the LIC charges range from about $17 per year on the average house, to $172, 10 times as much. These rates differ primarily for engineering reasons, as some neighbourhoods are on hills or face ditching issues, etc. But that doesn't change the dynamic. "Where is the fairness?" ask people on the high end of the spectrum. "Why should I pay more because someone else has more expensive sidewalks," counter those on the lower end of the spectrum.
These issues began to get explored during the ill-fated "tax reform" proposal in 2009. At that time, the sidewalk issue was pushed aside for the time being, but "reform" advocates got their toe in the tax door with a "reform" approach to bus charges.
Let's back up and explain why we put "reform" in quotation marks: because it depends on perspective. People advocating the change anticipate lower taxes, so use the change-friendly term "reform." But in reality, any change in tax policy that doesn't lower total costs results in some people, often most people, paying more in taxes, not less. That was certainly the case in the broader "tax reform" proposal, which is why it became politically untenable. "Reform," then, is in the eye of the beholder.
The "tax reform" proposal was to move to a fee-for-service approach. Somehow, the costs of each service provided by the city would be determined per household, and each property would be charged accordingly. On some simplistic level, this makes sense, but once you consider it for a while, you see there are so many variables at play that the resulting charge is essentially arbitrary.
Take buses, for example. Most of the cost of buses is spread across the entire municipality, but with the "tax reform" logic, there was a desire to impose a "local transit" fee, which reflected the fact that buses are available in some neighbourhoods but not others. The proposal that came from a tax reform committee was that if you live within two kilometres of a bus line, you get charged. That was then changed to within two kilometres of a bus stop. But council got a hold of the issue and changed it to within one kilometre of a bus stop.
Which is right? Who's to say? What's a reasonable walk to a bus stop for me might be entirely unreasonable to my 80-year-old neighbour. And why don't we factor hills into the equation? Or busy intersections that might present barriers? In the end, there are an infinite number of these variables, and as many different realities as there are people, so in fact, the one-kilometre charge is completely, utterly, irrational and arbitrary.
But that's what council adopted, back in 2010. Now fast forward to this week's meeting about sidewalks.
The sidewalk issue is primarily an issue for the councillors representing the older suburbs: Russell Walker, Brad Johns, Linda Mosher and Lorelei Nicoll, and so they did most of the talking. They faced a truly difficult political position. They faced existing residents paying what they see as excessive LIC charges, but if the councillors rolled all those LIC charges into the broader suburban tax rate—that is, if they charged all residents for sidewalks built in the LIC districts, then everyone else would be mad at them.
So, they took a middle course, pissing off some, but not all, residents: they decided to do away with the LIC charges, but pay the costs of the sidewalks in LIC districts via a "tax reform"-like charge that looks exactly like the bus charge: all residents within one kilometre of a sidewalk will pay the new sidewalk charge. In practical terms, that'll be about $30 per year, per property.
Does this make sense? As much sense as any other "fee-for-service" charge, which is to say it's so arbitrary that it's bound to piss off a lot of people. Sure enough, there I was at the gym yesterday, and the guy at the locker next to me was complaining about how the city just imposed a $30 annual tax on him, even though he'll never have a sidewalk in front of his house. "I can drive over there and walk on their sidewalk," he joked.
There's another way of looking at this, of course. Those people who live in, say, Fall River, will never have a sidewalk in front of their house, but many of them drive downtown to work or to Burnside to hit the big box stores, and use sidewalks there. Or, if they don't use the sidewalks, they have safer streets to walk on because the pedestrians are off the street pavement, on the sidewalk. They benefit.
A better approach would be to ditch the fee-for-service attitude completely, and because we all benefit from sidewalks, charge all residents through the general tax rate, to build sidewalks where they're necessary, based on strict engineering and safety criteria.
But that sensible approach would mean giving up the ideological obsession with "tax reform," and so it didn't happen.
Stormwater
This is the issue that was brought forward by councillor Steve Craig two weeks ago, but because Craig's been on vacation and his flight back to Halifax was delayed, he couldn't make the meeting. We'll leave it to voters to decide whether someone who started a new job in November should be taking a vacation just three months later, but council as a whole decided that it should defer the stormwater discussion until its February 28 meeting, so Craig could be part of it.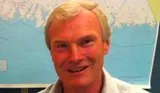 We'll explore this in more detail at that time, but here's the stormwater issue in a nutshell: First of all, a bunch of stuff out in the 'burbs was built in what might be call "substandard" fashion, otherwise known as "like crap." There's always been some flooding in these areas.
And then, city council tried to protect itself from the political fall-out of raising water rates, so created Halifax Water, which also oversees stormwater sewers, all paid for via your water bill. Halifax Water is intended to be self-funding, in terms of water rates paying for all infrastructure improvements so council doesn't have to vote on spending more money for such improvements. Instead, Halifax Water gets approval for rate increases from the Utilities and Review Board, and those rates are supposed to reflect actual costs of service.
Lastly, throw in climate change. We have more storms, dumping more water at once than was ever planned or engineered for. The situation is especially bad in those poorly constructed 'burbs, like Sackville, which now sees substantial flooding of neighbourhoods pretty much every big storm.
That's why Craig, who represents Sackville, brought this issue forward. He wants a detailed accounting of how Halifax Water budgets for stormwater infrastructure, with the aim of improving it.
Obviously, the solution is to build bigger and better stormwater infrastructure, but the UARB isn't going to iapprove rate increases to fix past problems. The only real fix will be for the city to spend general tax money on the improvements, but council will end up hiding that reality through some shell-game financing: Halifax Water makes an annual "dividend" payment to HRM of $3 million, and that money will now be dedicated to stormwater improvements. Council will pretend like this is magic free money, but in reality, this is a direct hit to all taxpayers.
Like with fixing and building sidewalks, spending the money on fixing stormwater infrastructure problems is an appropriate expense for the entire city, but again, councillors will refuse to call things by their proper names because they are so blinded by "tax reform" ideology that they can't make the leap.