Bayers Lake expansion
The first item of importance was the approval of some property buy-backs necessary for the expansion of the BLIP agreed to last year.
"Buy-backs" are the last part of a development agreement the city entered into when it sold a big chunk of west and to the south of Kent to BANC development last year. BANC will build the streets and services that goes with them (sewers, street lights, etc), and start subdividing the land for sale to various mega corporations to build giant big box stores. Part of last year's agreement calls for the city to buy those streets, making them public property. The city of course made far more in the total sale of land than it is paying out to regain the streets. Council really had no choice Tuesday but to approve the buy-backs, and so did.
Of more importance to readers is the interplay with the expansion of the business parks (council agreed to expand Burnside last week) and the health of downtown. Councillor Waye Mason explained the situation well on his blog:
This piece of Bayer's Lake is the last piece of property HRM owns, and it has been sold to a private developer for a goodly sum and he is going to create the lots and do the work. We are out of the retail business and when City of Lakes is built out, HRM will no longer be in this business except for the industrial part, with the strong controls. So when Turner Drake says "stop selling subsidized lots and undermining downtown" I think that really, HRM has, mostly, sorta, and soon really will be out of this business permanently. Staff was doing what they were told – dispose of this property, get us out of the business.

That said – I wish the old council had decided three or four years ago to say "you know what, let's just not do anything with that land for 10-15 years." I suspect Dartmouth Crossing and Bedford Common could have absorbed the big box retail demand.

More importantly, we do NOT have strong controls on this development like we do in Burnside, so yes, this could end up being strip malls or small office buildings in five years, competing DIRECTLY with downtown. This kind of big box concentration is hardly meeting the idea of building complete communities.
Mason's explanation is pretty good, but he misses something hugely important: The land for BLIP expansion was sold in the first place to pay for the $8 million
cost overrun on the Washmill underpass
.
It's a lesson in suburban sprawl: building infrastructure for sprawl—highways and underpasses—necessarily results in it getting built. It's a perpetual Ponzi scheme, paying for current costs of infrastructure with future development sales.
District energy systems are common in Scandinavian countries and Iceland, and work perfectly fine anywhere. The basic premise is that any power plant—whether it's an electrical generating plant like Tufts Cove, or a boiler in a skyscraper's basement, has enormous amounts of waste heat that is typically simply dumped into the environment. A district energy system makes use of that waste heat, typically to heat nearby buildings.
Julian Boyle, the city's energy manager, offhandedly told council Tuesday that Tufts Cove dumps enough waste heat into the harbour to heat every house in Halifax and Dartmouth, which we've known at least since 1999, when Dalhousie researcher Larry Hughes wrote a paper on the idea. Alas, we've been wasting that heat for 14 years, and there's no indication that anyone wants to build a district heating system to use Tufts Cove's waste heat.
Before council Tuesday was another proposal, called the East Port District Energy Project. The idea is tied to the new Nova Scotia Power building on Lower Water Street, which has a natural gas boiler for heating and makes use of cold harbour water for air conditioning. The idea is to tie waste heat from the boiler and excess cold water from the harbour into a system of pipes that will be laid beneath the streets downtown. The system could potentially connect to the new library on Spring Garden Road and the new convention centre on Argyle Street, as well as any private businesses along the way that want to hook into it. Here's a schematic of the system: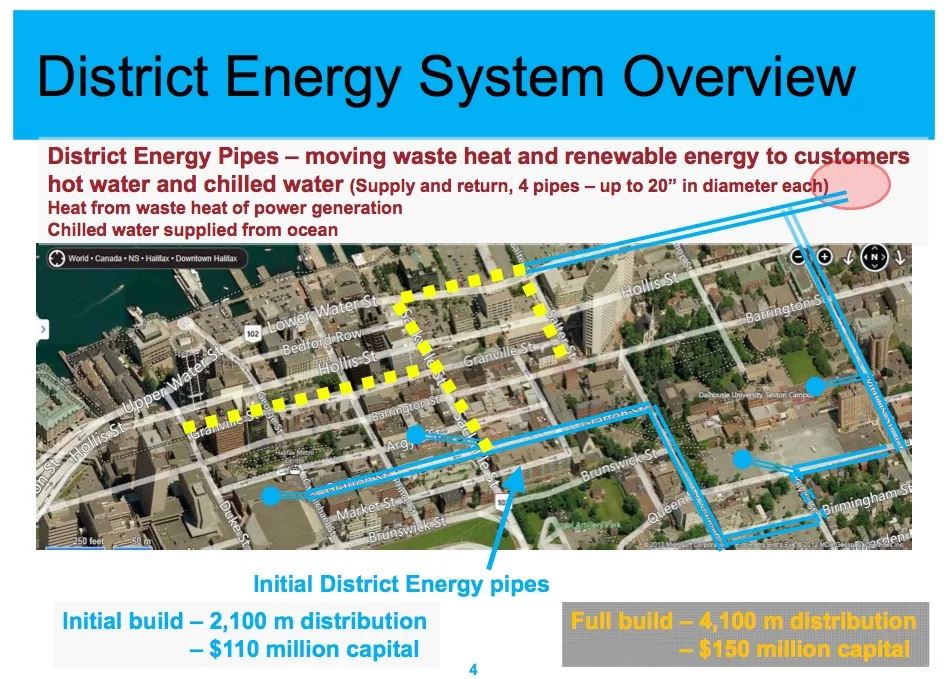 East Port is spearheaded by John Lindsay, who was associated with the development of Purdy's Wharf. He's been pushing the East Port idea for a few years, but met stiff resistance from city staff, particularly from CAO Richard Butts.
A few months ago I tried to contact Lindsay about this project, but he didn't return my calls, I'm guessing because he was then trying to shepherd the district energy proposal through the city's Audit and Finance Committee and didn't want to air dirty laundry in public at that time.
My understanding of the situation, however, is that Butts sees it as his job to cut the city budget to the bones and to stop any increase in city responsibilities, and therefore budgets, to the bones. The district heating proposal is indeed an expansion of the city's mission—it puts the city in the municipal energy business, as a co-owner of the project. This is entirely within the city's mandate, but Butts opposes it on principle. At right is a picture I took Tuesday of Butts as council dealt with the East Port proposal; he quite evidently was annoyed by the entire discussion.
The project is moving forward despite Butts' opposition thanks to the councillors who sit on the Environment & Sustainability and Audit and Finance committees, and particularly to Barry Dalrymple, who sits on both. I
don't often have nice things to say about Dalrymple
, but he's to be commended for pushing this through.
We're still some distance away from seeing a district heating system downtown, but council took an important step by funding a detailed feasibility study, for $300,000.
Pedestrian safety
Our last item of consideration from Tuesday's council meeting is a lengthy motion from councillor Steve Craig which called for a detailed examination of how the city approaches pedestrian safety. Craig, obviously, is responding to a rash of accidents involving pedestrians getting hit in crosswalks.
His motion reads:
That Halifax Regional Council direct staff to provide a report which:

1. Prior to the end of fiscal 2012-2013, to provide an interim report that:
- Provides the current understanding of how HRM focuses and performs on all factors related to pedestrian safety – HRM engineering, public education, law enforcement, public engagement and evaluation;
- Identifies HRM pedestrian safety statistics and how HRM statistics compare relative to other municipalities; and
- Identifies a short-term HRM action plan to address pedestrian safety and any impacts on the 2013-2014 budget.

2. During fiscal 2013-2014, to develop and present for consideration by Halifax Regional Council, a long-term comprehensive pedestrian safety action plan to help ensure, and to be seen as ensuring, overall pedestrian safety for HRM residents based on:
- The analysis of factors which may be contributing to pedestrian accidents;
- Provides options considering both process and organization structure that focuses on engineering, education, enforcement, public engagement, such as a Crosswalk Safety Advisory Committee, overall evaluation, policy and legislation, inter-agency/departmental coordination and cooperation elements;
- Provides a mechanism for continuous reporting and evaluation of the foregoing; and
- Identifies ongoing budget impacts to the proposed action plan.

In addition, that the Mayor, on behalf of Halifax Regional Council, correspond immediately with the provincial Minister of Transportation and Infrastructure Renewal to request an update regarding a recommendation from the 2007 Crosswalk Safety Task Force which stated that "the departments responsible for collecting and analysing collision data do so in a timely, comprehensive, consistent and accurate manner.
Council passed the motion unanimously, but not before councillor Russell Walker got in a few swipes at pedestrians.
The Coast will soon have an analysis of some of the more recent pedestrian accidents, as well as a review of the Crosswalk Safety Advisory Committee mentioned in Craig's motion.
There's a meeting scheduled for next week, but I wouldn't be surprised if it's cancelled, as there's not much on the agenda. This is the way council rolls now: almost nothing comes to council through the normal subcommittee and staff report processes anymore, and the only substantive issues discussed by council are items brought forward by "rogue" councillors demanding action right at the council level (this week, that was Craig's pedestrian safety motion). The heavy-handed management of council by CAO Richard Butts becomes more plainly evident every week.