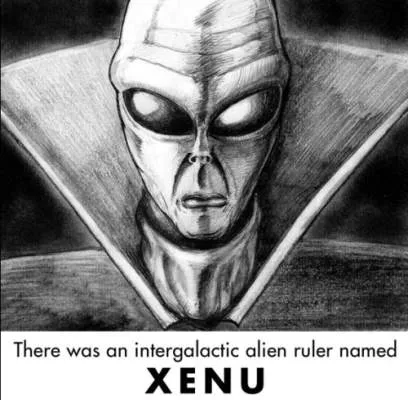 In Scientology, a thetan refers to the concept of a soul as represented in other belief systems. In Halifax, The Thetans are a group of like-minded musical nutters who make theatrical punk music that's deadlier than Xenu. If you like haunted vocals and freaked-out spacey noises and songs that sound like groovy nightmares, you will like this. The band (Isaac Hansen, Neil Peacock, Michelle Skelding and Nicole Anaka) sent me a song from their first album The Ocean and the Sea, which will be released TWO TIMES this weekend with a free show at Jacob's on Friday August 19 and a $5 show at Gus' on Sunday August 21. (These shows are a dual album release with the dirtiest birds in Halifax, Slumlord.)
Guitarist/vocalist Hansen says the song, titled "Elvis' Hips," is about the devil "and the way he traditionally steals souls." I was going to play the song for a friend of mine who used to be a Scientologist and print her review, but she has left the province to see about a boy. So it goes. Instead, I'll share a video of famous Scientologist John Travolta and the bewildering song he recorded with his daughter, Ella Bleu, called "Every Little Step," for the Old Dogs soundtrack.
I'm sorry.
You can listen to Elvis' Hips below and stream/buy the entire album here.
The Thetans - Elvis' Hips