Twenty years is a long run for any television show. It'd be unheard of for Canadian political satire if it wasn't for a handful of Newfoundlanders, a cramped Halifax studio and 22 minutes. Six years before Jon Stewart and Stephen Colbert would hit the air, This Hour Has 22 Minutes was ambushing politicians and carving out a new model for Canadian television. Two decades later, it's still going strong.
Starting with little money, "four wigs and a bag of costumes," the show premiered in 1993 just as Jean Chrétien's Liberal government took office. It was the product of Michael Donovan's Salter Street Films (now DHX Media), and comedians Mary Walsh, Cathy Jones, Rick Mercer and Greg Thomey. Since its debut, it's won 24 Gemini Awards, gotten at least one Member of Parliament kicked out of caucus, tricked George W. Bush into praising prime minister "Jean Poutine" and scared the pants off Rob Ford. It's helped launch the careers of writers for The Colbert Report, Up All Night, Late Night with Jimmy Fallon, Corner Gas and Picnicface, while showcasing the comedic talents of Shaun Majumder, Mark Critch, Geri Hall, Gavin Crawford and its newest cast member Susan Kent. And that's all happening from the heart of Halifax, inside a 50-year-old building on Bell Road.
That's the place where every Tuesday the 22 Minutes writers gather to pitch ideas---in a room the original cast lovingly nicknamed "the humiliatorium." Six days after that, 200 patient audience members will crowd into the downtown studio for a live taping. It's a cramped schedule that hasn't changed all that much since things began, nearly a generation ago.
The idea began with Mary Walsh. The Newfoundland comedian had been trying to perform a weekly news review show in St. John's. When those plans fell apart, she took the idea to friend and producer Michael Donovan. Donovan went to the CBC, on the lookout for new series. The show was given a limited six-episode order.
"It wasn't a large investment on the part of the CBC," says original cast member Rick Mercer. "There actually was no mechanism in place to become a series."
Having starred in successful one-man shows, Mercer was offered a part in the new series. His business and life partner, Gerald Lunz, was asked to produce. Lunz had previously been assistant director on CODCO, the Newfoundland sketch comedy which aired on CBC from 1987 to 1992. Walsh would invite other CODCO alumni to round out the cast, including Greg Thomey and Cathy Jones.
"I was like, 'Why would you want me to be in a political satire?'" Jones recalls saying to Walsh. "She said, 'Because you know nothing about anything, so everything to you is such a shock.' Nobody was so stupid as I was."
Despite the limited production order and a small budget, This Hour Has 22 Minutes' premiere was watched by 400,000 viewers. The next week, it was up to 550,000. The week after that, 650, and then 750. Four weeks into a six-episode series, the show was given a full season order. It was a hit, but that meant more content, more jokes and more work.
"We started every Monday with nothing and had to come up with a live show to go on a national broadcast by Friday," says Walsh. "We were hysterical, of course. And we never believed we could do it. It took seven years or eight years before we thought, 'Yeah, we can do this.'"
"It was probably the most stressful and creative weeks of my entire career," adds Mercer. "I was well aware that this was my shot. It could turn into something great, or it could disappear in the blink of an eye."
There were other struggles to overcome in those early days. Walsh needed back surgery as soon as the show began, necessitating filming her first sketches as brash political commentator Marg Delahunty from her own bed.
Mercer and Walsh would also "bump heads" creatively, though he maintains the two were always big fans of each other's work. Jones and Walsh, despite a longtime friendship, also sometimes didn't see eye-to-eye.
"Mary would hate something that I would fucking love. Because she's totally intellectual and I was totally emotional based," says Jones. "We tortured each other, me and Mary. I'm sure I got on her nerves because of my very spaciness. And she got on my nerves because of her sharpness."
"I think that was the strength of 22 Minutes," says Mercer. "The four of us had to create this show but we weren't a comedy troupe. If you look at the show, most of the show was individual pieces. The only time we'd all appear together, ever, was the Quinlan Quints."
The dim-witted, flannel-clad quintuplets from Buchans, Newfoundland (whose fifth member had gone missing and was never seen) were a popular recurring sketch in early seasons. It was the only time the four cast members would work on screen together, and Mercer says it was always the most fun.
"I loved doing the Quints," adds Jones. "I loved doing extremely stupid, crazy people. Right off the leash. I always liked playing really stupid people with some wisdom."
Building the show week in and week out in the early '90s was different than TV production now. The writers were just starting to use computers, and the 24-hour cable news network cycle had just begun.
"It's so funny to think in the pre-internet days, we'd have a bunch of newspapers from various cities," says Mark Farrell, 22 Minutes writer and eventual showrunner. "Everything three days old, all the Toronto papers, and we'd just grab them and start talking about what kind of things we'd do that week."
Farrell took over in 1997, turning down a job offer with MADtv to replace the departing Gerald Lunz. He's one of many former writers who have graduated from pitching in "the humiliatorium" to producing and starring on the show. That list includes current cast members Mark Critch, Shaun Majumder and Susan Kent, as well as current producer Peter McBain.
"What's great about 22 Minutes is you can hire a writer with little or no experience and they can end up being Mark Critch and on the desk and being a national figure," says Farrell. "There are no other shows where, basically, you could send a pack to Peter McBain tomorrow, and if it was good enough he would hire you."
"A collective mind is better than individual minds that are fighting to get on the show," says Majumder about the supportive 22 Minutes' writers' room. "It's free market economy versus socialism, that's what it is. We're right in the middle. It's very Canadian."
Unabashedly Canadian has been something 22 Minutes always excels at, whether it's sketches about The Littlest Hobo, fake Heritage Moments or the show's standard trope of political ambushes. Part of what made 22 Minutes so unique and exciting early on was its regular quests to shove a microphone into some politician's face, asking them questions as brazen as they were funny. Ironically, it also made them quite popular on Parliament Hill.
"When Chrétien was in power, we could walk up to any politician and they wanted to be on the show," says Jones.
"You'd go bang on the door and say, 'Hey, can Chrétien do something today?' And you'd hear him in the back go, 'OK, I can do something!'" Critch says. "Now, the more Harper got in and started changing things the cooler the relations were. Now it's kind of a bit like a cold war."
"I remember when we used to go to Ottawa, at first we were treated like the plague. And then people were glad to see us," says Walsh. "It was pretty heartbreaking, because we thought we would be making a change. But in fact the politicians used us as we used them."
"They realized, very smartly, that we were reaching a million viewers," adds Lunz, recalling one incident when a joke about the right-wing Reform party caused then-leader Preston Manning's office to send a letter threatening to sue.
"It was quite nasty and we were all very excited by that, of course. I've never been so excited in my life, that we could be sued by the leader of the opposition," remembers Mercer.
Three weeks later, Manning's office was calling to mention that Preston was in Halifax and might like to be on the show.
"That's when the penny dropped. We didn't ever entertain the notion that they would come on the show and play with us," says Mercer. "The relationship with them changed. It became what I've always called mutually parasitic."
Not that appearances always worked out well for the politicians. One time, Critch asked Liberal MP Carolyn Parrish to step on a doll of George W. Bush.
"We were beaming that back to our offices for a promo, we didn't even give it to anyone, and someone in the news department saw it and ran that this Canadian MP had stepped on a George Bush doll," recalls Mark Farrell. "And then all hell broke loose."
"She ended up getting booted out of caucus and out of the Liberal party," says Critch. "We'd done the piece with her and it hadn't even aired on the show and already had become the top story on the news."
Then there was the incident last year, when Walsh showed up at then-Toronto mayor Rob Ford's house, plastic sword in hand, dressed as her Marg: Princess Warrior character. The confrontation apparently startled Ford enough that he locked himself inside and phoned 911. The fallout was severe. Some scolded Walsh for approaching Ford on his private property. Others wondered how any Canadian politician wouldn't recognize such an iconic 22 Minutes character. Walsh shrugs off the hoopla, prioritizing the incident as a wealth of comedy gold.
"Poor old Rob Ford is the gift that keeps on giving, isn't he?" she says.
"You know, I'm always surprised when we get to people, because I realize 'Oh, god, security isn't that tough,'" Critch says of the show's political access. "If you're in a suit and you act like you know where you're going, really, you pretty much can go anywhere."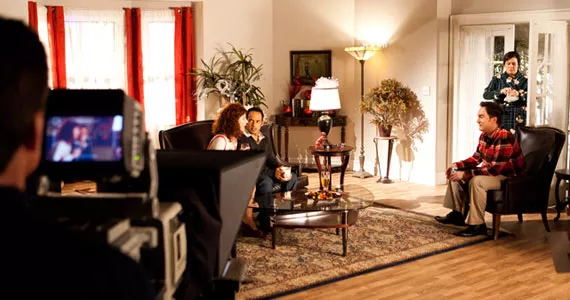 Brguably the biggest impact 22 Minutes has had in Canada came during the 2000 federal election, when Alliance party leader Stockwell Day proposed that binding referendums should be held on any issue three percent of the population voted for.
"We all saw this as a back-door way to get abortion, capital punishment, gay rights, those types of hot button issues on a ballot," Rick Mercer says. So the comedian went on air asking three percent of Canadians to sign an online petition which would force Stockwell Day to change his first name to Doris.
"A week before that, 22 Minutes didn't even have a web page. Not because we were lazy, no TV shows had a web page," Mercer recalls. "They actually went out and bought the 22 Minutes domain for the purposes of doing this petition."
That online investment was the chief reason the bit made it to air at all, with everyone doubting there would be much of an impact. Instead, the petition ended up with over a million signatures. Day dropped the policy from his campaign. He even changed his election theme to Doris Day's "Que Sera Sera," in a desperate bid to make up for lost popularity. It didn't work. The Alliance would lose the election, and a year later Day was out as leader.
"I didn't ever expect in a million years that would happen, or that would be the consequence of that piece, but it's certainly something I'm proud of," Mercer says.
That petition, along with the following summer's highly rated Canada Day special Talking to Americans, meant Mercer would go out with a bang. After eight years, he would leave 22 Minutes in 2001.
"Rick was such a profound part of the show, that when he left it was devastating," says Walsh. "I don't think he was unhappy, I think he just felt he wanted his own, you know, The Rick Mercer Show. It was no secret that he wanted to move on."
"I always said I could have done that forever, and in many ways I could have. I just became interested in other things," explains Mercer. "Plus, I did it for eight years. It's not like I bolted the first chance I got. I always call 22 Minutes 'the mothership' and I would never do anything to jeopardize it."
Mercer's departure meant one of 22 Minutes' biggest stars was gone, and the huge portion of the show that Mercer once wrote would need to be filled.
"I had seen Gavin Crawford at the time and I said 'We should get Gavin Crawford,'" recalls Jones. "And people from Newfoundland said 'You should get Mark Critch.'"
"We brought Colin Mochrie in, and I was really glad about that," says then-showrunner Mark Farrell. "I was thinking whoever came in after Rick was going to have a tough job. But Colin was great."
"Political satire really wasn't my strong point. So there were concerns going in," says Mochrie. "Thankfully, due to Mark and the writing staff and the cast, they all made me feel at home."
Well-known to American audiences for the improv game show, Whose Line is It Anyway?, Mochrie only stayed two seasons on 22 Minutes, partially due to the commute from Los Angeles to Halifax. "I was going between the west coast and the east coast pretty much every week, and it was just getting tiring," he says. "I actually missed one week of filming because of exhaustion, which had never happened to me before."
"You always know when you hire someone like that, it's not the same as some young kid looking to break in," says Farrell. "He could have stayed as long as he wanted. He just had a lot of other stuff on the go."
Mochrie's stint on the show would also inadvertently lead to Mark Critch's evolution from writer to performer. Critch had been hired to write on 22 Minutes after Mercer's departure. One day, when Mochrie was stuck in Vegas, someone was needed for a live sketch. Critc hwas grabbed from the writers' room and asked what size suit he wore. Later that night he was on camera.
Transitioning between cast members has been something 22 Minutes has had to adjust to several times now. Critch and Shaun Majumder would be brought to the news desk after Mochrie's departure. Gavin Crawford also joined the team in 2003, while Geri Hall would appear starting in 2007. Both left the show last year. They were replaced this season by Susan Kent, whose first acting role out of theatre school was playing Mary Walsh's daughter.
"That's what happens with a show like this," says Majumder. "You do it for a bunch of years and then you're like, 'Yeah, I want something different.'"
Original cast member Greg Thomey would be let go in 2005, something Jones recalls as a "ridiculous" mistake, though he's back this year, writing again for the show. Walsh also stops in occasionally for the odd sketch since her departure in 2004. "It was a great job for me to be playing a journalist on TV. It was a hotbed of fervid, seething creation," explains Walsh about her decision to leave. "After I got to year nine, or year 10, I realized I wasn't coming up with any new characters. I didn't know how long I could effectively go on doing what I was doing."
"Right now, I think this is the tightest cast I've felt on this show," says Majumder. "It's a really amazingly synergistic balance. We've had five on the show before, this is back to the four. We have a good curling team."
The ratings prove it. The hour making up 22 Minutes and The Rick Mercer Report is consistently one of the highest rated on CBC. Which means questions about when the series will eventually end might be presumptuous.
"Not unless television goes away, and I don't see that happening," says Majumder of what will kill 22 Minutes. "Unless Harper fulfills his dream of shutting down the CBC. But I don't see that happening either."
"It doesn't show any signs of ailing. It seems to be thriving," says Walsh. "If there are rumours of its demise they may be, like Mark Twain said, greatly exaggerated."
"I think that the format of the show will hold no matter who's in it. When I can't carry on, and Critch wants to move on, Susan and some other crazy fucking people from Newfoundland will come," adds Jones. "There's lots of funny people."
"My goal from the beginning, and today, is to beat the record of Front Page Challenge," offers Michael Donovan. "It was on the air for 37 [seasons]. So I'm looking for 38. Eighteen more to go."
Someday, inevitably, the live tapings will stop and 22 Minutes will close up shop. Whenever that does happen, it will leave behind a legacy of comedy and culture unparalleled in this country.
"I would say, when I'm old and feeble and I look back at the entire career, I would think my eight years on 22 Minutes were the most personally satisfying of anything I've done," says Mercer. "You always remember your first."
"It's like a journey. We've lost people, we've found people," Jones says. "You can change the crew a little bit, but we always end up with good people because it's a good show. It always settles back."
This Hour Has 22 Minutes live taping
Mondays at CBC TV Studio, 1840 Bell Road 6:15-9:30pm To April 1, 2013 420-4765
Tickets are free but non-perishable food items for the food bank are appreciated