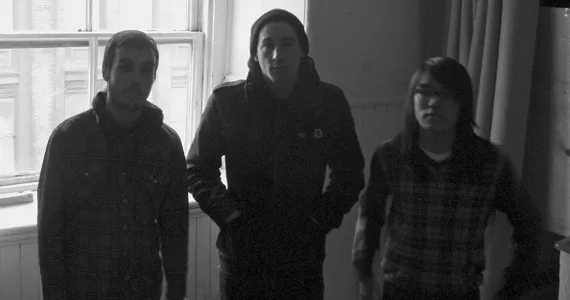 "It wouldn't be a hard thing to put one over on us," says Aaron Burke, vocalist for Weed Thief, "but we're no thieves." Drummer Tri Le adds: "In high school, everyone got ripped off." On Friday, three-piece Weed Thief releases a new tape at Plan B to follow up last year's pair of EPs.
"Weed Thief started partly as a joke," says Burke. While living on the west coast, the trio of buds goofed around about writing as many short and heavy songs as quickly as possible. "But it eventually developed a sound and became something we could take seriously," says Burke. They've been holding the tape since last summer, letting it evolve naturally to completion.
"We wanted something that would be more cohesive than our previous releases. We wanted to stray from writing songs that would be too dissimilar or take away from the overall theme," Burke says. The hardcore focus on abyssal sludge, which is somehow both alienating and intimate, has incredible depth. With Ben Brennan on bass, the trio has played together in both WEC and Castle Wolfenstein. Burke and Le play in another heavy band, Barlow, and Le also drums for Surveillance and The Lauras, which helps to broaden his skills in different genres.
"I'm still learning as a drummer so everything is exciting," says Le. "I can't really play a particular style well. I just kind of hear what sounds cool and what I can add to the current idea of the song." But their synergy as a band is strong, and live, Weed Thief steals your attention.
How would Weed Thief describe themselves in three words? "Three ass holes," says Le. And still, joined by some of Halifax's newer hard-core and punx bands, this show is a steal.
---
Weed Thief Tape Release w/ Touch Fuzzy Get Dizzy, Grump, King's Girls, Bricks
Friday, February 21 at 7pm, $5, ALL AGES
Plan B Merchants Co-op, 2180 Gottingen Street