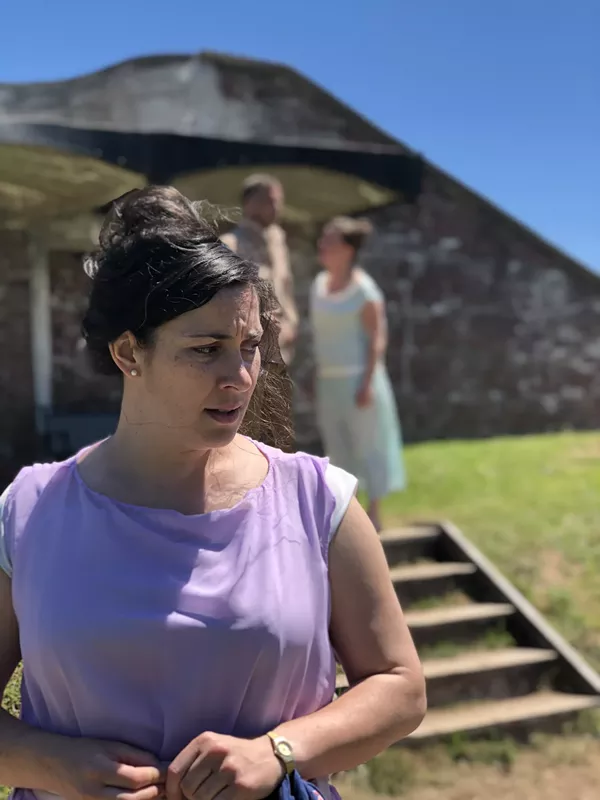 For the uninitiated, Othello is the story of an entitled white boy who thinks he deserves a promotion and decides to frame his boss' wife as having an affair with the man that he did promote, only to have him fly into a homicidal rage and kill her.

The individual performances are outstanding: Kathryn McCormack plays Desdemona. Despite not having much of an arc, McCormack manages to inject playfulness and sarcasm into her performance. The always-incredible Jacob Sampson brings life to the passively written Othello. The star of the show is Jeremy Hutton as Iago, Othello's actual main character. His Machiavellian machinations unfold before our eyes in a way that is genuinely exciting to watch, despite him being the archetypal entitled white boy.

The capital-R Romantic melodrama of a Shakespearean tragedy works well with the Cambridge Battery's outdoor setting. There are moments when the actors stand at the edge of their sets—the purple and gold hues of the setting sun, the endless blue backdrop of the sky and a gentle breeze, pushing loose locks of hair back and forth. It's like a still from Gone With The Wind—it's stunning.

There's occasionally music, but not enough to call it a musical. It feels half-baked as a result. The costumes hurt my eyes. All the masculine characters wear suits—Edwardian, maybe? The worst offender is our female lead: Desdemona wears a slip with a hideous lavender outer layer over it, from which floppy fish-scale- shaped lavender patches waved from the outer layer.
The fates of the women in the play are depressing. Two are murdered, one is imprisoned and one is a maid. Edits were made in this production's script, which means intentions had to be behind those. The disappointment and frustration comes from the lack of substance in that intent. Shakespeare can be changed! Classical theatre is so much more fun that way. You can literally change the ending completely and it's OK, as long as you're making any point ,and still be faithful to the original text (Villains Theatre's production of
Women Beware Women
,
directed by Keelin Jack, comes to mind).
Othello
presents something, and does nothing with it. No subversion, not even lampshading. "Why?" is my question. What was the point of any of this?