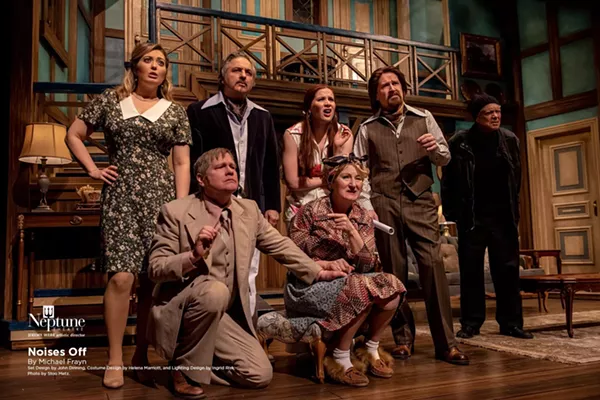 A mix of
Inception
meets
Fawlty Towers
, the farcical play within a play within a play
Noises Off
is a layered hybrid of classic slapstick and dry British comedy. Directed by Jeremy Webb, Neptune Theatre brings Michael Frayn's work—a comical marathon nearly three hours long—to life thanks to a busload of manic energy provided by its ensemble of talented actors.
Divided into three acts, the first starts off as any thespian's nightmare—a technical rehearsal for an upcoming production of
Nothing's On
(a farce in itself) that's chartered for disaster. Through a series of missed cues and screw-ups, it becomes immediately apparent that this play is nowhere near being ready. But as much that happens "onstage" at the show's gong-show rehearsal, we're also treated to offstage drama, where gossip runs rampant and ongoing love-triangles are revealed. 

Leading the charge acting-wise, Christian Murray excels as the cad Garry Lejeune, meeting the intense demands of Frayn's work while creating his own stamp of powerful stage presence. Additionally, Mary-Colin Chisholm shines as Dotty Otley, playing her "onstage" role of scatterbrained Mrs. Clackett flawlessly. Bill Carr is another delight in the role of pompous director Lloyd Dallas, who's one missed line away from having his head explode. I also really enjoyed Kirstin Howell's portrayal of the ditsy Brooke Ashton—her comedic timing ended up getting most of my out-loud laughs. 

To its credit,
Noises Off
boasts its fair share of various victories: Acting aside, there's an impressive amount of technical special effects, which work to great success in the form of smoke, lights and voice-overs in the show's later acts. The physicality too deserves special praise—the sounds of door slamming work to great measure as does watching actors wipe out onstage. 

Although watching
Nothing On
fall apart is fun, it never felt as funny as it thought it was. As the show moves into its second and third acts, relationships amongst cast and crew erode and fall apart. The result is a lot of yelling and physicality that skirmishes with the subtle line between farce and downright absurdity, but definitely enters the realm of sensory overload. Thanks to its comical precision and relentless shenanigans,
Noises Off
achieves what it sets out to do—it'll inevitably leave your head spinning.