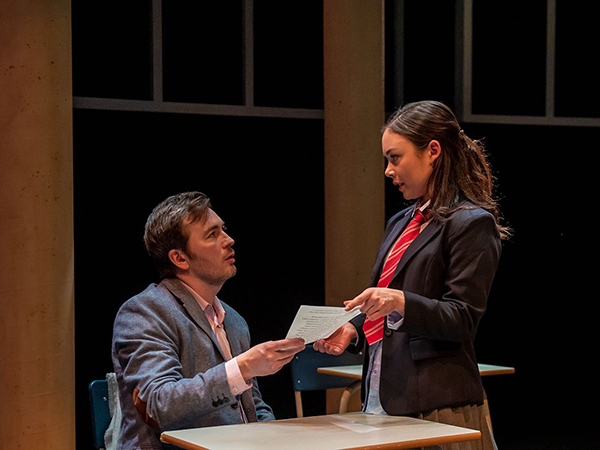 To February 24 Neptune Theatre Scotiabank Stage
1593 Argyle Street
$30-$46
Closing this weekend on Neptune's second stage is Rose Napoli's magnificent study on the issues of consent and the abuse of power from those we trust most. Lo (or Dear Mr. Wells) follows the story of Laura (Celia Koughan), a troubled 15-year-old who discovers newfound purpose in her English teacher Alan Wells' (Josh MacDonald) creative writing club. The sole participant, Laura immediately establishes herself as a gifted writer, spurred on by the earnest encouragement of her teacher. But as the lessons continue, the relationship between mentor and mentee shifts rapidly from innocent to illicit.
Director Annie Valentina aptly conjures up an array of mixed emotions for the audience to digest. Watching Laura emerge from darkness to find strength through her writing would be delightful were it not for the play's insidious undertones, pulsing like a bassline throughout.
Koughan is rock-solid across the board, playing a precocious, caustic teen as well as a wiser, future version of herself. She carries Lo, cradling the show's diehard themes of vulnerability and innocence then letting them shatter like glass. A bit slow out of the gate, MacDonald finds his footing as Alan, making a character who would almost be likeable if it weren't for the fact he's morally bankrupt.
Napoli's script is steeped in personal experience: Wells is a silent predator of the worst kind—married, he strings Laura along, dangling the tantalizing prospect of a life together with shameless expertise. Lo could've easily been cliche, but it's so well-written, well-acted and well-directed it almost exists in a league of its own.
Having arrived hot on the heels of the equally powerful The Bridge, it's exciting to see Neptune embracing dark, contemporary and controversially topical theatre. Whereas it's natural to focus on the negative perversions of a man in charge, Lo overwhelmingly succeeds as a rally cry for the countless individuals who have had their lives destroyed by the manipulative and the cruel. Napoli provides concrete proof that strength can be reclaimed, and ultimately it'll be more powerful than it was before.