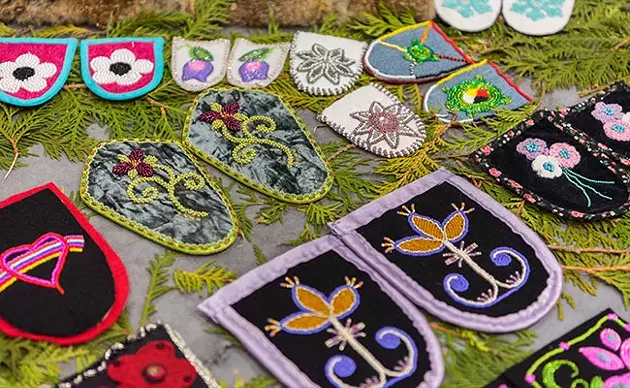 In a year commemorating many anniversaries, 2017 is a landmark, for better or for worse. And with so much political upheaval it often felt like a landmark to come, history in the making. So with a historical lens pointed in all directions, it is no surprise that some of the most interesting exhibitions reflected this sense of time: Innovation, memorialization and revising or revisiting histories.
FIRSTS: The groundbreaking SakKijâjuk: Art and Craft from Nunatsiavut (Art Gallery of Nova Scotia, Jun 17-Sep 10). The first major exhibition of artwork by Labrador Inuit artists to be shown outside the province, this superb exhibition showcased the talents of four generations of makers and artists. While Nocturne is the festival that is most famous for art spectacles that illuminate chilly October nights, the real show-stopper this year was Responsive: International Light Art Project Halifax (Oct 18-21). Animating the city with work from a host of international contemporary talents, Responsive felt fresh, dramatic and invigorating to experience, the first festival of its kind to take place in Halifax.
RETROSPECTIVES : While commemoration and celebration do not always go hand in hand, career retrospectives of artists who have found success in the Maritimes certainly seem worthy of celebration. The Nature of Nature: The Photographs of Thaddeus Holownia 1976-2016 (AGNS, Feb 4-May 28) celebrated the 40-year career of one of Canada's most renowned photographers. The exhibition included Holownia's well-known and stunning landscape photography as well as newer environmentalist work, a body of work demonstrating this recognition to be well-earned. John Little—Forging a Life carries into the new year (Mary E. Black Gallery, Nov 10-Jan 21, 2018) with an interactive look at the work of the East Dover metalsmith. From anchors to large instruments or "sound sculptures," Little's eclectic body of work fills the small gallery space to the brim, punctuated with storytelling events and musical performances.
COMMEMORATIONS: One of the first exhibitions of 2017 was Walking With Our Sisters (MSVU Art Gallery, Jan 14-1 Feb 1), an active memorial and space for healing as the lives of over 1,000 Indigenous women, girls and 2-spirit individuals lost in the last 30 years were commemorated through material, prayer, ceremony and gathering. And helping to close the year, The Halifax Explosion (Dalhousie Art Gallery, Oct 12- Dec 17) marked the disaster's centenary with several exhibitions. Arthur Lismer's beautiful and haunting sketches from the disaster zone made the tragedy fresh, while the other works considered the explosion's legacy.
RE-WRITES: There were several exhibitions that tackled ideas of time, history and memory, but some of two of the timeliest examples were ones that offered creative historical re-writes. Raven Davis' summer solo show The De-Celebration of Canada 150 at the Khyber Centre for the Arts (Jun 19-Jul 15) happened during peak sesquicentennial fanfare and was a welcome resprite. Davis called out past and current prime ministers, nationalistic icons and the 150 celebrations with blunt and clever protest art. Mario Doucette is another artist well-known for revisionist histories. In his untitled solo show at the Anna Leonowens Gallery (Sep 26-Oct 7), Doucette presented stranger-than-fiction historical tableaux, humorously subverting colonial histories with history's own visual language.
NOTEWORTHY: Perhaps one of the best moments for local art this year was Ursula Johnson's Sobey Art Award win (making her the first Atlantic artist to win in the award's 15 years).