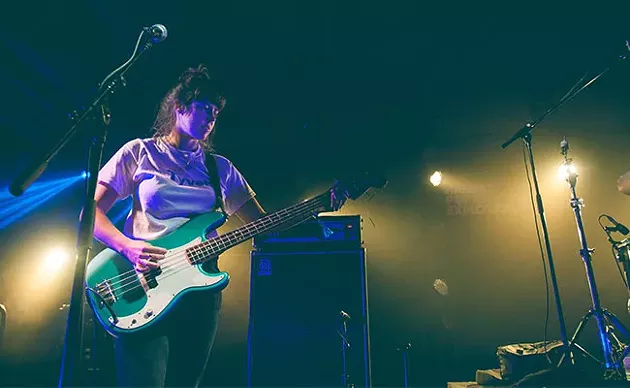 Anderson .Paak & The Free Nationals
at Halifax Jazz Festival

Watching Anderson .Paak, one of the hottest current R&B artists, alternate between jumping around the stage to hyping the crowd from behind a drum kit seemed too good to actually be happening in Halifax. The crowd ate it up, singing along with every word and going bonkers the whole show. The wall of fog was a reminder that no, it wasn't just a dream.
Aquakultre, Water Temple
Whether it be a solo performance on a small stage with a backing track, or a stage full of friends in the Big Budi Band, the earnest tracks on Water Temple can morph from intimate R&B ballads to soaring anthems. It's all a testament to the songwriting abilities of Lance Sampson, AKA Aquakultre, and the way he brings the Halifax music community together.
Botfly, Botfly
The first full-length album from the noise-rock trio, Botfly shows the chemistry it has built after years of a shifting lineup. The songs on the album rip through to the soul with elements of hardcore and punk, but there are also lulls giving the ears a brief rest before being thrown into the fire again.
The Courtneys at HPX
With members of the Vancouver-based band spread out around the globe, it's a rare treat every time the indie-rock trio goes on tour. Making their Halifax debut, The Courtneys made up for lost time by playing three fuzz-guitar soaked shows over the span of Halifax Pop Explosion week.
Gypsophilia plays Halifax Jazz Festival one last time
For its second-to-last ever show, Gypsophilia wrapped up a summer of playing jazz festivals across Canada with one final hometown performance. The free show was packed with people dancing and singing along and served as a reminder of why the jazz outfit was a staple for all ages in this city.
Chudi Harris, Canvas
Halifax R&B artist Chudi Harris brings three years worth of music together on Canvas, a series of music videos from his three EPs. Directed by the artist and Keke Beats, there's no overarching and clear narrative, rather beautifully shot, low-lit subjects and abstract ideas.
Jay Crocker's "Bibelot" at OBEY Convention
Sitting in a room with a series of 16 boxes self-composing music was an eerie and boundary-pushing experience. Of course, there was a human behind the creation (Jay Crocker, who also plays in Joyfultalk), but it really did feel like a robot was programming and improvising from another dimension.
Nicole Ariana, Strand
In three songs, Nicole Ariana slows time down to a crawl with hazy, layered, electronic swirls on Strand. The wispy movements travels through feelings of love, disappointment and yearning with a soundtrack that's perfect for late night listens. While Twitter can be a frustrating beast, it did bring together Austin, Texas producer Eric Dingus (who has produced for Drake) and Ariana for Strand's first two tracks.
Not You, Misty
The Halifax supergroup's EP is full of reverb and serious riffs, blended perfectly with sly humour. For example on bandcamp the group states "debut EP, thanks everyone and thanks us." Combined with catchy melodies and guitar hooks, Not You—which includes recently departed Coast arts editor Stephanie Johns—makes music that sticks.
Stewart Legere, "When I Was The King" video
The music video captures all the best parts of Stewart Legere's artistry in one shot: Acting, collaboration (Kim Harris is featured in the video and on the song) and heartbreaking poetry. One of the marquee songs from his debut Quiet the Station, a sprawling album that was years in the making, but well worth the wait.