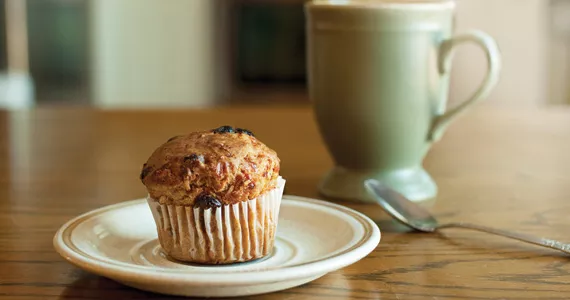 Angela Mombourquette just wants to eat good food. Good food that won't cause her problems.
Mombourquette has Celiac disease, a condition which limits her from eating foods that contain gluten. This eliminates food that contains—or has come in contact with—wheat and other related grains. "I really love food, and people kind of expect people on gluten-free diets to accept really crappy food," she says. "I am not interested in that. I want to find good foods, delicious foods for gluten-intolerant people."
Mombourquette has made it her mission to find good, reliable information about gluten-free foodstuffs, and to share that information with people on her new website venture, lifeaftergluten.ca. The website aims to be "Canada's go-to source for gluten-free living," as Mombourquette has found that when it comes to seeking out any information on the subject, it's a dog's breakfast of data. "It is really hard to find accurate reliable info," she says, adding that the majority of what she first came across were personal blogs, forums and Facebook pages. "A lot of that information is speculative, and it takes a journalist to know how to find accurate info, as well as someone who lives it to know what the real issues are."
Life After Gluten is not just a website but also a business, with Mombourquette at the helm. She will act as editor, researcher and a consultant for businesses who want to know how to cater to their clients who seek out gluten-free options. It's also where her gastronomic life dovetails with her journalism.
"I knew that this was the business that I wanted to start," she says. "I also knew that I didn't know much about running a business."
That's where the Masters in Journalism at University of King's College comes into play. Life After Gluten is entrepreneurial journalism, income for Mombourquette that feeds her journalistic need for facts, information.
"Entrepreneurial journalism is about creating new business models for sustainable journalism," says Kelly Toughhill, the director of the school of journalism at King's. "The business model of journalism is under extreme stress and some even believe it is dead, so people are inventing new ways to sustain journalism, and that's what this is."
When it comes to a need for this kind of information, Agriculture and Agri-food Canada states that almost one-third of Canadians seek out gluten-free products for various reasons, with estimates of 350,000 people with Celiac disease and over two million Canadians who have sensitivities to gluten. That's a lot of people seeking out reliable data. "Journalists have superior research skills," says Toughill. "They are trained to find things out and their core mandate is to serve the needs of their audience, not their bosses, their funders, not government, not anyone."
Knowing how to parse information is Mombourquette's stock in trade—she worked as a journalist and editor for years. But she also needs an audience for that information. She has already been working on that, being active on social media and finding people who think, and live, like her. "I think its not as hard to find this group because it's a niche," she says. "If they are on Twitter, they are looking at #glutenfree and on Facebook looking for gluten-free recipes. It's pretty straightforward trying to track them down."
With lifeaftergluten.ca going live May 4, Mombourquette believes she is uniquely positioned to help out those who have to avoid gluten. "It's about getting the right information, as a journalist, and also because I understand the issue," she says. "This is a resource that I want."