It's taken years of planning to put together The Big Lift. This will mark only the second time a suspension bridge will have its deck completely replaced while remaining open to traffic during the day. Shuttle service begins this weekend, but deck segment replacement won't start until August. It's a massive undertaking, and one that Steve Snider says benefits from "direct and complete attention."
Snider heads up an organization that looks after two key pieces of Halifax's infrastructure, but he doesn't work for the city. Nor, technically, does he work for the province. Snider is CEO of the Halifax-Dartmouth Bridge Commission, a crown corporation with its own board of directors. Created by and ultimately reporting to the provincial government—with fees regulated by the Utility and Review Board—the bridge commission mostly runs its own ship.
There's no shortage of bridges in Canadian cities. More of a rarity is a bridge commission—an independent entity dedicated strictly to the care and construction of bridges. When the commission first formed in 1950, Halifax and Dartmouth were two separate cities. An unbiased organization taking on the construction of the harbour-spanning Angus L. Macdonald Bridge made sense. Two councillors ("aldermen" at the time) from each city and five provincial appointees made up the board. The commission helped open the Macdonald in 1955, followed by the A. Murray MacKay—"the new bridge"—in 1970.
Then came amalgamation in 1996. Rather than being shared between the distinct cities of Halifax and Dartmouth, now the harbour's bridges fell squarely within the borders of the new Halifax Regional Municipality. Yet the HDBC remains separate. Should it? As the Big Lift takes off, it's time to figure out if this city still needs a bridge commission.
———
Breaking down The Big Lift
Prep work has already begun to reinforce the Macdonald Bridge, along with rivet-busting and the installation of guardrails for workers.
The redecking itself will start in August, replacing 46 sections of the 60-year-old bridge (spanning the entire width of the harbour) over the course of a year.
Starting at the Dartmouth side, a lifting gantry will lower the existing panel (in 20 or 10 metre lengths) to a barge in the harbour below.
The replacement panel is lifted into position the same way. On the Halifax side, the panels will be brought in by trucks instead of barge.
The bridge's floor beams and hanger cables will also be replaced. It'll take three or four working nights to replace each panel, weather permitting.
Weekend closures will be used for the Macdonald's more complicated sections, like the panels around cable bents and towers.
After replacing the bridge deck, the MacDonald will be raised 2.1 metres higher than it stands today.
———
Since amalgamation, the idea of integrating all the region's transportation services–transit to streets to highways to bridges–under a regional authority has come up at various times and even briefly made it to the Legislature.
Former Halifax chief administrative officer George McLellan—now deputy minister for Nova Scotia's finance and treasury board—took a run at the idea of a transit authority a couple of times during his tenure with the city. In the early 2000s, Halifax was struggling to cobble together funds for a harbour clean-up. The ability of the independently run bridge commission to borrow money in order to fund major projects looked like an attractive model.
"My goal in that context was that if it's a separate authority it would be able to issue its own debt," says McLellan. "The bridge commission did and still does, and it's underwritten and guaranteed by the province."
There was another reason to have an independent transportation authority. It could expand beyond the bridge commission into holistic, multi-modal planning. McLellan, like many others to this day, wanted the focus on moving people, not vehicles.
"We don't need to be focused on 'some by car, and some by ferry,'" he says. "We need to look at the whole problem. Why can't we look at the conveyance of people, irrespective of the mode?"
Multi-modal planning is one of the key benefits of having a transportation authority, according to Dalhousie University's Ahsan Habib.
"Transportation, by nature, you cannot separate it from the network," explains Habib, who works with Dal's Transportation Collaboratory (DalTRAC). "Everything is connected to the network. It needs to flow, plan and operate with one vision, with one governance structure."
For Halifax, there's a lack of coordination in our transportation network. Highways, bridges, streets and transit are profoundly interwoven, yet are managed separately. The risks of inefficiency are obvious, and Habib says his research has found "overlapping, fragmented jurisdictions in our city."
He points to examples like the provincial expansion of Highway 102, and the traffic pressure that has moved onto Bayers Road. "There is no benefit of adding more capacity to the provincial roads unless the municipal roads are also being aligned with that kind of capacity," says Habib.
Ideally, he says, we need one group thinking strategically—responsible for all jurisdictions and modes of travel. Then "you can really think through the trade-offs between whether to put a ferry, versus whether we need a third bridge, versus whether we need a road or road-widening."
The HDBC's narrow mission really only gives it one direction in terms of longterm planning: a third crossing. That said, Steve Snider has been working over the last decade to try and maximize the current bridge capacity. He adamantly states that he's not interested in a third bridge. Not until "the public are screaming for it," at least.
"If it wasn't for the third lane and for MACPASS," he says, "you would hear the audible ring of 'build us another bridge' today."
———
For whom the bridge tolls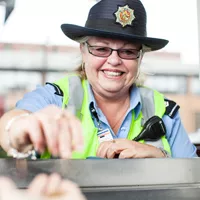 Within the Macdonald Bridge's first decade, tolls decreased from 40 cents to 25. The Macdonald's Vancouver twin, the Lions Gate bridge, tore down toll gates after just 25 years of 25 cents a crossing. So 60 years in, why are Halifax's bridge tolls a buck a pop? Blame global financing. The bridge commission took advantage of low-interest foreign currency loans to finance the MacKay. A poor-performing Canadian dollar caused that debt to balloon. When current CEO Steve Snider took the helm in 1994, the organization's debt was a whopping $100 million and annual interest payments were $11 million. Thankfully, some refinancing in 1997 cut the interest rate in half. Even though the most recent loan of $160 million is arranged by the province at a better rate, Snider says there will be tolls for at least the next 23 years. With major maintenance projects for the MacKay likely to come up in 20 years, bridge users may never see tolls disappear.
———
In 2009, HDBC commissioned a study which concluded that traffic could be congested enough by 2016 to make a third bridge desirable. The Cross Harbour Traffic Needs Assessment also suggested the best option is either a bridge or tunnel connecting Woodside and Highway 111 in Dartmouth with the south end of Barrington and Robie Streets in Halifax.
That could be postponed, according to the report, by aggressively pursuing alternatives to single-driver vehicles, including a significant investment in transit. But even then, it warns a third crossing will likely be needed by 2026. "This challenge is significant, and underscores the need for a coordinated regional governance model to address these issues in a systematic and coordinated manner," the report reads.
Coordinated governance for Halifax transportation sounds very similar to George McLellan's idea for a transportation authority. Back in 2003, city council proposed the formation of a capital transportation authority to the province. The idea made it as far as first reading in the Legislature, but no further.
Stymied by the province, two years later the city formed the interim Strategic Joint Regional Transportation Planning Committee. It has the same players an authority might encompass, and a mandate to eventually transition into a transportation authority.
In 2012, the SJRTPC got its own study done on the authority issue. Like other research and reports, this one found Halifax's transportation issues "require more aggressive action than has been undertaken to date or that many feel can be undertaken with the current administrative structure." There's been little-to-no further work on the idea.
———
What's the fastest route while the bridge is down?
———
While Steve Snider feels that existing coordination efforts are working, a coordinating committee is far from a transportation authority.
Ahsan Habib says that the power to implement plans is a key feature of the successful transportation authorities in Vancouver and Toronto. "They have not only the authority to plan for the entire region–all types of modes, all projects in one umbrella–but they also have the authority of implementation."
Another problem for Halifax is that creating a new authority will probably mean bumping up bridge tolls. "Governments are struggling with how to price transportation," says Snider. "Gas taxes don't cut it anymore.
"There are people in the province who will tell you that the province takes in all sorts of revenue from gas taxes and doesn't spend that on the roads. Well, they spend that and more. We don't generate enough in gas taxes to support our transportation system."
He mentions cordon tolling—tolls charged at various entry points to the central business districts, effectively roping off the most congested part of the city.
"I'm not saying we should consider it," Snider adds. "I'm saying cordon tolling is an option that some cities have used to decrease congestion."
———
Where your dollar goes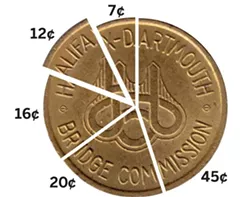 45 cents:
Capital projects (including a new MACPASS Centre building, preparations for The Big Lift, and socking away a little for a rainy day)
20 cents:
Operating expenses (including salaries and wages for 40 permanent staff–three of whom make over $100,000—and about 50 Commissionaires, plus some seasonal workers)
16 cents:
Debt repayment (the commission still owed $39 million on older loans, before it borrowed another $160 million for the Big Lift)
12 cents:
Maintenance (including the perpetual painting program)
7 cents:
Interest on debt
———
As for the bridge commission's future, not surprisingly, Snider likes things the way they are. For one, it saves a lot of red tape. "We can act quickly and are responsive to the needs of our customers," he says. "We don't have to go through the processes that government departments do to get approval to do things."
That responsiveness was demonstrated recently when the HDBC decided to relocate the Halifax stop for shuttles serving the 1,500 or so people losing bridge access every day during the Big Lift. The stop's original location at the bottom of Cornwallis Street inspired enough complaints from the public that the commission took action and found a better spot just off the bridge on North Street.
But what about our longterm transportation plans? That 2009 report on traffic growth predicted we'll be needing two massive investments in the coming years—one for transit and one for a third crossing in 2026. If those predictions come true, watch for discussion of a regional authority to rear its head again.
Without an authority, Halifax will remain a city with "overlapping, fragmented jurisdictions," as Habib describes. And in that reality, the question of which investments to prioritize will likely be made for us simply by the status quo.
The bridge commission, created in 1950 to serve the independent cities of Halifax and Dartmouth, is a tool from another time and another place. Yet it has the borrowing power to make a major project viable. Meanwhile it's unclear whether the city has the wherewithal to pay for the sort of massive transit upgrade that would, at least, delay the need for a third crossing.
Such is the status quo. Its argument for making Halifax's priority a third bridge—or a first tunnel—is strong. And as long as the city keeps going without a road map, that's exactly where we'll end up.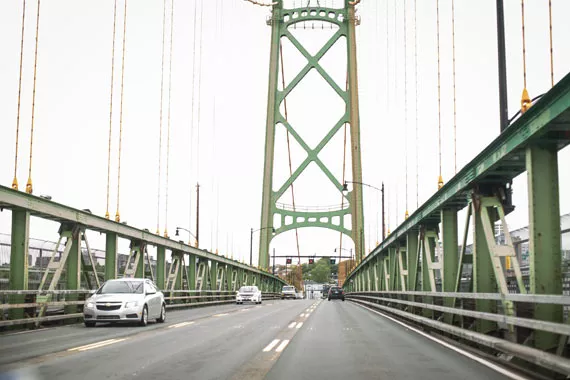 Erica Butler is a freelance writer in Halifax.