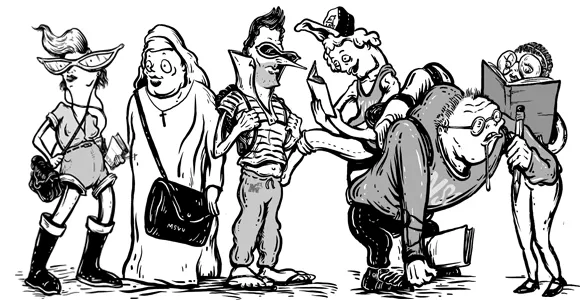 The Sorting Hat sits atop every first year that enters Hogwarts School of Witchcraft and Wizardry and determines to which of the four houses they belong. It is a mysterious item and takes the student's traits, feelings and even their desires into account.
In real life, there's no sorting hat to tell you where to go. And what you learn about your school once you attend your first few days of class may make you think twice about whether it's the right one for you.
All of the post-secondary institutions in this region have stereotypes about the kind of students that attend them, most of them being completely asinine. Let us be your Sorting Hat, or at least separate the fiction from the fact about local schools. Maybe the one across town is more your speed after all.
Dalhousie University
Dalhousie University, some may say, is the biggest school in town, which means it must be the best, right? The students walk around completely alone, or at least that's what one would think, as no one knows each other unless they are in the same class, or maybe the same program. These people also brag about their program: This is snob central, and with academic excellence being the primary focus of the school---it's Halifax's Ravenclaw for sure.
"One of the stereotypes about Dalhousie is that people get really attached to their program," admits Chris Saulnier, president of the student union. "To me, that's just another way of showing school pride and enthusiasm."
The truth is that Dal has over 200 student societies, and growing. Human interaction is alive and well it seems, in the region's largest school.
"If you are interested in political science, or sailing or drinking tea, there's a society to get involved with," Saulnier says. "There are almost an overwhelming array of opportunities to participate in."
It is true that some classes are in the hundreds of people rather than the dozens, so be mentally prepared for that. But there are tons of ways to interact in smaller groups and just have fun.
Established in 1818, more than 16,000 students are enrolled this year with slightly more women enrolled, but it is a negligible difference.
Saint Mary's University
Saint Mary's University is just a few blocks from the Dalhousie mega-school, but its student cultures couldn't be more different if you believe the stereotypes.
A focus on business, greed and booze makes the students of SMU much less shy or introverted than their Dalhousie counter-parts. Sweatpants are king at "Robie Street High"---even the professors wear them to class. A SMU student isn't as interested in grades so much as the popping of one's collar. And note to readers: Football is the only sport at SMU, the only one that matters, since this is a school of jocks.
The facts: With about 8,500 students, SMU has relatively smaller class sizes with a wide range of programs from international development, English, criminology, sociology and dozens more.
The Sobey School of Business is the largest faculty on campus with 36 percent of students enrolled there.
SMU spokesperson Steve Proctor says that the school has received a bad rap as being "the easy school."
"We don't have any less focus on academics than any other university," he says. "If [students] haven't been able to cut the mustard, then their fate is the same as it would be in any other school."
Proctor says this "less academic" classification came because SMU allows new students to enter with a lower average after high school than most. But SMU is also a worldly school with students hailing from 106 different countries, also many students study abroad in comprehensive learning programs.
Established in 1802, Saint Mary's University is the oldest English-speaking Catholic school in North America, although it no longer affiliates itself with any particular religion.
Mount Saint Vincent University
Mount Saint Vincent University sits near the Bedford Basin off the peninsula and is well-known for its beautiful grounds, education program and the vestige of a nunnery's past.
The myth: Mount Saint Vincent University is a school where 99.9 percent of the school's population is of the female persuasion. According to fables and whispers, every single woman who goes to the Mount is a lesbian, much to the chagrin of local males who were hoping for orgies.
In fact, it's only 80 percent ladies, and there is certainly no presumption on their sexual preferences.
The Mount offers some of the smallest class sizes in the country, averaging out at about 24 students, with a total population of approximately 4,000. The school is the only one in the HRM that offers a degree in education, along with courses on nutrition, gerontology and sciences. It was founded in 1873 as an all-girls school, and its motto is Veritas ad Deum ducit---in English, "Truth leads to god."
Nova Scotia Community College
Nova Scotia Community College is seen in many ways like the province's Hufflepuff. Can't get into university? Go to NSCC, right? That's where you're wrong.
Though some of the programs offered at NSCC require a bachelor's degree or diploma to enroll, the tables have turned now.
"About one-quarter of our student population has some post-secondary education already," says Patsy MacDonald, the school's registrar. "A lot of our programs require more than just a high school diploma, unlike university."
NSCC offers specific courses focusing on future employment skills, especially in trades and technical fields. The institution is spread out all over the province with 40 percent of the students hailing from the HRM and 60 percent from other areas, from Yarmouth to Sydney. If you're feeling your current curriculum is too rooted in theory, NSCC programs are much more geared to the practical.
NSCC was established in 1988, has no motto, nor a religious affiliation. NSCC's Waterfront campus is a LEED-certified building, meaning it's been built with the environment in mind.
Nova Scotia Collage of Art & Design University
NSCAD University (pronounced NAS-cad) is a small school in downtown Halifax, offering undergrad and graduate degrees. It's considered one of the premiere art schools in the country, with programs in everything from ceramics to painting to film.
The students who go there are generalized as being unhygienic. The assumption is that this is a hipster mecca---every waking moment of a student's life here is done ironically, or as some form of allegory. They live in an odd magical dimension where nothing really happens or exists, including getting work after graduation. Luna Lovegood would fit in extremely well here.
This is an absolute fact.
(Just kidding.)
Jill Collicut is a former student and says she had a very positive experience there. "Great teachers, creative environment, all the necessary tools available. I think it has the best fine arts program out there.
"We were all open-minded," she says. "Ready to learn tricks of the trade."
But what were the students like? "Mostly adults in my class, all clean and well- dressed." Myth: busted.
The school was founded by Anna Leonowens, or "I" from The King and I. It's changed names a total of four times since its inception in 1887 and recently opened a new campus near the Seaport Market on Marginal Road. The school motto is "Head, Heart, and Hand."
University of King's College
Finally, the University of King's College, one of the smallest universities in Canada, with a population of about 1,100.
It is protected by a nerd-conjured force field around its sacred quad, which prevents intruders and non-Apple computers from entering. Students will be throwing a Frisbee while discussing the differences between Descartes and Hobbes. Despite the school being located in the heart of Halifax, every single student at King's is from Upper Canada (Ontario).
Once again, not true. Students come to King's from Nova Scotia and all across Canada. King's is most well known for two courses unique to the area: j ournalism and the Foundation Year Programme. FYP, as it's affectionately known, is an intensive intro to western history, philosophy and art.
King's is known for its very strong student community and frivolous activities on the central quad where you can hang out or strum a guitar. It's an Anglican school established in 1789, originally located in Windsor, Nova Scotia. The school didn't relocate to Halifax until after burning down in 1920 and signing an agreement with Dalhousie.
If there is a lesson here, dear students: Don't believe everything you hear about the post-secondary institutions in this city. After all, school is what you make of it, not the other way around. And if you aren't feeling at home where you are, options aplenty exist just down the street if you want to give it a try.