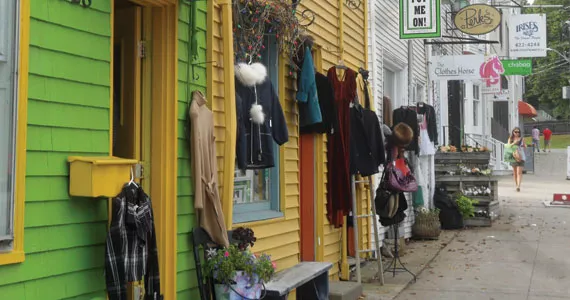 Without question, the Spring Garden Road area is the healthiest retail district in Atlantic Canada, forever recreating and transforming itself in interesting and positive ways. And right now, there's more construction going on than ever before: Framed on the north by the pricey Trillium condo building, which will be a sure incentive for even more high-end boutiques on the strip, and on the south by the new Central Library, providing a broader customer base for the affordable, and yet nonetheless urbane, cluster of restaurants, bars and eclectic shops, the street is pulsing with possibility.
Still more construction is between the bookends: a 100-foot crane looms above the rising TD Bank on the corner of Dresden Row, City Centre Atlantic is getting a rooftop addition, a couple of facade renovations hide behind sidewalk scaffolding along the way and, just off in the future, is a planned rebuild of the block bound by Doyle, Queen, Birmingham and Spring Garden Road.
But there's more to building a retail district than construction; there's the day-to-day building of district identity, the never-ending work of building individual business success, the re-purposing and innovation that underscores vitality, and on all counts Spring Garden Road is developing vigorously. This week, we tour the street to get a sense of where things are heading.
---
The Monkey Show
1569 Dresden Row, 407-4788
Build a monkey! I'm flabbergasted by Amy MacLaren's bright little shop, The Monkey Show, tucked into a small space off The Courtyard below Fid Resto. It consists entirely of a handful of tables with chairs, a bunch of socks, some foam stuffing and a gazillion buttons; customers come in and spend $17-$26 to make a sock monkey, which takes about an hour. MacLaren says customers include mothers with their children, college women and a "ladies' poker club," among others. Perpetually upbeat, MacLaren says business is booming, which just goes to show that smarty-pants reporter he has no clue what's going on in the wider world. See more at themonkeyshop.ca.
The Fickle Frog
5675 Spring Garden Road, 429-9999
Once upon a time, the Lord Nelson Hotel ran a couple of drinking establishments on Spring Garden Road, which were connected to the hotel via a labyrinth of hallways between the two buildings: In the basement was the legendary Ladies Beverage Room (now The Oasis) and at street level was the Victory Arms Pub. The Victory Arms was shifted over to the hotel proper long ago, and the former space was penultimately christened Gatsby's Pub, but a few months ago Helen Davenport bought the establishment and, in the forever-changing nature of the street, has transformed it into The Fickle Frog. I've long been a fan of the geography of the narrow space, and Davenport has done well by it: she kept the long bar, but has broken the booths down, keeping their plump seats along the wall, but filling the aisle with more interactive-friendly free-standing tables. The old historic photos of Halifax have been moved to the back lounge area and replaced with a colourful series of panels constituting a 40-foot painting by local artist Sheena Dickson; together with the new frog theme, they brighten the place considerably. "It looks like it's been lived in, "says Davenport. "I want it to be an old bar that you'll stroll in to to be with your friends." Add the new, friendlier menu, Davenport is well on her way to creating a new pub community.
Bookmark
5686 Spring Garden Road, 423-0419
Bookmark has done the nearly impossible: thrived as an independent bookstore (it has a sister store in Charlottetown) in an era marked by the competition from, then collapse of, the giant national chains, internet sales and the predicted "death of the book." What's the secret for success? "We keep doing what we do well, which is carry interesting books," says manager and book buyer Mike Hamm, who adds that he's expecting to soon incorporate e-books into the business by providing sales on site. I buy all my new books at Bookmark because of its convenient location, its prompt service and its long hours---the store is open until 10pm through the week and to 6pm on weekends.
Spring Garden Place; food court
5640 Spring Garden Road, lower level
Mall food courts generally don't work, I've found, but the court beneath Spring Garden Place scores majorly. Credit first and foremost Ko-Doraku Sushi, with its high-quality low-cost lunch that brings a quick lineup dozens deep every day. (And is it my imagination or is the line moving even more quickly thanks to the cute "sushi robot" recently installed to build lunches?) Another tasty development in the court is Tarek's Cafe addition of an extensive Indian cuisine line, courtesy of site owner Mandeep Dhunna.
Queen Street boutiques
In The Death and Life of American Cities, Jane Jacobs stresses that while successful retail districts see lots of new construction, they must also have a mix of older buildings. The older buildings aren't museum pieces, said Jacobs, but rather provide relatively low-rent incubation space for offbeat, experimental businesses that wouldn't otherwise survive, and give them time to grow. And that's exactly what has developed in the old houses that now make up the Queen Street boutique strip.
The collection started when Johanna Galipeau opened Sweet Pea Boutique (1542 Queen Street, 423-0975) in 2007 at age 19. When I drop by Friday, Galipeau is showing off her fall line of dresses for the upcoming "holiday and cocktail season," she says with a sly grin. Galipeau, who says she started Sweet Pea looking to fill the niche "between the mall and the high-end boutiques," concentrates on funky new lines by local designers at the Pea, but has expanded (Jacobs would approve) into more upscale offerings at her new venture, Twisted Muse (5486 Spring Garden Road, 446-3662). Farther south on Queen, four second-hand and "repurposed" shops have huddled together: Clothes Horse (1532 Queen Street, 483-7067), its upstairs neighbour, Put Me On Consignment (1532 Queen Street, 492-2572), Elsie's Used Clothing (1530 Queen Street, 425-2599) and Encore (1528 Queen Street, 429-8788). "The big thing is the hunt," explains Clothes Horse's Meryle Bryant of the street's customers. "Everyone has their own style and is looking for something unique; they don't want to support mass marketers."
I can't pass up these Queen Street businesses without mentioning Jim Bates at Iris Flowers (1534 Queen Street, 422-4244). Bates has been in the full-service florist biz some 30 years, and lately has expanded into "uptown balcony design"---what he calls "instant patios" of container gardening (see irisflowers.ca). Bates worked with "garden doula," Jamie Melrose, who brought together volunteers to transform the dead alley behind the Queen Street strip into its own instant patio paradise.
Doyle block
An earlier example of Jacob's "old buildings as business incubators" theory are the now well-established and distinctive businesses in the block south of Doyle Street. Taking advantage of excess space in an old, underperforming office building is Rogue's Roost Brew Pub (5435 Spring Garden Road, 492-2337) and on the opposite side, Tom's Little Havana Cafe (5428 Doyle Street, 423-8667); further east is Lily's Lingerie (5411 Spring Garden Road, 422-0161) and Fireside Restaurant (1500 Brunswick Street, 423-5995). Developer Danny Chedrawe has made no secret of his desire to raze the block after the TD bank branch moves into his new building going up at Dresden Row. No one's sure what this means for the businesses. So far, Chedrawe has given no indication that construction is imminent, says Fireside's Don Webster: "Ask me a year from now and we'll have the same conversation."
---
MORE OF SPRING GARDEN'S LOCAL BUSINESSES
A STEP UP HAIR DESIGN AND DAY SPA 5982 Spring Garden Road, 444-3039
ALL DRESSED UP Spring Garden Place, 5640 Spring Garden Road, 444-3198
ARTISAN HAIR ROOM Park Lane Mall, 5657 Spring Garden Road, 407-4400
AURORA AESTHETICS 5954 Spring Garden Road, 406-4040
CAFE ISTANBUL 5986 Spring Garden Road, 405-4028
THE CAS SPA 1448 Dresden Row, 422-7888
CHA BAA THAI RESTAURANT 1546 Queen Street, 406-3008
CHAPEL HILL FORM FITTERS 5407 Spring Garden Road, 422-7150
COMFORT ZONE Park Lane Mall, 5657 Spring Garden Road, 492-3339
CRIMSON CLOVER 1351 Birmingham Street, 492-8677
Cucina moderna1535 Dresden Row, 423-9562
CURRY VILLAGE 1569 Dresden Row, 429-5010
DAILY GRIND CAFE 1479 Birmingham Street, 429-6397
DANIEL'S TAILOR SHOP & DRYCLEANINGPark Lane Mall, 5657 Spring Garden Road, 423-6330
DEBUT FASHIONS Park Lane Mall, 5657 Spring Garden Road, 429-3444
Domus reality 100-5880 Spring Garden Road, 422-0555
DUGGER'S MENS WEAR/d2 5476 Spring Garden Road, 425-2525
DRESS IN TIME 5670 Spring Garden Road, 488-7116
ELIZABETH'S TAILOR SHOP & DRY CLEANERS 5675 Spring Garden Road, 429-3623
FIASCO RESTAURANT 1463 Brenton Street, 429-3499
FRAME-IT 5512 Spring Garden Road, 429-3644
FRESH GOODS SNEAKERS AND APPAREL 1491 South Park Street, 423-1938
HALIFAX FOLKLORE CENTRE1528 Brunswick Street, 423-7946
HIM BOUTIQUE 1526 Dresden Row, 407-4446
IN A BOX GIFTS 1468 Dresden Row, 423-8031
INDOCHINE BANH MI Paramount Building, 1551 South Park Street, 407-1222
JACKY'S CAFe 5991 Spring Garden Road, 446-4060
JAMES BRADSHAW JEWELLERY DESIGN STUDIO 1551 Birmingham Street, 425-0121
JEAN'S CHINESE RESTAURANT 5972 Spring Garden Road, 444-7776
JENNIFER'S OF NOVA SCOTIA 5635 Spring Garden Road, 425-3119
JOHN DAVID SHOES Park Lane Mall, 5657 Spring Garden Road, 422-8466
JONATHAN NEIL SALON Park Victoria, 1333 South Park Street, 492-3962
JULIE LELLS MASSAGE THERAPY YMCA, 1565 South Park Street, 422-4512
JUST US! COFFEEHOUSe 5896 Spring Garden Road, 423-0856
KICK ASS SHOES 5457 Spring Garden Road, 444-7527
LIFE SALONSPa 5520 Spring Garden Road, 423-7771
LOVE, ME BOUTIQUE 1539 Birmingham Street, 444-3668
M HOME 1471 Birmingham Street, 429-4333
MOKSHA YOGA 1512 Dresden Row, 420-0888
PROJECT 9 5525 Artillery Place, 422-7463
the shops of mills 5486 Spring Garden Road, 429-6111
SMILING GOAT ORGANIC ESPRESSO BAR 1551 South Park Street, 446-3366
SOLED OUT SNEAKERS 1587 Dresden Row, 444-8555
SPRING GARDEN AREA BUSINESS ASSOCIATION Spring Garden Road, 423-3751
THORNBLOOM Spring Garden Place, 5640 Spring Garden Road, 425-8005
TURKISH DELIGHT RESTAURANT 5680 Spring Garden Road, 446-4366
URBAN RETREAT MASSAGE THERAPY 5411 Spring Garden Road, 444-8334
WANG'S GRAND CHINESE RESTAURANT 5677 Brenton Place, 429-9264
WILDFLOWER CLOTHING 5553 Clyde Street, 420-0364
WINSBYS 5504 Spring Garden Road, 423-7324
WIZARD OPTICAL CENTRE 5675 Spring Garden Road, 422-8974