click to enlarge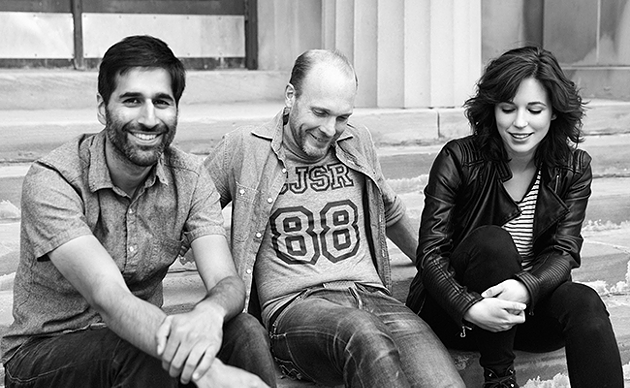 Rural Alberta Advantage w/Patrick Watson,
Yukon Blonde, Dance Movie
Saturday, October 21, 7pm
Forum MPC, 2901 Windsor Street
$40 adv/$50 doors
Like clockwork, The Rural Alberta Advantage manages to release a new album every three years, even if not by design. "This time, we were like 'It's going to be different this time. We're going to get a record out in like a year-and-a-half and be a normal band,'" says drummer Paul Banwatt.
Between the release of 2014's Mended with Gold and The Wild, out last week, Amy Cole left the band and keyboardist and vocalist Robin Hatch joined Banwatt and vocalist/guitarist Nils Edenloff. "This time, we actually wrote this record, most of it, really quickly for us," says Banwatt. "Except it was delayed because of the changes that were going on in the band itself."
In November 2016, the Toronto trio released the single "White Lights," early on in the recording process with more singles trickling out over the next 11 months; the trio road-tested the songs live. "Through the whole time, we were kind of writing the record as we were putting out material that was going to be on the record," says Banwatt. "It was a really different and kind of awesome way to do it because we we could just feel the response that some of the new music was getting and it was very inspiring."
Despite the member change and a different release approach, it still sounds like classic Rural Alberta Advantage. Edenloff strums away on guitar and pours out his heart, augmented by Hatch's backing, while the eminently dynamic Banwatt lets loose on drums or shows remarkable restraint in the quieter moments.
"It's something we always talk about and it's something that always comes up every record. Like are we going to do something wildly different than the last time?" Banwatt says. "We do a thing that we kind of think is us. Trying to find that again in a different way is different, it's hard. We try to grow and take risks, but we also try also try and recognize that there's something we do that we find exciting, that other people seem to too."
This marks the third time the band will play Halifax Pop Explosion. Banwatt says Halifax is one of his favourite music cities in the world, although part of the draw has nothing to do with music.
"If there's a city councillor reading this, if they could like protect Pizza Corner with some kind of heritage status or something like that I'd really appreciate that," he says. "It's something I look forward to every time I come."