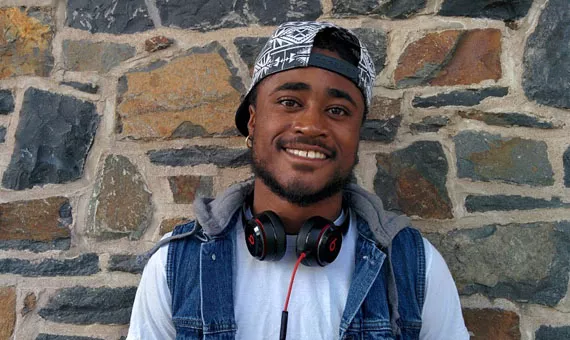 Growing up, Mateo Ferguson knew that things wouldn't be easy for him as a gay black man. He's part of a minority in a minority, living in a town that can be ignorant and sometimes even hateful of both. The 19-year-old has remained "optimistic," though.
Like many other gay students, he uses Grindr. For his efforts, he's repeatedly been subjected to degrading, dehumanizing remarks from other gay men in Halifax all because of the colour of his skin.
"Being black and gay is like some fetish or kink to some white men," says Ferguson. "I've had people contact me saying, 'I want a black slave.' I've had people address me as 'Hey nigger,' and other derogatory things."
Ferguson's experiences aren't unique. Prejudice and the fetishizing of other races remain an ugly part of the dating world for people of colour, and can be just as prevalent in the queer community.
Hailey Thomas, 19, has had similar experiences to Ferguson. She has Mi'kmaq, African-Canadian and French heritage, and says sometimes that's the reason other women approach her. "Racially insensitive comments are made. I guess, intended in a joking way," Thomas says. "People have said, 'Oh, you're mixed. That's hot,' or 'Mixed girls have the best of both worlds,' or 'Not to be racist, but I'd only ever date someone who's half-black and not full-on, it's just an attraction thing.'"
Thomas points out this has actually made it easier for her to date as she can quickly narrow down her choices.
"If you're going to make a racial comment out of ignorance and then continue to spew out similar garbage after I've corrected or informed you," she says, "things just aren't going to work out."
Both Ferguson and Thomas say the lack of media representations of queer people of colour play a key role in the way they're treated while dating. "When you put out one set of an image, that's what you get back in return," says Ferguson. "If you put out just gay white men and their masculinity, that's what you're going to get gay men moving towards."
"It's about just having open conversations regarding the topic of equity," says Thomas, "and acknowledging that people of colour, regardless of gender identity and sexual orientation, face different obstacles and conflicts every day, in addition to issues and obstacles specific to the queer community."
Charlie K. is Muslim and identifies as pansexual. The 21-year-old Halifax resident hasn't come out to her family yet, so we're not using her real name. Charlie uses Whisper, an anonymous messaging app, to try to meet people around her, but the conversation often ends when she reveals her faith.
"Most times people see the hijab and don't want anything to do with me. They just don't find it attractive," she says, adding that the Islamophobia and racism she encounters in the dating world isn't limited to online interactions.
"I've gotten dirty looks when dating non-Arabs and comments about it," she says. "People say, 'Why are you dating someone like that?' or 'You will bring shame to your family,' or my partner's friends would say 'Why are you with someone like her?'"
"We need to learn how to be accepting of other people and not be so caught up in your type," advises Ferguson, who remains on Grindr despite his past negative experiences. "Be open to other types because they may give you that feeling that you were looking for."
Don't limit your options, in other words, because of a preference for a specific skin colour. And don't be hateful towards someone because of their race or culture. That's good advice for everyone, regardless of sexual orientation.
"I'm hoping a decent human being, no matter what the colour," says Ferguson, "is a good-enough type for another person."