Saint Mary's University isn't the only Canadian university that
has a rape chant
. The now-infamous "N is for No consent" chant has been "going on for many years" at the Sauder School of Business at UBC,
reports The Ubyssey
, the school's student newspaper, albeit at UBC the last line was "Go to jail" as opposed to SMU's "Grab that ass" version.
It will likely be impossible to unearth the origins of the chant. Former SMUSA president Jared Perry says he didn't start the chant, and it's been around since he started at SMU in 2009. To be clear: there's no evidence Perry created the chant, but it seems to have been in his circle. Perry is a commerce student at the Sobey School of Business, and the chant was also at the Sauder School of Business at UBC. So it's speculation, but not an unreasonable guess that the chant started at one or the other business schools, then crossed the country via a transferring student, or by way of some business student gathering. It wouldn't be surprising if the chant turned up at other Canadian business schools.
SMUSA elections foreshadowed rape chant controversy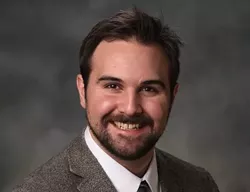 In February, 2013, SMUSA held its annual election for this academic year's representatives. The incumbent, Jared Perry, ran as the conservative business-as-usual candidate looking for re-election: "So why vote for me?" he asked in
his election platform
. "Besides having arguably the best Movember Stache, I'm a super personable guy."
His opponent was Amanda Dickie, then the coordinator of the SMU Women's Centre, which bills itself as "a rad feminist organization." Dickie's platform was substantive. "Our President, VPs, and Board are paid positions and the money needs to be earned by making real, tangible contributions to our campus, students, and community," she wrote in her platform.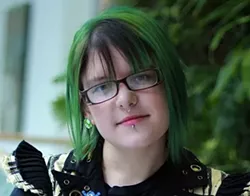 Perry was first elected SMUSA president in spring of 2012. Today, Dickie tells The Coast that in the summer of 2012, SMUSA changed its policies in such a way that it effectively prohibited "special event funding" for two annual events sponsored by the Women's Centre that had previously been funded by SMUSA—Consentfest and The Vagina Monologues. But, says Dickie, SMUSA neglected to tell the Women's Centre of the change, and she had to fight to get retroactive funding. That retroactive funding was conditioned on the understanding that neither event will get future funding.
Oddly, the SMU Journal doesn't give a vote total for the 2013 election, but Perry won reelection, having soundly defeated Dickie, we're told. He was to continue to collect the $23,000 salary as president.
Had she won, she would have "absolutely" put an end to the rape chant, says Dickie.
Having won reelection, Perry penned a letter to students. "There are many important skills that students learn during their time at a university. Some are questionable and should not be spoken of," he wrote. "This weekend one of my roommates and I were up late chatting about the first time we met. It was the first day of Orientation Week and before I knew him, I had already written something completely offside and immature as his Facebook status."
In the wake of the rape chant revelations, Perry and SMUSA vice president Carrigan Desjardins have resigned. The University administration has announced that two students are facing disciplinary action over the chant, but has not identified the students.
Chronicle-Herald publishes op-ed slut-shaming rape victims
The rape chant is not an isolated event, of course, but rather a representative incident of a culture of misogyny that tolerates, even celebrates, rape. Responsible people, and responsible media, ought be concentrating on that larger culture, helping to educate and move the culture along a bit.
But then comes Saturday's Chronicle-Herald, which contains a horrid op-ed piece written by Mary Bowen, a Granville Ferry resident. Headlined "Exhibitionist modern culture breeds excess," the op-ed, yes, tries to connect Miley Cyrus to the rape chant, but it is far, far worse than even that. Read it yourself, but some of the most offensive lines:
At a time when hormones are raging, near naked young women are constantly on parade....

Back in the day when dinosaurs roamed the prairies and I was a teen, there were names (which can't be repeated here) for girls who paraded their wares and talked the talk, then wanted to bail when the car windows at the drive-in were thoroughly steamed and boys couldn't have walked to the concession stand for the popcorn if they'd wanted to.

"No means no" is a catchy slogan, but is it really fair to spread out the goodies and then snatch them off the table at the last second when the bait is taken and the hook halfway down the fish's throat?

Is it fair to expect hands-off status when young ladies themselves are chanting, "Use us; abuse us; do what you will"? Is this fair play? I don't think so....

...And while we're at it, bring on the burka!
There you have it: young women get raped because they are cock teases. Men are incapable of controlling their lustful loins in the face of a woman who reveals too much, and so, really, the women are to blame for rape.
Do we actually need to respond to this disgusting tripe? Well, we do, because the attitude expressed in the op-ed is prevalent and is the very foundation of rape culture.
Thankfully, Ally Garber, who writes with the fashion blog Fashionable People, wrote a very good response to Bowen's op-ed:
...Here's the thing: it is not a woman's job to "not be raped".

We are not mandated to carry rape whistles.

We do not need to cover up.

We do not need to hide our sexuality.

I really hope all the young women who may have come across Mary's article understand that.

We must say it until every woman is safe: It is not a women's job to not be raped.

Even if Miley Cyrus came grinding out onto the stage wearing nothing but that foam finger: Miley Cyrus was not asking to be raped.

Also those names for girls who "paraded their wares and talked the talk"? We don't use those names any more.

Because sex, if you want to have sex, is OK.

Rape is not.
And a word from me, to teenage boys and young men: Yes, it's difficult navigating the wondrous world of sex. Welcome to adulthood! It won't ever change: 40 years from now, you'll still be confused and mystified by sex and relationships. That's called being human. But
taking
sex, whether violently, or through coercion, or by false pretence or by taking advantage of intoxicated and/or passed out women is
rape
, first and foremost: a crime. But also, it's a loser's game, played by loser dudes who can't meet women on their own terms.
Like you, women too are sexual beings, with their own desires, turn-ons, turn-offs. And good sex is mutual sex, when those wondrous, confusing and mystifying desires of two people meet. And, fellows, finding that, having a woman want you, is what makes you not a loser dude.
I'm talking in the context of heterosexual relationships, because the subtext of the rape chant is normative male power over women, but of course the same standards should apply to all sexual relationships, homosexual included: Mutual consent is good sex. Rape is crime, committed by asshole losers.
SMU Women's Centre to rally
The SMU Women's Centre has announced a "Chant down rape culture" rally, for this Thursday, September 12, at 2:30pm, outside the Atrium on the SMU campus. Says the centre's press release:
Rape culture is defined as the attitudes, behaviours, messages, language, laws, media and other everyday phenomena that promote sexual violence. Rape culture normalizes physical, emotional and sexual assault against women, girls, transgender, and queer people. It disproportionately affects communities for whom oppression based on sex, gender, race, physical ability and mental health status is an everyday reality. It supports an environment in which sexual assault seems inevitable for the world we live in.

This rally is organized to speak out against rape and rape culture on campuses and in the city of Halifax.

We recognize that this culture is not created by or limited to St. Mary's University, but is prevalent throughout society. The chants captured on video are a symptom of a wider culture that minimizes sexual violence, shames and blames rape victims and victims of assault, and promotes the normalization of rape.

We are tired of victims being silenced. We are rallying to speak out against rape and rape culture. We are rallying to support victims and to assert the right of all students, faculty, staff and members of the community to a safe campus, a safe city and a safe world. We are rallying to demonstrate that members of the SMU community and the city of Halifax stand in solidarity against any activity that promotes sexual violence.

We are rallying to demonstrate the visibility of survivors and allies, and to refuse to quietly accept the marginalization of victims and those who oppose rape culture.