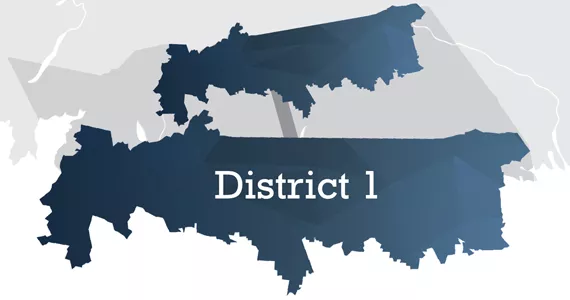 It takes nearly two hours to drive fully across District 1, making the open race for Waverley—Fall River—Musquodoboit Valley more of a marathon than a sprint. The six candidates battling it out will have to decide between canvassing for voters in the area's concentrated suburban centers, or visiting the spread-out, often ignored rural communities throughout the Musquodoboit Valley.
Eligible voters: 16,371 (as of 2014)
(Up 700 from 2012)

Past voter turnout: 43.4 percent
The Candidates
Incumbent councillor Barry Dalrymple isn't re-offering, but he has thrown his political weight behind longtime friend and Dartmouth Adult Service Centre executive director Cathy Deagle-Gammon. That endorsement may help or hinder Deagle-Gammon's chances, particularly while running against Steve Streatch. The councillor of 13 years was defeated by Dalrymple in 2012. Streatch was a perennial F-grader in The Coast's annual council report cards, but it's not like that stopped him from getting elected before. Over in Waverley, real estate agent Alison McNair and Canada Post employee Steve Sinnott are promising to bring change to how District 1 is represented at City Hall. Meanwhile, veterinarian Trevor Lawson might have the farmer vote out in Musquodoboit, but he'll need to win over the suburbs to get elected. Lawson did recently score an endorsement from beloved ex-MP Peter Stoffer, though that might not carry much weight in the traditionally Conservative district. Rounding out the ballot is social media-abstaining millennial Colin Castle, who's descended from one of the valley's original settler families.
The Issues
Commuter rail offers a glimmer of hope to the transit-barren residents of District 1, especially with all that federal infrastructure funding in HRM's bank account. The population of the area is also ageing up without many resources or seniors homes in place to accommodate that demographic switch. A proposed quarry near Miller Lake, water issues, the ditch tax and the recent outcry over HRM's large lot bylaw are all likely hot topics in this campaign. All of those problems speak to one of District 1's biggest conflicts at city hall—the ongoing divide between rural and urban HRM. Whoever does win Waverley—Fall River—Musquodoboit Valley will need to find a way to make their residents feel heard, while working together with all of the municipality's other councillors—new and old, rural and urban.
Click here to find out more info on how, where and when you can vote in HRM's municipal election.