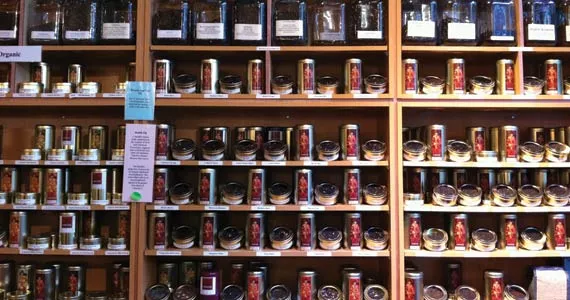 I've always been a coffee girl at heart. I keep a stash of tea for company, but until now, that's been the extent of my interest. With tea shops popping up around town in the last year, I figure I better see what all the fuss is about.
My journey starts at World Tea House on Argyle Street. This little shop, ironically, used to be home to one of my favourite coffee shops, Uncommon Grounds. When I arrive, the space is calm and quiet. The friendly face behind the counter directs me to a wall with tiny samples of each tea, allowing me the opportunity to smell them before making a decision. I choose a cup of white goji berry for $2.30. A teapot yields two cups and is $3.50. After a thrilling "ding" of the timer, I know it's ready and the server brings it over. White tea is the least processed of all the teas. Flavoured with goji berries, lemon myrtle and flowers, it's delicate with a subtle berry flavour.
Later that day, the bright turquoise awning is welcoming at David's Tea on Spring Garden Road, and the storefront windows are wide open, letting in a cooling breeze and relief from the hot sun. The teas are arranged by leaf variety: black, green, herbal, et cetera; stored in silver canisters and labelled every colour of the rainbow---a stark contrast to the institutional white walls. With my being ever so indecisive, the pleasantly enthusiastic clerk urges me to sniff a multitude of options before I finally arrive at "the one": Toasted Walnut, a green tea flavoured with walnuts, almonds, pineapple and coconut, $2.50 to go. It's like a dessert in a cup: nutty and sweet and I savour every sip.
In the calm before Hurricane Irene, the air is so humid and wet, I feel as though I could wring it out like a towel. I need something cold and decide on some iced tea from the Sawadee Tea House on Granville Street. Once inside, I'm met by the fragrance of herbs and flowers, the steady pulse of tranquil music and the soothing trickle of a waterfall. I'm awed by the wall of teas on display and the charming selection of teacups and pots. The friendly shopkeeper greets me with a sample and I'm sold. The Cranacrante ($2.50) is just what I'm looking for---an icy mix of dried raspberries, cranberries, lime leaves and rooibos, it's the perfect antidote to the stickiness of the outside world.
Heading over to Dartmouth the next day, my family and I make a final stop at Into the Mystic, a tea and new age gift shop on Cole Harbour Road. There is a lot going on here, and the focus isn't necessarily on the tea, but it's a nice spot to have a cup. With only six chairs at the small counter, a sign suggests a 60-minute seating limit. I wouldn't advise this spot if you're looking to curl up with a tea undisturbed, but it is nice to chat with the friendly staff about the teas on offer and their individual health benefits. We order a decaf chocolate chai, caffeinated coconut chai and a See Less of Me, a medicinal appetite suppressant (not mine). The tea is served in cast iron teapots; there is enough for two cups. We're shocked when we ask for the bill and find that you pay by donation.
What really stands out about my little adventure is the knowledgeable staff I encounter at each establishment. I have plenty of questions, but none go unanswered. Now, excited by the prospect of a good cup of tea, I'll never look at the humble leaf the same. Though I once frowned on tea as the beverage that wasn't coffee, after this weekend, I've turned over a new leaf.