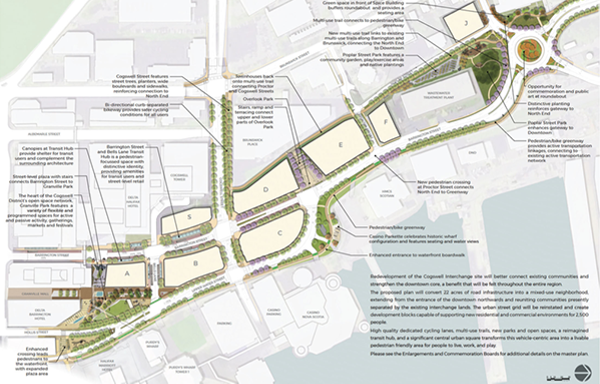 After more than a decade of lagging attempts and false starts, the Cogswell Redevelopment plan is onto the last leg. The 90 percent plan was presented to city council on Tuesday and passed unanimously after some housekeeping amendments were added by councillor Waye Mason.
The quick turnaround from last week's release of the updated plan to a council vote this week had many of the 26 local organizations involved in consultation worried that the last step was moving too quickly.
Executive director of the Halifax Cycling Coalition Rachel Lynn says there wasn't enough time for public consultation, and that setting this kind of precedent for planning is disheartening. "It very well could be a good plan," says Lynn. "It's just a question of having a chance to see it."
During the council meeting, Mason addressed these concerns saying that in "normal planning" like the Argyle Street redevelopment there was community engagement at the 50 percent stage and that was it.
"That is normal," he said. "You don't do consultation on 90 percent of projects like these."
The 60 percent plan came to council last June, followed by three months of consultation. City staff says 80 percent of the recommendations brought forward in this process were either fully or partially included in the design.
An independent report from Gehl associates also played a big role in the changes from the 60 to 90 percent plans. The most notable was swapping out a roundabout at Barrington and Lower Water Streets for a stoplight. This was also something Halifax Cycling Coalition was pushing for.
Donna Davis, project manager of the Cogswell Redevelopment, says her "watershed moment" in the project was the city adopting the Integrated Mobility Plan in 2017. "It caused us to stop and consider that there were other priority users of the road," says Davis.
This, as well as consultation processes and the Gehl report pushed for a pedestrian, transit, cycling and accessibility-focused design. The 90 percent plan draft images show wide sidewalks, green space, room for commemorative art installations, community gardens and plan to meet Rick Hansen accessibility standards.
The 26 groups involved in consultation released co-signed a letter asking council to delay the vote. A motion to delay the vote was put forward in council but was defeated.
Councillor Sam Austin says hasn't heard any feedback saying "you got this wrong."
"It's a place we've poured our civic hopes and dreams for 10 years."
Passing in council this week means demolition could start as early as fall 2019 and the three-step implementation process could wrap up—so they say—in winter of 2022.
Just before the plan went to vote at council, mayor Mike Savage gave a eulogy to the long life of the project's plan, asking that the city doesn't let "perfect be the enemy of better. But this is a lot closer to perfect than I thought we were going to get."