I was in Grade Five when the teacher asked me, "What do you want to learn
as
a second language, English or French?" In some parts of Syria, kids had the chance to choose between the two.
That was the first important decision I had to make. I felt joy at the idea of having options. Over time, options became part of my life. I used to consider it a skill to provide several options for myself, and most importantly to know how to choose between them.
Comparing between my first time dealing with choices and the latest one, I've learned that some decisions need supernatural skills to make. It is not always a joy to decide.
Last week, the second chemical attack happened in a small town north of Syria called khan Sheikhoun. In total, 87 people suffocated from sarin gas dropped by Bashar al-Assad's "air sticks."
Three days later, the American president Donald Trump took action by bombing the Syrian military airport where the sarin airstrikes had taken off.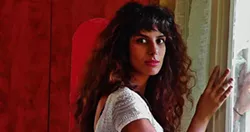 After Trump's response, social media sites were filled with Syrian people's posts—some of them supportive of the American attack, because it tells the Syrian regime that the world is watching and could take action. They started to ask the "Great Trump" for more.
The others saw it as an illegal intervention by America in Syria, and reminded supporters of Trump's personality. How could we believe this racist man, who doesn't respect immigrants, women or Muslims?
Syrians started to argue, asking each other about the American actions. "Are you with or against it?" Judging each other, depending on the answer.
We've gotten lost between Al-Assad's crimes and the jihadists who make him look fine compared to their barbaric behaviours; Trump's attack and Obama's red lines about Syria; we kept arguing about those details until we almost forgot how to cry or pray for the dead victims.
Now, should I give a logical opinion about it, or choose which path is the right? I could try, but I simply don't want to.
I don't believe in weapons, even if they are the only way to end any war. How will the main tool which caused all this death bring the solution?
I don't want to use my skills as a journalist to analyse the situation in Syria. The most basic version is: the dictator is still there using chemical weapons against civilians, and the extremists have found a perfect focus to be closer to their god. The first world's leaders are still selling weapons to dictators, and then showing sympathy with victims.
The first-world nations don't want more refugees, and those refugees don't enjoy their status. Finding one's way around a new foreign world can be very painful.
 Refugees arrive here and sometimes are shocked at the first world's indifference to the massacres, and genocides, hunger that are happening "away."
As a refugee, I just want to have the luxury to make a simple wish: that the war will stop. Just like any mother, student or child who lives in Syria now and who knows there is no victor in this war; who doesn't want to die, because there are still little things in life they want to make simple decisions about.
Myself, I still have options, and I choose silence when I am not 100 percent sure about my judgment, especially when the case is life or death, when my words will fog the matter.
Talking about war crimes, or any crimes, is as easy as posting a photo of my cat. A simple activity on social media gives the feeling that we've taken real action. Then we feel satisfied. But in real life, the suffering is still there. Our choice didn't do anything to solve the problem.
———

Opinionated is a rotating column by Halifax writers featured regularly in The Coast. The views published are those of the author.