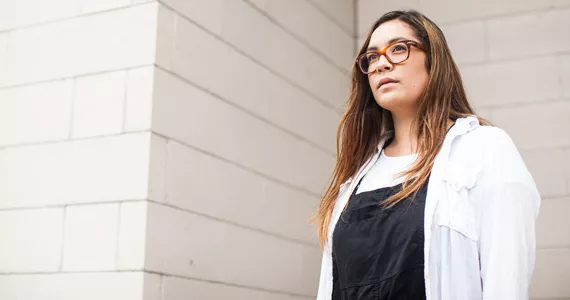 A young woman walks through campus at night. She cuts across a parking lot and behind the Howe Hall residence at Dalhousie. There, she sees a group of male students—about five, or maybe six. She's a student at King's, adjacent to Dal, but these men are not familiar to her.
One locks his eyes on her. "Hey, how are you doing?" he asks.
"I'm good, thanks," she says.
"Where are you going?"
"I'm just on my way to hockey practice."
"Not anymore, you aren't."
The woman looks back at him briefly, but keeps walking.
"Didn't you hear me?"
He grabs her by the arm. The other men start to circle around.
For many university students—especially women new on campus—this story is all too familiar. The start of the school year can often be more dangerous than fun, and the safety measures universities have in place to protect students can seem woefully inadequate.
For her protection, we'll call the woman in this story Kelly. The incident occurred over two years ago. She doesn't know for sure 
that the men's intentions were to assault her sexually.
"I do know that when he grabbed me, it was more than just wanting to make casual conversation."
So she fought back. Clenching her free hand into a fist, Kelly slammed it into her aggressor's jaw. The next thing she knew, she was running as fast as she could. After arriving home, Kelly's roommates consoled her. She then decided to call Dal Security to report the incident.
"They weren't very helpful," says Kelly.
She remembers giving details of the attack as well as descriptions of the men to the security officer. While the officer asked if she was OK, Kelly says, they didn't offer any resources or suggest a "next step."
"Looking back on it now, I should have done something more," she says. "I do count myself as lucky for getting out of that situation with only a sore knuckle."
According to a 2014 Students Nova Scotia report, most sexual assaults on university property take place within the first two months of school. A report released this past February by Dalhousie University states that there have been 38 reported sexual assaults on campus from 2009 to 2013. Halifax police didn't have numbers for campus sexual assaults readily available, but there were 296 sexual assaults reported city-wide last year, with 49 of those occurring in September and October. The number of unreported assaults is likely far greater.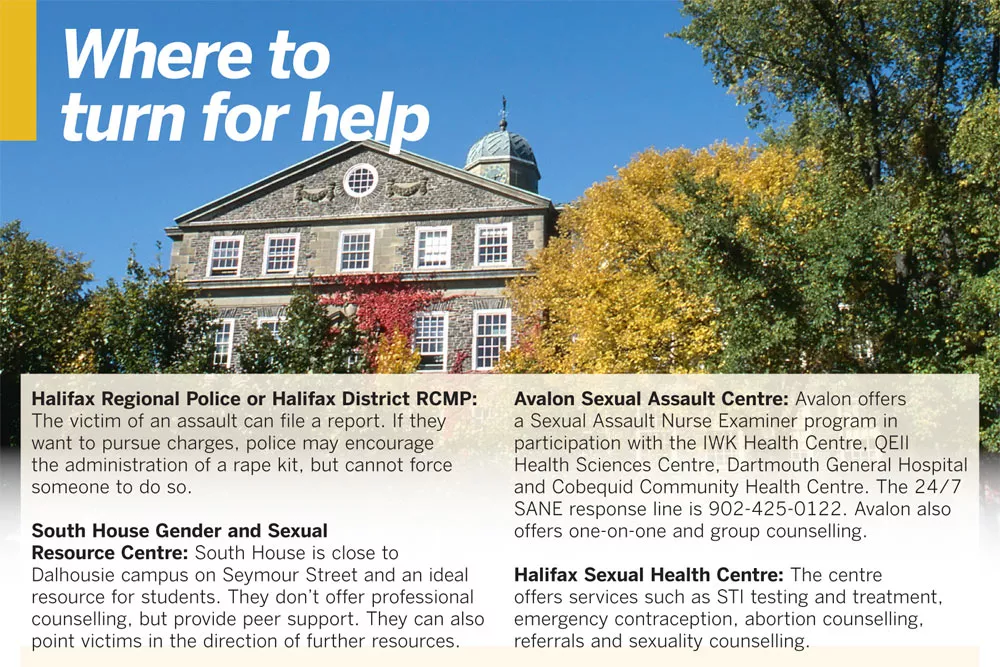 Kelly has since left Halifax to pursue her career, but she says there were other negative experiences with male students while at university. Most of the other situations, though, didn't involve strangers.
"Friends have made assumptions," she explains. "When I'd been drinking or on drugs, there have been a few times when guys have crawled into bed with me and tried to do things with me."
She didn't feel she could approach anyone about it.
"Every time that there has been an uncomfortable situation on campus," she says, "I've never really found that I could go to the school for any sort of support."
"Dalhousie University takes the prevention of and response to sexual violence very seriously," writes spokesperson Janet Bryson via email (Dal officials weren't available for an interview). "The University has a range of professionals who work to provide education and training related to the prevention of sexual assault. We have services to support victims. We address sexual assault and threat of sexual assault offenses under the Sexual Harassment Policy."
Bryson cites resources such as Dal Security, Student Health services and the school's Get Consent campaign, which ran throughout October last year. The campaign, Bryson says, is designed to promote healthy sexual behaviours and relationships as well as to highlight resources for assault survivors.
Fortunately for current and future students, the Dalhousie Student Union has a new helpline in place this fall to help victims of sexualized violence.
"It's been in the works for over a year now," says Kathleen Reid, the DSU's vice-president of student life.
The six-week pilot project launches when the school year begins. The helpline will be answered by trained volunteer, who will be there to listen and support sexual assault victims. Reid first found out about the idea when she came into office a few months ago.
"I thought it was an incredible initiative," she says. "I think especially something like this, specific to peer-to-peer support for students or community members in general who've struggled with sexual assault or 
harassment."
The hope is that, following the six-week trial, the DSU will have data to show the line is needed and get the necessary funding to continue on a long-term basis.
"It's a place students can go if they're not ready to report yet, or they don't want to talk to their friends or family yet."
Marietta Wildt, a board member at the South House Sexual and Gender Resource Centre, says the phone line is a good start. But Dalhousie, as an institution, needs to do more.
"Dalhousie has to prove their willingness to make things better," Wildt says. "September is a great opportunity for that."
Frosh leaders at Saint Mary's University lead new students in a traditional chant glorifying underage sexual assault. A video recording of the event attracts widespread outrage. SMU assembles a sexual violence panel to implement changes in next year's orientation, while frosh leaders and the student union executive undergo mandatory sensitivity training.
Screenshots of explicit posts from the "Class of DDS 2015 Gentlemen" Facebook group involving members of Dalhousie University's fourth-year dental students are made public just before winter break. Dal eventually suspends the students involved from clinical practice (though all would later graduate) and convenes an external report looking into misogyny at the dental campus.
Part-time Mount Saint Vincent University instructor Michael Kydd resigns after details of a sexual relationship with one of his students are tweeted by Glen Canning (father of Rehtaeh Parsons). Canning, claiming to have the proxy of the woman involved, also posts a censored nude photo Kydd had sent to the 38-year-old woman. Kydd claims the relationship was consensual but inappropriate, and steps down for what he calls a serious error of judgement.
News breaks about a "Dal Jungle" Instagram account which allegedly had included sexual photos of female students posted without consent. The university first heard of the account back in November and had reported the matter to police. Five students were kicked out of residence for the now-deleted account, but no criminal charges are laid.
NSCAD professor Eugene Richard Daniels is arrested and charged with filming a woman in the bathroom of his Cunard Street gallery back in June of 2014. Ten additional women then come forward with more charges dating back to November 2013.
Wildt feels an "official, broader acknowledgement of the existence of rape culture" is a good place to start. It's a recommendation that's been stressed by students and professors alike, as rape culture continues to rear its ugly head at Dalhousie and other Halifax universities.
In addition to the phone line, the DSU is aiming to educate students on consent before they arrive at the university.
"We're providing online modules on consent, sexual assault as well as substance abuse for new students coming in," says Reid. They're voluntary, but Reid says the DSU is hoping to make the modules mandatory in the future.
"The main goal," Reid says, "is starting that conversation before students get to campus."