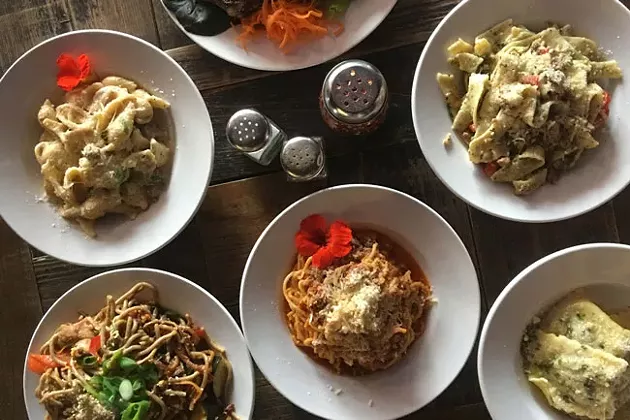 The Noodle Guy
964 Main Street (Highway 358)
Port Williams
@valleynoodleguy

Ross Patterson has been a noodle guy for as long as he can remember. "I grew up with a lot of Italian people in Toronto," he says. He moved there from Montreal when he was a kid. "Because I'm Catholic, I ended up in school with what was mostly Italians. And that's when I started making noodles."
Patterson has been serving up handmade pasta at the Wolfville Farmers' Market for around seven years. He started out simply selling the raw pasta, but quickly figured out that the real market was for freshly prepared dishes that used all of the beautiful ingredients that were so abundant and available in the Annapolis Valley. And then things just kept growing.
"We had a little shop in Port Williams down the road, just shortly after," he says. The shop, which expanded to include a charming restaurant and cafe, celebrated its sixth anniversary in February. "I just love the space," Patterson continues. "It lends itself to community and we have had some amazing concerts in there. It has just become a place where people want to meet their friends. It's something you can't do by design. The baseline is that the food is pretty good, but I'd like to think it's because we treat our employees so well—they are amazing people and they raise the bar—and that that's communicated through to the people who come into our place."
The restaurant is a gem, tucked into a little heritage building in Port Williams. It's a warm space with bright jewel tone walls and folksy tables made from old apple boxes. A mix of sturdy wooden chairs, the type of well-worn spindly chairs you probably see in your grandma's house, make up the bulk of the dining room along with a long church pew that runs along one wall creating the communal feel of a family kitchen that permeates every inch of the space.
There are a few groceries are available—handmade pasta, sauces, house-made sausage, coffee—and a chalkboard menu that lists the daily pastas, soup and salads. There are generally five different house-made noodles available: Spaghetti, tagliatelle, conchiglie (shells), ravioli and soba.
Patterson describes his take on some noodles as having a "sprinkle of our own Noodle Guy dust" that makes them a little big different. His soba, for example, while made with buckwheat flour is still an egg-based noodle. And his ravioli is generally filled with quark instead of ricotta. "We strain all of the extra liquid, which is very heavy whey water which we then in turn use to ferment vegetables. So we don't waste that.
"The beauty of our food," Patterson says, "is that the people that know we are using really good olive oil and semolina and '00' flour and buckwheat and all of these different things really appreciate it and the people that don't know that just know that it's good food."
When we sit down, our server checks in with us to see if it's our first time visiting or if we've been in before. She walks us through the menu explaining the different pastas and pointing us towards the counter where we can order. We decide to get all five dishes.
The spaghetti is soft—a little squidgier than I would like—and coated in a light, sweet, meaty tomato sauce given some depth with roasted red pepper. Salty chunks of feta cheese and savoury bits of sausage are tangled up with pops of cherry tomato and ribbons of tagliatelle. Bright nasturtiums are tucked into the sides of the bowls.
Sturdy conchiglie shells have a nice weight to them that stands up beautifully against a rich white wine cream sauce with crumbles of delicious sausage, humming with the heat of chipotle. The ravioli is filled with a delicate earthy mix of mushroom and asiago, tossed in a simple sauce of butter and chives.
The buckwheat soba noodles are served with a sweet and spicy pork bulgogi and big chunks of zucchini and red pepper, flecked with slivers of green onion and sesame seeds. They still have a nice bite to them, and a bit of a sear from the pan everything was tossed in. It's my favourite dish.
We also order the salt and pepper wings, a pile of juicy chicken that sings with its simplicity. It was a special, just $15 served with a glass of Annapolis Cider's sweet-tart strawberry-rhubarb cider. Our server, who has been back a few times to chat and check in, makes sure to mention that they are just down the road in Wolfville. Patterson is not exaggerating when he says how great his staff is; every staff member we talk to during our meal is a goddamned delight.
They are not shy about talking up their suppliers. And why should they be? Ingredients are local and organic whenever possible, sourced from nearby farms like Taproot and Longspell Point Farm. There are exceptions—olive oil, for instance—but Patterson gets a lot of satisfaction from seeing the farmers that sell to him in the dining room eating pasta each week. Just as he gets satisfaction from seeing people come back to the market week after week.
"Long story long," he says, "I just wanted to do something that was an extension of how my wife and I live, which is trying to eat really good things, and eating local whenever possible. It's really just to celebrate the food that's around you and include people and community in the process. And it's kind of worked out pretty good for us."
Wolfville is just a hop and a skip away, one of the most perfect places in the province for a day trip in the summer an fall, but Patterson also regularly comes into Halifax, and his noodles have been coming with him. The Noodle Guy recently held a couple of pop-ups in town, one at Lion and Bright and another at Yeah Yeahs in Dartmouth.
"I can definitely see me doing more pop-ups," Patterson says. "I love Sean and David at Lion and Bright and I enjoyed Yeah Yeahs, which was a fantastic opportunity. I only want to do it if it's going to be fun and there are a lot of fun places there. It's better than meeting someone in the parking lot and exchanging a bag of pasta for money," he says with a laugh. "And I can't say I haven't done that."