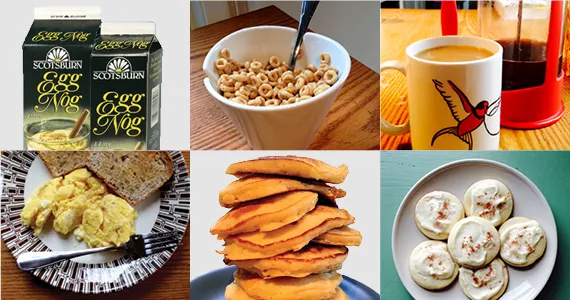 Egg nog is a weird and wonderful thing. Basically a drinkable custard, the milk-sugar-egg mixture—which, in carton form, contains a serious lack of eggs—traditionally exists mostly as a way to make drinking spiced rum at all hours of the day acceptable, and more recently to transform the traditional latte into a religious experience. But it's easy to overdo it. Instead of spreading out nog intake responsibly over the holiday season we binge on it, clutch our stomachs and end up swearing off it until next year. Is the thick elixir capable of being a more universal ingredient? Could nog be the next almond milk? In a completely unscientific and self-serving experiment I set out on a mission to make nog an milk replacement.
Scrambled eggs
I could see this was going to be awful from the beginning, but I had to at least try the egg/nog mash-up. Also, I was delusionally hoping I'd accidentally create some untapped sweet and savoury breakfast miracle. Dreams quashed. No amount of salt and pepper could mellow out the cloying, but very fluffy, scrambled eggs. My usual effort to trick myself into liking a meal (ie: dousing it in copious amounts of Sriracha) was also a failure. In the end I'd say this wasn't inedible, it was just really weird.
Cereal
Still stuck on the idea of liquid egg candy being incorporated into my breakfast routine, I reached for the Cheerios. Because I spent my childhood banned from eating treat cereals, I felt like a rebel as I subbed egg nog for milk. Then I felt like an idiot. What a horrible idea! The thickness of the nog made for a foamy bowl of cereal that was good for the first few bites, but after that I found myself draining the liquid from each spoonful to avoid barfy feelings. The dregs were added to my morning coffee—now that made sense.
Coffee
Old reliable never fails—whether the nog is steamed and frothed to perfection or strained from a cereal bowl.
White Russian
The Dude would totally approve of this. The nogified Russian is tasty, but so sweet you probably only need one, unless of course you like feeling like your teeth are wearing fisherman knit sweaters. Please don't get drunk on these, that'd be almost as idiotic as an egg nog omelette.
Skin treatment
Egg whites help tighten pores, egg yolks decrease redness and acne, sugar is really awful for your skin and for some reason I decided to mix oatmeal with nog and make a mask out of it. HOLIDAY FACIAL! Despite dripping chunks of oatmeal all over my kitchen, this actually felt pretty good once it started to dry and I scrubbed it off (mostly thanks to the oatmeal though). For now my face is feeling smooth, but tune in next week for when I attempt to cure a holiday acne breakout using turkey gravy.
Cat treat
I left a bowl of Baxter nog in the backyard for the teeny black cat that is usually chilling there. While I never witnessed him lapping it up, I believe he got to it before it froze into a nog cube. And I believe he really liked it.
Pancakes
I've never met a pancake I didn't like, and I've made them with a whole slew of fruits, chocolatey bits and spices. Here I swapped the yellow stuff for buttermilk in a classic pancake recipe and the result was a thing of beauty. My festive stack was pillowy and not as sickeningly sweet as you'd think, though maple syrup kind of threw them over the edge from pancake to cake cake. A little less sugar next time and the recipe will be as golden as the edges of these babies.
Buttercream icing
At this point I've realized that egg nog isn't really an egg replacement—it's kind of a milk replacement, but it's mostly a sugar replacement. In attempts to make a buttery tray of sugar cookies even merrier, I whip up a batch of buttercream icing—replacing the milk and some of the sugar with egg nog and garnishing them with a little cinnamon sprinkle—and the crowd (my co-workers) goes wild. Egg nog shines in dessert form. Maybe I should stop trying to make it be something it's not.