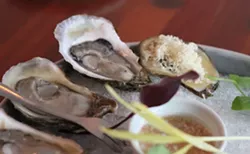 If anybody knows oysters, it's Patrick McMurray. A two-time world-champion oyster-shucker, McMurray holds the Guinness World Record for the most oysters shucked in one minute—38 oysters—he set in 2010, breaking the old 2002 record of 33 oysters held by, well, Patrick McMurray. His quick hands also helped lead a Canada shucking team to a Guinness record two summers ago in PEI's Tyne Valley.
McMurray is the owner of Toronto's Céilí Cottage and The Pearl Diver, a relaxed oyster and beer bar—which replaced his original, fancier, oyster bar, the Starfish Oyster Bed & Grill, in 2014—and the author of Consider the Oyster: A Shucker's Field Guide. He's been shucking oysters since he was 16, and he's had 14 stitches in his hand.
He says the idea of a "Nova Scotia oyster" is a bit of a thoughtless one, a lazy catch-all that is inattentive of the variety of flavours that the province offers in its various estuaries and bays. "There are different regions that will cast different salinities, different flavours, different finishes, and that's what we call in the oyster world the merroir, the taste of the ocean from that local region," says McMurray. "In Prince Edward Island there are 50 different growers and there are five or six different regions," he continues. "Nova Scotia has several different regions as well, at least three or four estate regions for oyster growth."
When you stop to appreciate the flavour, to look at the locality, you will only appreciate oysters more. "A Nova Scotian oyster is definitely different than a PEI oyster even if it is coming off the Northumberland Strait: a south shore of Prince Edward Island oyster should taste much like a Nothumberland Strait oyster from New Brunswick or Nova Scotia, but there are local, land-based water and minerals that are going to completely change the structure and the flavour."
"Although we haven't seen them in a couple of years, the Dunphys always made a great oyster," says McMurray. Alex and Susan Dunphy own Hideaway Campground and Oyster Market in Dingwall, Cape Breton. Their Aspy Bay oyster—which is off the market due to stock depletion, returning in 2016**—has a clean flavour with a delicate, sea breeze salinity and a sweet crispness in the finish. "They go scuba-diving for hand-grown oysters off the bottom of the bay, which is great."
He has a few other Nova Scotia favourites. "I love the Tatamagouche and the Malagash oysters out of the central area, and down at the bottom, the Eel Lakes from Yarmouth County," he says. "All very nice, and very distinct and different oysters."
Oysters, McMurray says, are like wine. And they should be tasted essentially the same way. "When you taste an oyster, you slide it in, you chew it up and then you aerate," he says. "You bring in a little bit of air across the palate and that allows you to taste all of the flavours that you're going to experience. That's the only way that you can actually taste the local regions, the merroir, of that area."
That merroir is important to McMurray, who tends to prefer oysters with a good brininess, without pure salinity. He looks for a complexity: a balance of salt and sweet in the oyster itself. "I'm not going to put sauces or lemons on my oysters," he says. "I want to taste what Mother Nature has gone and made for the past five years with our gentle help from fishing. I'm looking for salt and sweet water balance with a little bit of earthy or seaweed-y notes that are very faint. If you put sauce on it you're going to miss it completely."
---
Halifax Oyster Festival
Salter Block, Halifax waterfront
Saturday, October 3
2-5pm, 7-10pm, oysterfest.ca
** The reason the Aspy Bay oysters have been so scarce is MSX. A disease caused by a water-borne microscopic parasite, MSX made its way to the Bras d'Or lakes in 2002. The disease—long name: Multinucleate Sphere X—was first discovered in the 1950s in the US, is present from Maine to Florida, and has previously decimated stocks in Chesapeake Bay. It isn't harmful to humans, but it damages the soft tissue growth of oysters, weakening and subsequently killing them. After showing up in 2002, it all but stamped out the Bras d'Ors fishery, killing around 90 percent of the Dunphy's Aspy Bay oysters. "They're rebuilding their stock now," says McMurray. Aspy Bay oysters should be back on the market in 2016.