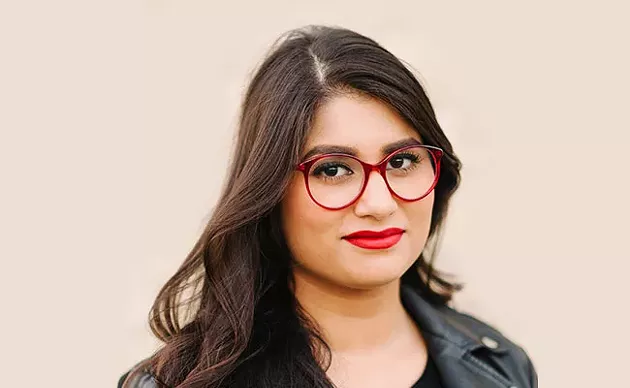 An evening with Scaachi Koul
Sunday, October 29, 7pm
Paul O'Regan Hall, Halifax Central Library,
5440 Spring Garden Road
$20
"It was funny and sad." That's how Scaachi Koul's mother reacted after reading Koul's book, One Day We'll All Be Dead and None of This Will Matter. Although short, it's an accurate review. In this collection of personal essays, Koul finds sharp and clever ways to tackle fear, family, racism and—well—the flaming garbage fire that is Twitter.
Anyone who follows @Scaachi remembers when her account went quiet in 2016, following an avalanche of harassment even bigger than what she normally experienced. People took issue with the BuzzFeed writer's call for pitches, asking specifically for work from folks who were non-white and non-men. "I just thought, 'I clearly don't have the skills to not look at it right now,'" Koul says of the harassment. "I couldn't look away from it. It was like watching my own funeral."
Now, Koul is better at looking away. Her decision to return to Twitter was as much for herself as leaving had been. "I'm generally uncomfortable with leaving territory to people I don't like," she says. "It also really bothers me, the idea that I have to be run off a platform because other people are behaving poorly."
Koul admits her hubris probably plays a role in this train of thought, but it doesn't seem likely that social media will be devoid of her presence anytime soon. She's part of a generation that grew up with the internet, after all, and what's more—she's important to the women she reaches on that website. That said, Koul is hopeful Twitter will eventually be replaced by a better platform.
It shouldn't be uncommon for women speak freely online, but when one looks at the backlash faced by female writers such as Koul, Ijeoma Oluo or Lindy West, the importance of these voices is clear. When Koul was in school, "everybody used to talk about 'Oh, being in journalism is hard, being a writer is hard, finding a job is hard.' And you hear all of that," she says. "But nobody once told me it would be harder because I was a girl or because I was a brown person."
When young women starting off in media ask Koul for advice, she tells them the truth: It is going to be hard. As for practical instructions, "I tell them to get an agent and to get a hobby," she says. "You should have something extra-curricular, because this job is awful."
It was Koul's own agent who prompted her to put a book together. Since then, First Generation Films has acquired the rights to One Day, which is slated to be adapted into a comedy series written and executive produced by Koul. "I don't know what's gonna happen," she says. "Maybe all of this will go away and no one will remember me in a couple weeks."
Right now that seems unlikely. And if you're one of the haters who wants her to shut up? Yeah, good luck with that.