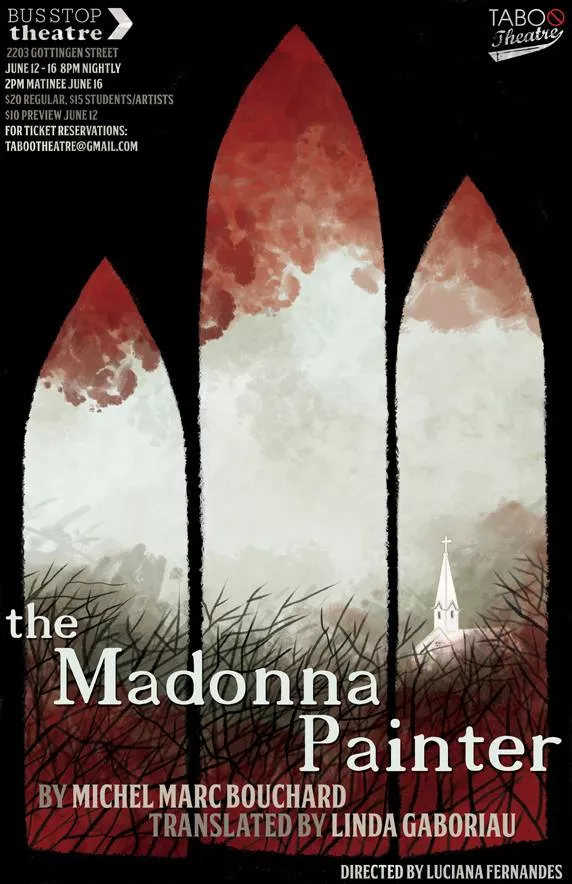 The Madonna Painter is really quite extraordinary.
The play, by French Canadian playwright Michel Marc Bouchard, is set in a small Quebec town in 1918 (although the time and place was not explicitly clear, at least to me, in the Taboo Theatre production) during a devastating flu epidemic. In response to the outbreak, the town's new priest (played by Dan Bray) commissions a work of art as a kind of appeasement to God and a beacon of hope for devotees.
The triptych is paid for by the village's creepy doctor (Andrew Gouthro) and painted by a magnetic outsider (Roy Ellis) who auditions and selects a local girl to model as the Madonna for the painting.
There are so many lovely and intriguing characters in this play: a young girl (Kate Bray) who reads bed sheets like tea leaves, a wanton (Vikki Humphrey) who sacrifices everything for a kiss, a charmingly gullible innocent (Gina Thornhill) who falls in love with the priest and a mystic (Paige Smith) who swallows the sins of others.
But the play is also filled with terrible images of death and horror: severed limbs, dripping hearts, flayed skin and terrible disfigurement.
And it is this collision of beauty and horror that makes this play so truly remarkable.
Where: Bus Stop Theatre, 2203 Gottingen St., Halifax, NS.
When: June 13-16, 8 pm plus 2 pm matinee on June 16.
Cost: $20, $15 for artists, unwaged and students.
To reserve, please email tabootheatre@gmail.com