According to documents filed with the court by Halifax mayor Peter Kelly in 2005, Mary Thibeault's estate was valued at $503,730.37, almost all of it in cash and bonds.
That amount, plus the $160,000 or so that Kelly had transferred from Thibeault's personal bank account to his and his son's control (see "A trust betrayed," February 16), reflected the fruits of Thibeault's labours as owner of the Prince's Lodge Motel, which she and her husband Joseph bought in 1945. (Joseph Thibeault died in 1984.)
The motel was at 554 Bedford Highway, about 200 meters north of the Rotunda. Thibeault's property had been carved out of the old Prince's Lodge, the sprawling estate that Nova Scotia governor John Wentworth allowed Prince Edward to use in 1794 to host his mistress, Julie St. Laurent.
Thibeault's property was in two sections. The first section was a "water lot," reflecting the pre-Confederation practice of granting title to property largely under water, and totalled about 1.7 acres. It consisted of a small strip of land---about 5,000 square feet---to the east of the highway, which was bisected by the CN tracks, with the remainder---about 67,000 square feet---under the waters of the Bedford Basin.
The motel itself sat on the second section of Thibeault's property, which consisted of 8.61 acres to the west of the highway. The property rises dramatically from highway, affording stunning views of the Basin and of the MacKay Bridge.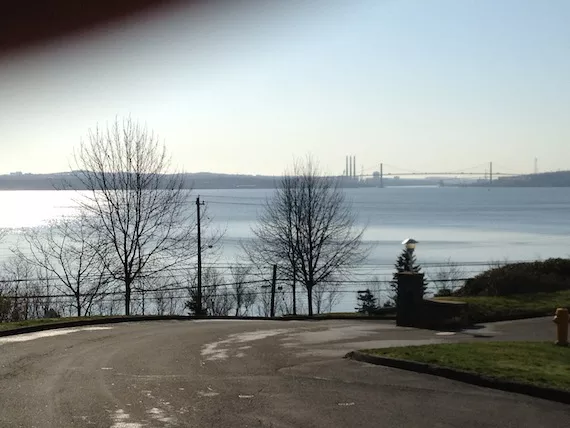 The property was first surveyed in the 18th century, and consists of three parcels. Some subsequent owner bought all three, and they've been sold together as one property ever since. The property was nearly square, with the motel sitting directly on the northern property line.