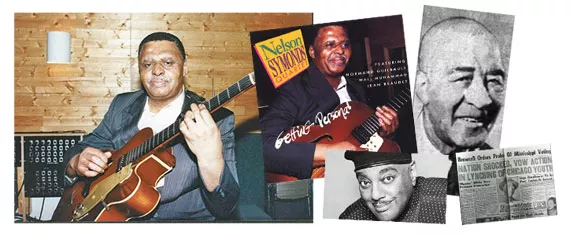 Canada's rich black heritage and music history are closely linked, and today's jazz fans have benefited from that strong union of culture and art. Jazz may have been born in New Orleans around the end of the 19th century, but it didn't take too long before it grew up and headed north, to other US cities and then across the border to this country.
One of the pioneers of jazz in Canada was Truro native George Paris. Indeed, some sources credit him with introducing the inventive, Afro-American genre to Canada.
Born in Nova Scotia in 1869, Paris worked as an athletic trainer for the Vancouver and Montreal police departments. He moved to the west coast in the early 1900s, and was thought to be "the first known Canadian jazz musician."
Archival material shows Paris was a major figure in Vancouver sports circles—he was a multisport athlete who was once the heavyweight boxing champion of western Canada. But music was also a big part of his life.
"Somewhere along the line, the emerging new jazz music caught his attention and Paris took up drumming," says Past Tense, a blog written by Lani Russwurm, who uses primary sources to help promote Vancouver's history. Veteran jazz journalist and author Mark Miller has written that the music initially came to Canada in 1914, in the form of the Original Creole Orchestra. The band ventured far from New Orleans to play gigs in Winnipeg and Vancouver.
"When alcohol prohibition was introduced in October, 1917, the Patricia Hotel"—in Vancouver—"converted its bar into a cabaret and hired Paris and other local musicians," Russwurm writes. "American jazz cats eventually took over the Patricia gig, but Paris continued playing professionally, listing his occupation as 'musician' in the city directories from 1920 to '22."
Past Tense says Paris spent time in Chicago, often to attend baseball games during the World Series, and may have lived there in 1911-12 after meeting a Chicago woman who ended up marrying him: "This is likely when and where Paris was introduced to jazz."
The Chicago Defender, a weekly newspaper founded in 1905 that served primarily black readers, once described Paris as "the kingpin of the drummers." (In January, the New York Times published a book review that said the Defender "was far and away the most important publication" in the black press.) Paris died in Vancouver General Hospital in 1947 at age 78, according to an online copy of his death certificate.
Fourteen years prior to Paris's death, Nelson Symonds was born in Hammonds Plains. He spent his childhood on his family's farm before leaving Nova Scotia for Ontario, and later Montreal. The jazz guitarist became a cherished adopted son in Quebec's jazz scene.
Symonds landed in Montreal in the late 1950s and was a fixture in local nightclubs. Self-taught with a distinctive sound described as "haunting," The Canadian Encyclopedia says his appeal grew steadily and he evolved into "a legendary figure in Canadian jazz."
In 1996, Symonds won the Oscar Peterson Award, a prize established by the Festival International de Jazz de Montreal. It recognizes an artist's musicianship and "exceptional contribution" to Canadian jazz. Symonds died in Montreal in 2008 at age 75.
In Halifax, African heritage and music history joined hands at the former black community of Africville. Religious music and secular songs, including jazz tunes, were often heard in households with family ties stretching back to the district's settlement in the 1800s. (Africville was designated a national historic site in 2002.)
The neighbourhood was not unfamiliar to the likes of American composer and pianist Duke Ellington, a true giant of jazz whose original material continues to attract new audiences and be covered by today's performers. His second wife's family was from Africville, and Ellington would drop by the neighbourhood to spend time with her relatives whenever he and his popular band played Halifax. Mildred Dixon, born and raised in Boston, was her name.
Ellington's sitdowns were remembered in "Duke's In Town," a head-boppin' number on Canadian jazz musician's Joe Sealy's Africville Suite, his labour-of-love release that won a 1997 Juno Award. At more than five minutes long, the track harks back to when Duke "would naturally visit his in-laws" in the black community by the Bedford Basin, liner notes for the CD say.
Jazz historians have said Dixon was honoured by Ellington as the inspiration for his ballad "Sophisticated Lady," which was penned in the 1930s and is now a jazz standard. But other accounts dispute this, saying the song was a composite musical reference to three elementary school teachers Ellington had.
A talented piano player, Sealy's ancestors settled in Africville in 1848. He says in his recording's liner notes that among the residents' defining values were family, faith and self-reliance. "And then there was music—jazz, soul, blues and gospel," Sealy says. "Not a home in Africville was without a piano or an organ."