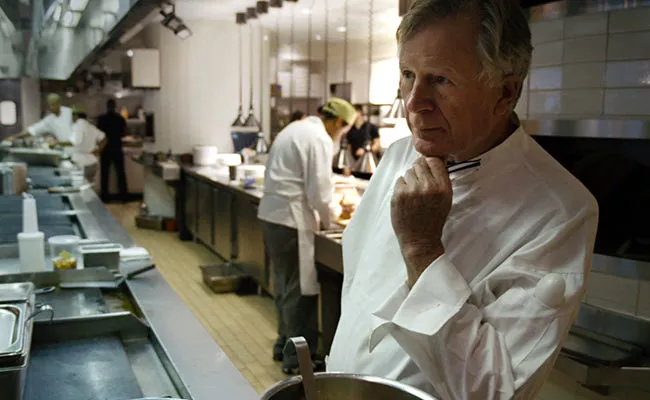 Jeremiah Tower: The Last Magnificent Cineplex Park Lane, 5657 Spring Garden Road Opens Friday, May 5
---
It's a disgusting quip, but towering is a great way to describe Jeremiah Tower. He is a Paul Bunyan-like figure in American cuisine, a tall tale of culinary innovation, dizzying successes, stunning failure and, then, disappearance.
Tower got his start at Chez Panisse in Berkeley, California. In the '80s and '90s, Stars, his ritzy San Francisco restaurant, was as famed for its celebrity customers as it was for its food. After the Stars empire crumbled in 1999, Tower withdrew from the culinary world. He walked out of the spotlight, and essentially fell off the face of the earth for more than a decade.
Executive produced by Anthony Bourdain, Jeremiah Tower: The Last Magnificent seeks to correct what he views as flawed history. Food luminaries like Mario Batali and Ruth Reichl add their voices to what is essentially Bourdain's thesis statement, giving full credit for American cuisine to Jeremiah Tower.
"Fame was never important to me because it was just an instrument to fill the restaurant," Tower says, his genteel voice floating over the telephone line from Toronto. "I knew if I ever believed my own press I would be sunk. And a couple of times, I think, when I did believe it, I made mistakes."
There is a lot of stark honesty in the documentary. It weaves a tale of a poor little rich boy who traipses through life with relative ease and privilege until practically tripping into the back door of Chez Panisse, into storied success as a chef. There he worked alongside Alice Waters—a legendary chef oft credited as the mother of American cuisine— until, in 1976, fame found him.
The California Regional Dinner at Chez Panisse is considered the seed from which American cuisine grew. Between that local-focus and the way media coverage of restaurants changed with Stars, "put those two things together that's pretty much what we're looking at now, what's going on," says Tower.
He's not wrong. But the documentary isn't all right, either. Tower claims he wanted to "take the high road with Alice Waters," but the narrative fails him. At times it's like watching indulgent relatives give the cool old uncle they haven't seen in 15 years credit for the kid he hasn't seen for a decade graduating from Harvard.
The documentary suggests there is merit in fucking off. That having an idea and leaving with a shrug is the same as having an idea and seeing it through. That it's sexier to burn bright, to come in and out of orbit, than it is to be a solid, building presence. And it is definitely sexier to run off to Mexico and cook with chilis than it is to, like Waters, spend 40 years building a restaurant and keeping a movement alive. But is it better?
I can't help but think of Bourdain's vocal disdain for Waters, whom he often criticizes as elitist in her approach to food. Because this documentary is essentially one rich white man declaring that another rich white man be thrust into our starry skies as a major constellation with the implication that we must pull other stars out of the sky to make room. As if there isn't enough room in the firmament, forgetting that there isn't just one big spoon in the sky, but two.
Do we really need to write the legacies of interesting men with strokes so broad that they erase the accomplishments of the women working around them? And the women working with them?
"Of course it was the two of us," Tower says. To me, this is an essential annotation. "It's always teamwork. You can't do anything without teamwork. I mean you can, but you're not going to last more than, you know, 15 weeks." Tower laughs. "The whole thing between the two of us, most of it was a press created story.
"You know, I sat with her at the 40th anniversary of Chez Panisse," he says about Waters. "The two of us sat at our own table in the middle of the dining room. Surrounded by all these people celebrating the 40th anniversary."
I ask where that coverage was. "Nowhere," Tower says. "It didn't fit the story."