Hundreds of Haligonians gathered at Grand Parade Square on Friday to mourn the destruction caused by climate change and request government action.
"The planet is in crisis, there is no planet B and unless we take that seriously then our home is gone," said David Walmark, an attendee of the rally. "Everybody can do their own little bit individually but it's not going to be enough, it has to be Halifax speaking."
The Interfaith Gathering and Climate Action Rally marked the beginning of the K'jipuktuk Halifax week of Climate Action, inspired by Greta Thunberg's Fridays for Future. This gathering was designed to honour the victims of climate change with a moment of silence and hear from faith leaders and climate change activists about the state of the climate crisis. It also aimed to educate attendees on how they can make a difference.
"If everyone shows that they care about the climate then we can make it, we can change the laws, we can change the system," said Willa Fisher, 17-year-old climate activist from Citadel High School and one of the organizers of SchoolStrike4Climate HFX. "All this response means we are winning, that we can do this."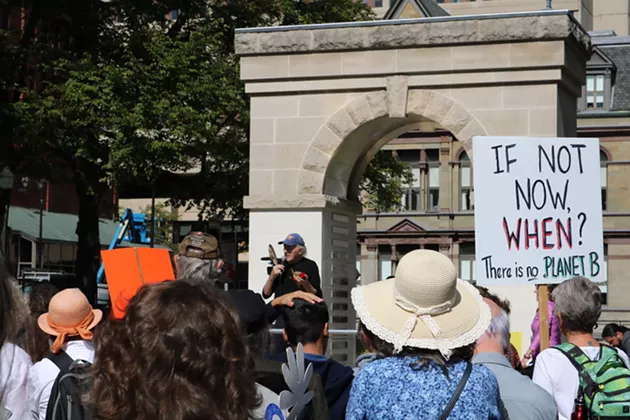 Working in collaboration with Extinction Rebellion, Our Time Halifax, Climate Strike Canada and more, each day there will be a series of events following the rally designed to generate climate change awareness. Events range from the Youth National Die-In to Veg Fest and will end with a General Strike on Friday, September 27.
"With this event, we want to scare the shit out of the establishment. People say this is an interesting event—well it's not just an interesting event, it's an existential crisis," said Richard Zurawski, HRM District 12 councillor and chair of the Environment and Sustainability Committee for HRM. "When was the last time you had a big ol' glass of oil? Or chowed down on some coal? Or took a good deep breath of natural gas? Because that's what is supplanting through big businesses across the HRM."
One of the main themes the interfaith gathering and climate action rally sought to promote was the importance of unity. Bringing together leaders of various faiths, it encouraged all people to unite under one cause and stand up for everything being affected. Representing the Anglican church, reverend Tory Byrne both spoke at and attended the rally because she is worried about the state of god's creation: "This creation is a creation for all people," said Byrne. "We need to raise awareness, not only to make people aware but to make people commit to actions that aren't always comfortable but give life to all."
"Climate is life. If we ignore our climate then we don't have anything," said Joan Smith, a water walker for the Mi'kmaq nation. Smith believes that there needs to be an emphasis on the importance of water within the climate change fight. "Water is also life. Without water, we don't have a climate, we don't have land, we don't have animals, we have nothing," said Smith, "An elder told me once that we need to step up to the plate and I think that's what's happening now."
With Canada's federal election on the horizon, the climate crisis has been a popular subject of debate. After Elections Canada's decision to declare human-made climate change as partisan, the environment has become a hot topic as citizens wait to see whether Canada is going to vote for the climate.
"I've lived in multiple places across Canada and I've seen effects of climate change from all over," said Lindsay Eagleson, a rally attendee. "We need government and we need individuals to fight for a planet that we can all actually live on."
Deborah Ross, another climate striker, agrees with that sentiment. "The time is now. We don't have much time left to act for climate justice and to reverse the effects of climate," said Ross, "We owe it to our children to protect their futures."
One company in Halifax is already working to counteract pollution in the environment by reducing the number of personal-use vehicles in HRM.

"We need to show that we are together on this and that there is a huge movement to get people's attention. This is a crucial moment," said Pamela Cooley, the founder of Carshare Atlantic, who was at the rally. "I think it's important that with everything we do we consider the environment and the future of the world."
Events are happening all week in the city, culminating in the Strike for Climate next Friday, September 27.