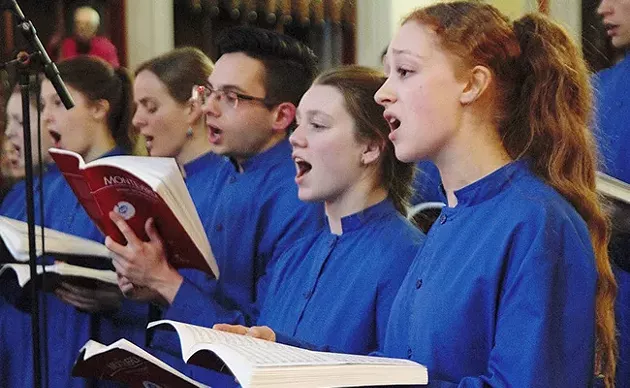 The Splendour of Venice
Sunday, April 15, 4pm
Cathedral Church of All Saints 1330 Cathedral Lane
$15-$100
tickethalifax.com
Hoping to switch up your Sunday devotionals this weekend? Well, the University of King's College Chapel Choir is answering your prayers with The Splendour of Venice: Music For San Marco.
Following a sold-out performance of Italian composer Claudio Monteverdi's Vespers of 1610, the choir returns accompanied by a 14-piece baroque band, six vocal soloists and boy sopranos to fill the Cathedral Church of All Saints with sounds from the "father" of opera's glorious Selva morale e spirituale.
Chapel choir director Paul Halley has worked tirelessly to source baroque musicians from as far as Boston and suspects their second Monteverdi concert will be successful, given the level of acoustic authenticity they're offering. Featuring now-uncommon instruments such as a theorbo, sackbut and cornettos, combined with church acoustics and choral vocals, "it's a similar effect to what the people of St. Mark's Venice would have experienced," says Halley.
Translated as "a moral and spiritual forest," the Selva is a retrospective work Monteverdi compiled during his final days. While the collection in its entirety is difficult to fit into one concert, the choir promises to deliver 17th-century drama and majesty, and take audiences to new heights. The audience "felt transported to a place where there was more time, beauty and flow," says Halley of the previous concert. "Many people said that feeling lasted for several weeks."
With those types of musical sensations, it's safe to say the choir is due for another smash-hit performance this Sunday. However, Halley makes it clear that regardless of attendee turnout numbers, the goal remains the same.
"The whole idea of performing this music is to offer people a glimpse of heaven in our short time on earth," he says. "We're trying to break up the mundane with a heavy splash of the eternal—if we can do that, I'll be happy."