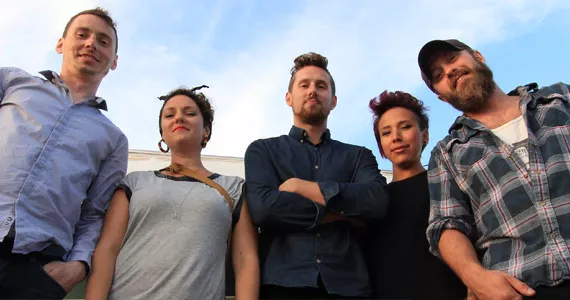 The Jerry Cans w/The Barrowdowns Friday, November 18, 10pm The Seahorse Tavern 2037 Gottingen Street $10
Belting out songs in Inuktitut, the Iqaluit-based The Jerry Cans are known for sneaking language lessons into the dance party. The band sounds like the contemporary north: Traditional Inuit throat singing, accordion, alt-country, bluegrass and reggae. It's uniformly danceable and fun, a favourite on dance floors across the Canadian arctic.
The north's most beloved band performs their first-ever Halifax show at The Seahorse Tavern on Friday night, debuting songs from their third and most recent album, Inuusiq/Life. Like its predecessors, Nunavuttitut, released in 2013, and Aakuluk, in 2014, the album celebrates the north while addressing its challenges–suicide rates, the impact of colonization–with soaring optimism and youthful energy.
"I bring the sound of Celtic fiddle from Cape Breton," says Halifax violinist Gina Burgess, the only band member from outside Nunavut. The instructor at the Maritime Conservatory of Performing Arts and violinist with Gypsophilia says she also brings avant-garde, classical elements to the band.
An exchange between the conservatory and Iqaluit Fiddle Ensemble first brought Burgess to Iqaluit in 2009. Regular trips to Nunavut to teach in remote communities led to eventually joining the band, which includes frontman and guitarist Andrew Morrison, his partner Nancy Mike, who throat-sings and plays accordion, bassist Brendan Doherty and drummer Steve Rigby.
Burgess describes her sound as "a natural fit" due to the influence of Irish and Scottish whalers who traveled north with accordions and fiddles. "There's already a history of that kind of music in Nunavut, especially the Eastern Arctic," she says.
On her first trip north, Burgess was a vegetarian of 15 years who took part in anti-sealing protests. Seven years later, she now holds a hunting license and plays the violin in the band's most popular song, "Mamaqtuq," about the deliciousness of seal meat.
"I got to see the interaction myself between people and animals," says Burgess of her hunting and fishing trips with the late father of one of her bandmates. In the early days on tour, she says she was often teased for being "the reformed seal protestor who loves to eat seal meat."
Burgess's biggest challenge on Inuusiq/Life is "Nirliit," a traditional throat-singing tune that mimics the sound of Canada geese. "It's a five-part sound and pretty tricky to execute," she says. Instead of two women facing each other and singing, her bandmate Nancy Mike throat sings as Burgess does her part on the violin, using strings instead of her vocal cords.
"We're coming from a deeper well," she says of the band's new release. "There's been children born and family members and friends lost and we just have more to say."
And The Jerry Cans are saying it in the language they're eager to celebrate and share. "We're even more passionate," says Burgess, "about spreading Inuktitut and the love of Indigenous languages."