Owners: James White, artist and designer
Like any respectable superhero, you could pass by James White's downtown underground lair and never know it's there, except for that personal logo etched on the door window. Tucked away down a long flight of stairs on a Spring Garden side street, the graphic designer's condo is a rare industrial loft-style find in Halifax. But this residential/business space didn't start out so cool.
"I looked at condos, but they were all generic cookie-cutter spaces. I wanted a place I could do whatever I wanted with it," White explains. "But I had to do a lot to make this livable."
After a quick consultation with friend Eliot MacNeil of ThreeTon web design, White tore out the canary-yellow, dropped-tile ceiling---exposing pipes and even more space---and a second bedroom wall, opening a living area into a completely functional kitchen. He painted several walls a neutral grey, which blends in with a long concrete wall that runs down the length of the condo. Lighting was replaced, carpet removed and a hardwood floor installed.
"It's not even the place I bought; it's completely different," he says.
Surprisingly White's quiet condo is bright, especially considering its basement-dwelling location---important for a designer who does a lot of work from home. Soft light streams in from a high, good-sized window, even on a rainy day. Furnishings are kept to a minimal black, grey and white, with pops of red, which keeps the open-concept space uncluttered and clean. But the space isn't without its fun quirks: The self-proclaimed "comic book nerd" proudly displays his action figure collection and design books on a tall shelf. An almost-boomerang-shaped red table sits in the middle of the living room, designed to be an exact, giant replica of one of White's action figure stands.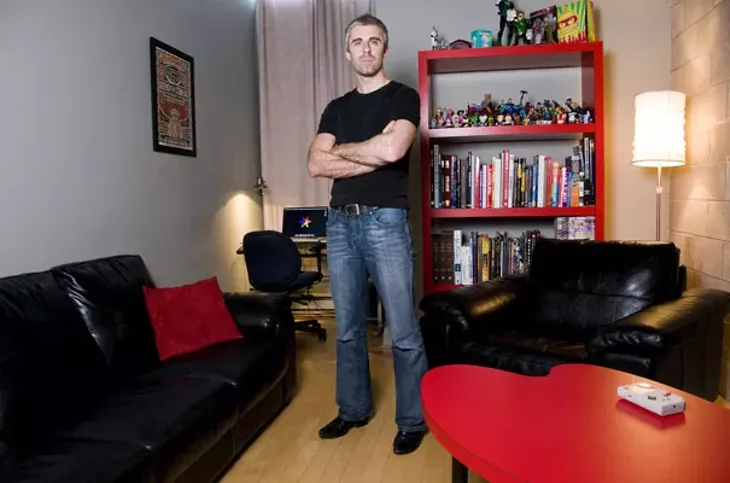 7 slides