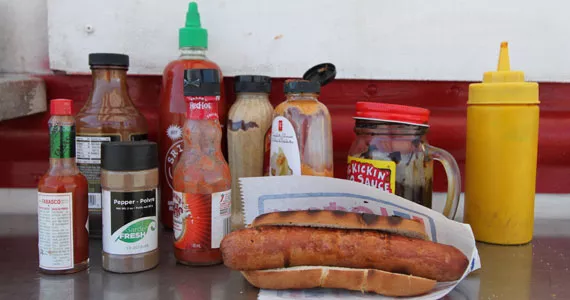 Hamburger shmamburger. Now that we have 10,000 so-called gourmet burgers to choose from in Halifax, here's a suggestion: eat a hot dog.
There is perhaps no more perfect summertime snack. It's a definitive fast food, it's portable, and—just as you want the part of your summertime diet you aren't plucking with joy from your garden to be—it's terrible for you. And while Halifax doesn't have the range of excellent street dogs that cities like Toronto or Chicago boast, you can still bite the weenie (with relish!) all across town. Your hot dog wishes will be granted with these simple commands:
Sit Pretty!
If you're looking for a good dog that you can eat while you sit and stay, look no further than Hali Deli or Cheese Curds Gourmet Burgers + Poutinerie. Hali Deli's dog is part of an $8.99 dinner platter that comes with your choice of deli sides, but will fill you up all on its own with heaps of sauerkraut, caramelized onions and tangy hot pepper relish. Cheese Curds has a slew of dapper dogs, with crazy topping combinations that range from donair to taco, ranging in price from $3.50 to $7.95.
Fetch!
The hot dog's natural habitat is a cart, and thankfully there are little umbrella'd carts all over the city where you can quickly grab a dog to go. There's the iconic Dawgfather at Dalhousie to Dogs on Wheels at the Spring Garden Library, The Burger Gourmet on the Halifax waterfront, and two of the city's favourite dog purveyors: Steve the Hot Dog Guy and Halifax Footlongs.
Halifax Footlong's signature foot-long hot dog—made locally—curves out of the bun pornographically. The list of homemade toppings is staggering and staggeringly delicious: a barbecue chow, coleslaw, sauerkraut, cherry tomatoes in a balsamic dressing, a cheese spread made from Foxhill quark and cheddar, a homemade horseradish, BBQ sauces from Boneheads and more. Prices range from $4 for a footlong to $5 for a smokie or a double dog. That's two hot dogs in a layperson's terms.
Steve the Hot Dog Guy is a fixture at Piercey's, both in Halifax and over in Burnside. This cart offers nothing but huge hot dogs for working man appetites. From a half-dozen sausages to a chili dog on a firm, fluffy bun that could fill the emptiest belly. Nothing on his menu is over $5, and everything—from veggie dog to chicken dog to smokie and sausage—will hit the spot.
Roll Over!
There are a couple of food trucks with tasty dogs that you'll find rolling into parking lots around Halifax and Dartmouth.
In Halifax you'll find the Food Wolf at either the Historic Farmers' Market or up on Gottingen and Falkland in the north end. The Wolf has a couple of tasty $5 dogs on its menu: the ever-present K-Dog and the more elusive J-Dog. Plump all-beef Nathan's dogs are covered with either Korean or Japanese-inspired toppings, ranging from kimchi, green onion and Korean mayo to roasted nori, bonito flakes and wasabi-mayo. These are basically the greyhound of the local hot dog race: they can't be beat.
Then there is the red Fresh Cut Fries truck parked over on the vast gravel field next to the NSLC on Wyse Road by the Macdonald Bridge in Dartmouth. There is just a single, simple dog on the menu for $2.50: a thick Lester's hot dog in a tiny toasted bun, slathered with garlic butter if you so wish. There are all your standard toppings and a few fun ones, like a spicy hot pepper relish.
Stay!
It's hard to beat Costco's hot dog. It's a quarter-pound of all-beef hot dogginess, featuring one of the store's signature Kirkland brand dogs, and a vat of soda for $1.50. The advantage of being a big box store is not having to change the price of your hot dog: this combo has been the same buck-and-a-half since 1985. You might not find the atmosphere of a warehouse full of jumbo packaging and sweatpanted shoppers too alluring, but you can always go buy a tub of kosher pickles to eat with your classic, boiled dog or follow it up with some delicious soft-serve.
---
Hot dog index
COSTCO
230 Chain Lake Drive
Hali Deli
2389 Agricola Street
Steve the Hot Dog Guy
Piercey's Buliding Supplies, 2854 Robie Street
Food Wolf
Squiggle Park (corner of Gottingen Street and Falkland Street)/Historic Farmers' Market, 1496 Lower Water Street
The Dawgfather
6136 University Avenue
Dogs on Wheels
Shopsy's Cart, Spring Garden Road Library, 5381 Spring Garden Road
Halifax Footlongs
Seaport Farmers' Market, 1209 Marginal Road
The Burger Gourmet
Halifax waterfront
Red Hot Dog truck
Next to NSLC just over the Macdonald Bridge, 30 Faulkner Street
Cheese Curds Gourmet Burgers + Poutinerie
600 Windmill Road/ 380 Pleasant Street
Steve the Hot Dog Guy (redux!)
Dartmouth Surplus Ltd., 41 Akerley Blvd.
COSTCO
137 Countryview Drive, Dartmouth