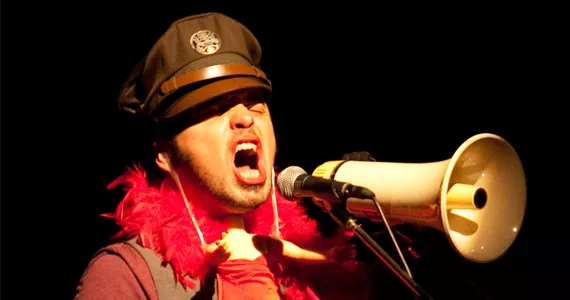 Hawksley Workman first strode upon the Canadian music scene in the death throes of the last century, a furs-and-feather-boa swaddled, sexually ambiguous, cabaret-loving rock star, as if David Bowie and Liza Minnelli had a keening, bastard son. In recent years, though, he's shirked much of that theatricality in both his music and performance. Now a Halifax stage artist has brought him back to his wine-coloured roots.
"I had fallen in love with what Hawk did as a musician," says Christian Barry of 2b Theatre Company, remembering his days at Montreal's National Theatre School more than a decade ago. "He was playing at a place called Club Soda in the Lower Main. He was incredible. I've said to people since that show, I'm not sure I've encountered an artist in any genre who was so in tune with the room. It felt like a communion, we all went through something together."
Those impulses---a bacchanalian combo of music, sex and celebration, along with a splash of liquid courage---drove Barry to approach Workman, looking to collaborate on a project together. And though they'd discussed a number of ideas through the years, it wasn't until 2010 when they were finally able to settle on this creation, The God That Comes, an adaptation of Euripides' The Bacchae, with Workman playing three roles in song and solo performance. The Greek tragedy is about the god of wine, the people he inspires and a rigid, judgmental king, suspicious of revelry.
Barry wonders if the "kings of Canada" have a similar disdain for the kinds of things he likes to do in dark rooms at night. "I needed to do something that celebrated the things that I feel are an important part of a balanced human existence," he says. "The notion of letting a little abandon into our lives. These are exactly the things that are indulged when I go to a Hawksley Workman show."
While Barry describes his creative collaborator using visceral terms---"He's an animal, and you don't want to cage that animal"---Workman sees Barry as a theatrical superego to his rampant id.
"Christian is a real thinker," says Workman from his home near Huntsville, Ontario. "He's busy cracking artistic code, while I'm not much of a self-editor. I have more of a love 'em and leave 'em attitude toward everything I do. But this is a great outlet for me to access the gurgling anger and gooey stuff that I wondered what I was going to do with. It has a perfect home in this play.
"I'm grateful Christian's such a solid human," Workman adds. "He's certainly heard me bitch enough about how these theatre people get so locked into their process. Rock music is a game your loins and your guts play. If you let your brain start to dick around with rock music too much, you start to really do damage."
Damaged or drunk, the hybrid child of these two very different kind of artists is now on the road. It premiered in Calgary in March---with an accompanying Workman record, Songs from The God That Comes. All signs point to the musician coming full circle, back to the distinct theatricality that marked his aesthetic of his first record, For Him And The Girls, in 1999.
"I still like to dress up," says Workman, chuckling. "This play presents the proper occasion for me to do very naturally what I did back then. It still feels very natural now."