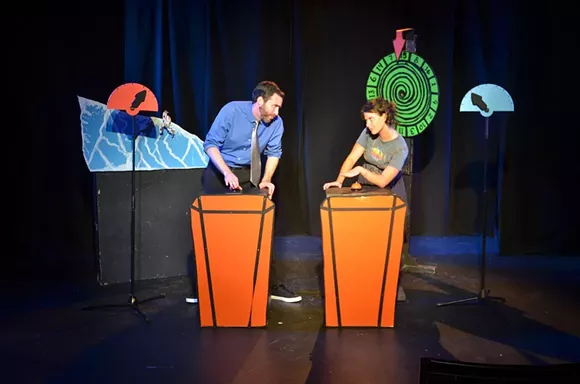 Two musicals. Two very different one-woman shows. A game show. A moving story told through puppetry. Stand-up comedy. A tale of friendship lost.
Just your typical day at the Fringe.
Once More With Feeling by Joss Whedon
Saints Alive! Theatre has hit the Fringe jackpot. Once More With Feeling comes with its own fan-base of Buffy the Vampire Slayer devotees. It's also a show that plays to their strengths as a company of talented young musical theatre performers.
A short recap at the top of the show is meant to bring the uninitiated up to speed, but in truth, it's not the plot that matters here.
Those (like me) in the audience who aren't die-hard Buffy fans will be entertained because of its fantastic choreography and dancing, the humour in the lyrics and relationships and the musical performances. (Although projection is an issue for a few of the singers.)
And Buffy fans will be tickled to participate in what I gather is an iconic episode.
A win-win-win fringe offering.
Neptune Studio, 60 minutes, $10
September 4 @ 7:00 PM
September 5 @ 9:00 PM
September 6 @ 9:00 PM
September 7 @ 3:30 PM
September 8 @ 7:00 PM
937
We live in a world where we're bombarded by images of horror and atrocities on a daily basis, and as a result it can be difficult to touch hearts that have hidden beneath protective layers.
But 937 is a masterful, memorable show that uses gorgeous images and original puppetry to melt our hardened hearts.
It tells the true story of the 937 Jewish refugees who escaped Nazi Germany on board a ship, only to be denied entry into any other country.
Suits of clothes are skillfully manipulated to represent one fleeing family, and it is a testament to the magic of this show that I saw them in my mind's eye as real people.
There were many children in the audience, and they were silent throughout this play which told without dialogue. Silent until one small voice asked as the "family" embraced and the "suits" were closed into a trunk, "But what happened to them, mommy?"
Heartbreaking.
Neptune Studio, 30 minutes, $8
September 4 @ 8:30 PM
September 5 @ 8:00 PM
September 6 @ 8:00 PM
September 7 @ 5:00 PM

Phaedra's Bed by Kim Parkhill
In Greek mythology, Phaedra is the wife of Theseus, the founder of Athens, though she has been cursed to fall into unrequited love with his son Hippolytus.
Playwright/actor Kim Parkhill weaves this ancient tragic tale together with an exploration of the limitations society places on women's expression and exploration of sexuality.
Phaedra's Bed is one of the most gorgeous shows in this years Fringe. The entire play takes place in a bed beneath a sumptuously draped net canopy. It is both womb and prison to Phaedra.
Parkhill delivers an electrifying performance...a fringe favourite
The Art Gallery of Nova Scotia, 35 minutes, $7
September 4 @ 11:05 PM
September 5 @ 6:25 PM
September 6 @ 7:55 PM
September 7 @ 2:55 PM
September 8 @ 7:00 PM

Cupidity by Jessica Fitzpatrick
If you like your fringe shows clever, cute, well-constructed and very funny, Cupidity is the show for you.
Annie is a hopeless romantic, obsessed with movies and perfect love. She's writing her own screenplay and is searching for her own Prince Charming.
While this might sound like standard fringe-fare, Toronto's Jessica Fitzpatrick has put together a show with such zany elements (Hot Barbie sex and mail-delivery cows, anyone?) and such bang-on delivery that Cupidity stands out.
Art Gallery of Nova Scotia, 50 minutes, $10
September 3 @ 9:10 PM
September 5 @ 8:25 PM
September 6 @ 9:55 PM
September 7 @ 8:00 PM

Law & Order: Musical Victims Unit by Tara Thorne
Tara Thorne (Who, I should mention in the interest of full disclosure, hired me at The Coast) has brought her 2007 fringe-hit back with an all-new cast but the same injection of local music talent and satirical humour.
Don Brownrigg plays Captain Connor ("The bridge between two plot points"). Cheryl Hann is the victim and a sleazy suspect (hilarious!). Allison Saunders and Willie Stratton are Detectives Murphy and Nolan (or the Olivia and Elliot characters for all you Law and Order fans) Matthew Hornell is the perp with octopus fingers. Kim Harris is the lusty ADA. Steve Cutler is the judge (Listen for the best exit line ever.)
Comedy. Music. Sexual tension. What's not to like?
Art Gallery of Nova Scotia, 35 minutes, $10
September 3 @ 7:20 PM
September 4 @ 10:10 PM
September 5 @ 9:40 PM

39 by Brian Aylward
I'm not easily offended, but I've had some bad experiences at stand-up comedy, so it was with trepidation that I sat myself down (far away from the front row) for local comic Brian Aylward's 39.
Instead of 45 minutes of the off-colour offensiveness I was dreading, Aylward treated the audience to an intelligent, hilarious monologue on aging, marriage and drug-fuelled travels.
Aylward is charming and disarming and the brunt of his humour is himself.
Stand-up comedy the way I like it!
Art Gallery of Nova Scotia, 45 minutes, $10
September 3 @ 10:20 PM
September 4 @ 6:30 PM
September 5 @ 7:20 PM
September 6 @ 8:50 PM
September 7 @ 1:45 PM
September 8 @ 8:00 PM

Chronicles of The Dramatics Society by Amy Grace
While this play set out to explore the changing relationship among three best friends as they grew into adulthood, there were some fundamental problems that made it really difficult to care about the characters.
The three girls start out as stereotypes (romantic, artsy and serious) and never really grow past their cardboard labels.
The dialogue is stilted and does not ring true to life (although the scenes where the girls communicate by text are bang-on), and the use of the direct address to the audience means most of the drama is told, not shown.
Although the three actors did there best with the material, there's no doubt the script could be stronger.
Art Gallery of Nova Scotia, 30 minutes, $4
September 3 @ 6:30 PM
September 4 @ 9:20 PM
September 6 @ 7:00 PM
September 7 @ 9:20 PM
September 8 @ 4:45 PM

Human Weakness by Adam Clark
You know how something can be truthful and funny and even a little bit poignant all at once? Well this show is.
It starts with a undying declaration of love between Theresa (Clare Waque) and Chris (Mark Penny) and ends on a seriously twisted game show where the pair compete to be the one who most humiliates the other.
Waque is hilarious as the alcoholic under-achiever and Penny nails his role as her passive-aggressive ex.
Brian Downey provides the voice of the at-first affable and eventually demonic game show host.
In relationships, the line between love and hate is a very fine one, and this show points that out in a most original way.
The Bus Stop, 35 minutes, $7
September 3 @ 7:00 PM
September 7 @ 6:00 PM
September 8 @ 6:00 PM