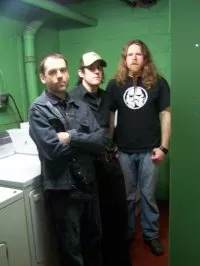 Last week the Fed Pennies took home Best Loud Recording at the 2011 ECMAs for their debut album Brain Disaster, beating out Orchid's Curse, Last Call Chernobyl and Obsydian. For the band, it's a career highlight (closely followed, we imagine, by opening for Ozzy Osbourne at the Metro Centre in 2008.) Lead singer Jake Smith answered a few of my questions about the award, the East Coast Loud tour and the band's future plans.
How'd it feel to hear you'd won an ECMA?
I knew I wanted to keep the acceptance speech short because I can't stand it when people win awards and they ramble on and thank everyone they've ever met. Mainly I thanked the bands that we toured with leading up to the award ceremony, Glenn McMullen at Sound Of Pop Records and Josh Hogan at Diminished Fifth Records.
What does it mean to you?
We've had some really cool things happen to us but we've always been on the outskirts of what's been going on here, industry-wise. So for a while we just stopped applying for showcases or awards and focused on doing our own thing. It's a great feeling to be recognized.

The ECMA loud tour seems like it's pretty unrelenting and also pretty fun.

The whole tour was great. Drinking Jagermeister out of the ECMA was definitely a highlight. Watching all the other bands play live was pretty cool too. We're not a metal band - we were the lightest of the acts on that tour - but we all grew up listening to metal and hard rock and we all had that in common. I love the idea of playing a short tour just before the ECMA's. It really tightened up our band and got us ready for the upcoming summer gigs.
What's next?
We just started recording our new single called "Little Dead Riding Hood". Our summer is starting to fill up with offers of shows and festivals and we'll probably do another promo campaign to push Brain Disaster in other markets like the UK. In the fall we'll be in the studio recording a new album.
The Fed Pennies play the Seahorse on Wednesday May 4.