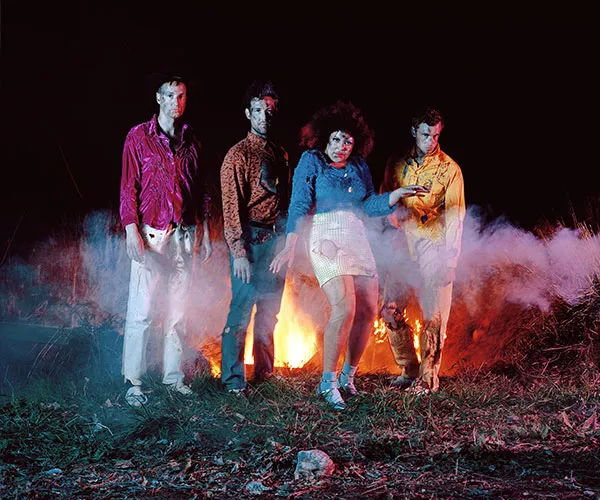 Weaves w/Chudi Harris, Like a Motorcycle
Thursday, May 17, 9pm
The Seahorse Tavern
2037 Gottingen Street
$10

When Jasmyn Burke teases that the next Weaves album could either be totally country or bubblegum pop, it's hard to not believe her at least a little bit. Since the beginning, the work of the Toronto art-rockers—singer and guitarist Burke, guitarist Morgan Waters, bassist Zach Bines, and drummer Spencer Cole—has always felt less tethered to a specific genre or idea and more to exploring the energy that exists between each one of its members. Burke's lyrics and singing are measured and fierce; Waters' guitar is forceful, and the work of Cole and Bines is surprisingly melodic in its own right. Add it all together, and the sum becomes remarkably greater than its parts: Weaves makes music that is not only imaginative and accomplished, but deeply fun too.
The band released its second LP, Wide Open, in October. Since then, it's toured across the US and Europe and is now dotting its way across Canada—a trip that's brought the band closer, tightened its live performances and brings it to the Seahorse for what's sure to be a ripper of a show on Thursday.
"It gets pretty real," Burke says with a laugh, about life on the road. "At least we have two rooms now, which is quite nice—we each get our own bed. We play shows almost every night, so you kind of just start to become one human being. We've talked about how we're kind of co-dependent with each other—if one member's not in the room, it's like 'Where are they? What's going on?'"
Weaves played dozens of shows in support of its 2016 self-titled debut and has been on the road more or less consistently since the release of Wide Open. As a result, Burke says, the members have grown intimately familiar with their songs in a way that only happens after many performances. Now that rhythms and melodies have become muscle memory, she says the band has been using that comfort as an opportunity to explore nuance and new meaning between the lines of its recorded material.
"You live in the songs when you play every night, so there's almost a new freedom that comes with it being second nature," she says. "When you're not thinking about performing is probably the best way to perform. We try to always put on a good show no matter the set list, or how many people are in a room. I think that's important...you should always be putting on your best show."
And even though there's more or less a consistent setlist, the band finds sparks of newness through moments of improvisation—something its style lends itself to naturally.
"It is kind of a similar setlist every night, but I feel like some of our songs are more loose," says Burke. "We still improvise every night with a song like 'Hulahoop' or 'Scream'—they're always going to morph in a particular way."
Weaves can play both extremely tight and fast and loose, and its magic sparks from the tightrope walk performed between those two worlds. At the intersection of Burke, Bines, Waters and Cole, there is a certain magic that feels equally indebted the contributions of each member.
"I feel like that is actually my favourite part of the set: The in-between parts of songs, or not a song at all—just having fun on stage," says Burke. "A live show should be fun for the people watching, but we've also gotta be having fun and exude that." a