Beer. It's your patio companion, your trusted poolside sidekick, your most trusted advisor. And Nova Scotia has never had more top-shelf suds available. Plan your summer sampling with a coast-to-coast journey through the province's craft beer hotspots.
Halifax
Bridge Brewing Company
The newest kid on the block and the only Belgian, bottleless brewery in town, Bridge's two flagships: Farmhouse and Gus' 65-Metre Ale have created a buzz (or several). Summer Blonde rounds out the trio for the season. Drop by for monthly visits from the Food Wolf.
2576 Agricola Street
Garrison Brewing Company
A seaport staple, Garrison is growing like an untamed hop plant. With an expansion underway, owner Brian Titus says that by early August, they'll never again utter the words "sorry we're out." Citra One-Hop carries the summer seasonal torch. New one-litre Growlitos make fresh beer easier to cart around on a hot day.
1149 Marginal Road
Granite Brewery
Since establishing itself in the nascent craft beer scene of mid-1980s Halifax, Granite Brewery is still going strong. "He's stuck to the recipes," says Joe Keefe of his father, Granite head honcho Kevin Keefe. "The industry has grown around him. Thirty years ago Peculiar was the most radical beer you could find," he explains, adding that the beer is still a bestseller. And it's true, the city's craft beer scene has grown substantially since, but Granite's traditional English ales are hard to beat. Honey Ginger (4.8 percent), is available in growlers this summer or on tap at Obladee (1600 Barrington Street) and The Maxwell's Plum (1600 Grafton Street).
6054 Stairs Street
Propeller Brewing Company
Propeller's DIPA will keep you refreshingly dehydrated this summer, as its brewhouse expansion and new retail location at 617 Windmill Road is set to open mid-July. But, speaking on behalf of the Propeller crew, marketing man Andrew Cooper says, "We're most excited about what's happening around us." Cooper once predicted 2013 would be a big year for craft beer. "The more the merrier. There's nothing with a higher loyalty than beer, but there's a loyalty to the brand 'craft beer.'" Wednesday's the day at Propeller, with Open Brewery Tours from July to September (6-730pm), and $1 off growler fills.
And don't forget the brewpubs, since you should probably eat something.
2015 Gottingen Street
Rogues Roost
Brewmaster Lorenzo Romano has been brewing Rogues' signature ales, lagers and stouts for 13 years. Consistent quality, a fun atmosphere and weekly hardcore trivia nights can now be poured directly into your growler. This summer, try the sought-after Kolsch and the Weizen.
5435 Spring Garden Road
RockBottom Brewpub
Greg Nash + growlers + dark pub to nurse your sunburns. Delight in a firkin each Saturday from 1pm and drop in for roving seasonals. Nash is a true hophead, so be sure to try the Fathom IPA. Upstairs at Your Father's Moustache, you'll find Shamrock Porter, Red Duster IPA and Apricot Wheat on tap.
5686 Spring Garden Road
Hart & Thistle Gastropub and Brewery
Refresh yourself on the best patio in Halifax, rejoice in the city's tastiest sea creature: Hop Mess Monster DIPA, and drink down the hoppiest beers the city has to offer.
1869 Upper Water Street
Seaport Beerfest: Beer on the Pier
If you feel like you've tried everything in Halifax, do not despair. The seventh annual Seaport Beerfest (Aug 9-10) is just the thing. Exciting changes for 2013 include 50 percent more Nova Scotia breweries, a location change to the Cunard Centre, and, um, AN IRISH CRAFT BEER VILLAGE. The new pavilion will showcase craft beer never before available in Halifax, shipped straight from Ireland. Shamus O'Hara (I'm not kidding) of Carlow Brewing will be on the scene giving tours, likely in an Irish accent.
Cunard Centre, 961 Marginal Road
Ladies' Beer League
If you're a lady beer lover looking for a vacation from your "I'm really into Bud Light Lime!" friends, try The Ladies' Beer League. With its nucleus at Garrison Brewing Company, the group is a product of major female players in the city's craft beer scene, including brewing apprentice Kellye Robertson and certified beer judge Tracy Phillippi of Garrison, as well as full-timers from Propeller and Bridge. "We want to create a bit of a stir in the beer-drinking world by getting more women involved" sums up Robertson. Events include tutored tastings, food/beer pairings, and of course, beer talk. Meetings take place the second Tuesday each month. Follow the league on Facebook.
Garrison Brewing Company; various
Now, wasn't that fun? But wait, the city is sticky and that harbour breeze just isn't cutting it anymore. Roadie! Finagle a designated driver, or make a vacay out of it because you're going to want to wet your whistle.
South shore
Hell Bay Brewing Co.
You'll pass through a veritable craft beer desert before you make it to the oasis of Hell Bay Brewery. Stop in for a tour and taste what's on tap: English, Pale and Dark Cream Ale. Grab some 500ml brews, fill up your growler, and throw back a pint a local pub (Food Revolution, Local Public House, Captain Barss' Pub). The pedestrian-inclined can sip it in Halifax though at 2 Doors Down (1533 Barrington Street).
38 Legion Street, Liverpool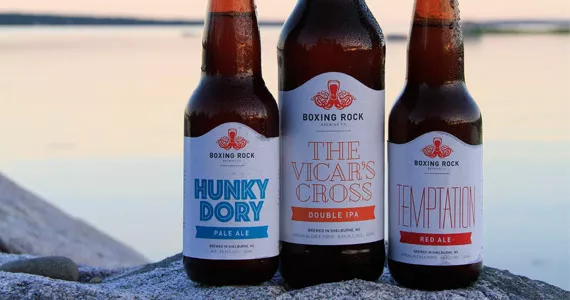 Boxing Rock Brewing Co.
While starting big by opening with three packaged ales and a handful of seasonals, year-round brewery tours ($10), a tasting room and an outdoor patio and hop garden, the brewery offers a distinctly "rural experience." Founded by two chemical engineers, Emily Tipton and Henry Pedro, Boxing Rock has an impressive starting lineup: the green tea and citrus blonde, Hunky Dory (5 percent), dry-hopped Temptation Red Ale (6 percent) and Vicar's Cross DIPA (8.5 percent), of which Pedro would only say is "what you'd expect, but with a completely different character." I'm intrigued. "We don't make something that directly competes with what's out there," explains Tipton. "We want to grow craft beer...Nova Scotia's beer-drinking population deserves more variety." Find Boxing Rock "anywhere in Shelburne with a liquor license," in select NSLCs by July and as official sponsor of Lockeport's Harmony Bazaar Festival of Women and Song.
78 Ohio Road, Shelburne
Rudder's Seafood Restaurant and Brewpub
Follow your Prohibition instincts to Rudders in Yarmouth. A great selection of craft beer is accented by a stellar seasonal roster: Killams Irish Ale (6 percent), Lands End IPA (6.4 percent), and Lighthouse Lager (4.3 percent). All available in standard growlers ($16 for bottle and fill).
96 Water Street, Yarmouth
Sea Level Brewing Company at the Port Pub & Bistro
Brewmaster Randy Lawrence is a true creative with a soft spot for rare hops. This year's seasonal is Summer Blonde Pilsner, made with the rare New Zealand "summer" hop. Find Sea Level in cans at private liquor stores Premier Wine and Spirits, Harvest Wines and Cristall Wine Merchants, or pick up one-litre flip-top growlers at the Port Pub and indulge in what Lawrence calls "the ladder of taste," starting with light and moving toward dark, strong ales.
980 Terry's Creek Road, Port Williams
Paddy's Brewpub
Order a "giraffe" or a growler at this favourite valley watering hole, and check out this summer's Hammered Wheat.
460 Main Street, Wolfville and 42 Aberdeen Street, Kentville
Eastern NS & Cape Breton Island
Uncle Leo's Brewery
Uncle Leo's is another brand new microbrewery---the first of its kind in Pictou County. The 10-barrel mom-and-pop shop is offering Uncle Leo's Red Ale and IPA to start. With a small storefront and brewery tours available (call 382-BREW), co-owner Rebecca Whiffen discovered a brewing "gene" in her husband (and co-owner/brewmaster) Karl's family tree, and the rest is (also) history.
2623 Highway 376, Pictou
Authentic Seacoast Brewery Company at the Rare Bird Pub
It's no coincidence that the Rare Bird Pub set up shop in Guysborough---the town home to Atlantic Canada's oldest commercial brewing operation, started by Nicholas Denys in 1659. Grab a glass or growler of Rare Bird Scottish Ale, Hummingbird Pilsener or Red Hawk Brown Ale. Word's out on whether the view beats out the beer. Call ahead to book a group tour (533-2078).
80 Main Street, Guysborough
The Antigonish Townhouse
With eight Maritime taps, the Townhouse is a rural paradise for craft beer fans, and will be adding a tap of its own English-style cask-conditioned bitter ale this summer. Stop in for special all-local chefs' nights, locally sourced pub food and stay tuned for a first-anniversary bash in early July.
6 College Street, Antigonish
Big Spruce Brewing Company
The whole "New Scotland" thing starts to make sense as you cruise through rolling, lush highlands to some of the best pubs in the province (cough, Red Shoe). And now, one of the best craft breweries. "We're the number one beer in Cape Breton. We're the only beer in Cape Breton!" jokes owner Jeremy White. Less than a year old, Big Spruce is the only certified organic brewery in Nova Scotia (one of two in all of Canada). It's also the province's only farm brewery. "You're in closer proximity to the ingredients we use," explains White, whose property includes a hop garden. "Our tap presence is all about a story...you're comfortable in the knowledge that your beer is certified organic."
Book a brewery tour, sample, then immediately fill a growler or Yapper with the Cereal Killer Oatmeal Stout, Kitchen Party Farmhouse Ale, and---for the summer---Regatta Red.
64 Yankee Line Road, Baddeck, Cape Breton Island