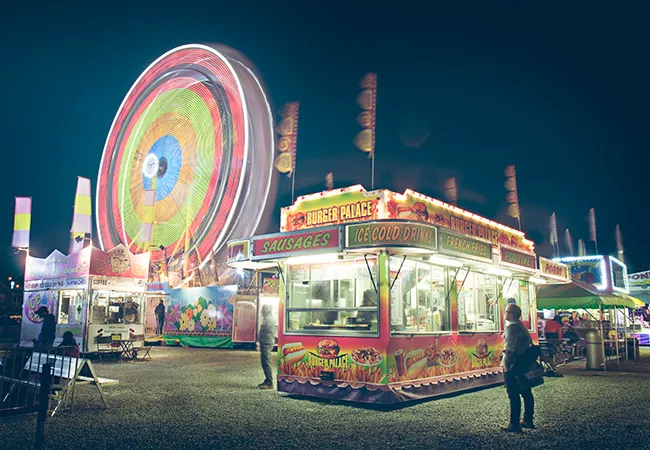 It always rains when Bill Lynch comes to town.
Now, Bill Lynch himself—king of the midway, beloved man of the carnival, he who built a family fun-time empire from the shores of McNabs Island—has been dead since 1972. "Bill Lynch" (or "the fair," possibly "the carnival," never "the midway"), then, is short-hand for any fair at all, in that colloquial Maritime way "a Sobeys bag" means "any plastic bag, even when you can plainly see a competing logo." Whether you're in downtown Dartmouth or at the Provincial Exhibition in Truro, that cavalcade of rides, unwinnable giant stuffed animals and candy apples—the focal point is always a Ferris wheel—is "the Bill Lynch fair," even though there are multiple midway companies operating in the region and again, Bill Lynch has been dead for 45 years. So it goes, around here.
So, too, goes the suggestion that Bill Lynch—the actual man, and by extension, his operation—was at some point cursed and that's why whenever the carnival comes to town, it rains. Surely it rains a lot anyway, but Lynch rain is not your casual spit, it's not lazy showers against a light-grey background—it's strong, torrential, Killing-level water, relentless and endless-feeling. And you can confirm it easily by driving by the sleeping carnival—the Halifax waterfront, Cole Harbour, Sackville, Windsor and Lawrencetown are all stops this summer—a cluster of fading monsters napping in the spray, or perhaps blinking wearily despite the weather, hoping for guests. "There it is," you'll say. "I knew it."
There are two leading theories about the curse. One is, naturally, racist as all get out—a spurned Mi'kmaq woman and that's as far as we need to go on that one. The other is halfway there: A carnival worker died on the job, so another carnival worker declared that the sky must weep in his honour every time the fair set up in a new place. This is almost believable except who exactly was this random man with the power to control the weather just by saying it out loud? (Another version of the theory has him writing it down; the same skeptical logic applies.)
Rather than sit on this pair of subpar ideas —and in an attempt to flush some infamously tight-lipped and loyal Lynch historians out of hiding, whether in correction, defense or confirmation—here are three other theories about why it rains when Bill Lynch comes to town.
1. Revenge of the tides Bill Lynch started out on McNabs, where he lived, with just a merry-go-round in 1920, eventually adding a Ferris wheel. He brought the show to the mainland in 1929 and over the next 25 years built up a huge operation featuring carnival rides, games and a sideshow. It needed 27 train cars just to get around. But what of that little island in the harbour, the one that once hosted families having their best days together, amazed by the dual miracle of technology and science? What of the sea that carried those families to that place, and back to their homes at the end of the day? The sea that provided a beautiful, infinite backdrop to these feats of magic being provided by Lynch to the citizens of Halifax? Outgrown, then cast aside for what—a big ol' smoke-spewing clunky train? Not on this ocean's watch—it rains to remind us of its humble beginnings surrounded by water, the conduit and the surrounder.
2. Any old curse-r will do That leading racist theory, while offensive and outdated, does hold a kernel of possibility, considering there are all kinds of people with cursing abilities (cursability). Perhaps it was a biblical curse, in the style of the time—the sideshow alone was an affront to god types, exploiting the likes of The World's Fattest Couple and a pair of conjoined twins. (Lynch allowed disabled children to ride for free, but atonement is in the eye of the affronted.) Maybe one of the fairs displaced a local coven in New Brunswick, where that kind of thing can go undiscovered for decades, and those ladies brought their revenge from the skies. Or maybe one of the games-runners swindled a very attuned woman, on the worst day of her period, while there was a full moon in Scorpio.
3. Requiem for the lovelorn The carnival is still considered a romantic place to go. You can impress your date by winning them something, share cotton candy, walk around in the flattering neon glow. It's got a nostalgic, Hollywood vibe—there are a million movies with Ferris-wheel kissing scenes. "Oh we're sitting knees together in this glorified bus seat, nothing holding us in here but gravity and a dubious metal bar, high above the ground, colourful lights flickering." If you're not kissing up here, you're never doing it. Imagine being denied in this situation, especially if you lean in while you're stopped at the top! Those remaining minutes would feel like years. Therefore the storm is not a curse, but a tribute—each raindrop is a tear shed for those rejected on the Ferris wheel.
Got your own theory (or knowledge)? Share at lynchcurse@thecoast.ca