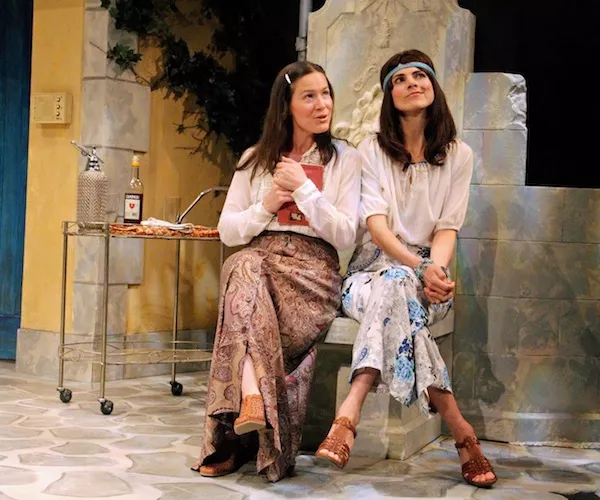 The Neptune Theatre production of The Comedy of Errors is set on a Greek Island in 1974, and according to Mauralea Austin, the details are just right.
"I travelled in Greece in the '70s," recalls Austin, who is playing the parts of the gruff maid Nell and the upright Abbess Amelia. "I lived in those clothes. I drank in those taverns. The place and time have been captured perfectly." The actors are decked out in a riot of bell bottoms, pleather jackets, polyester pantsuits and peasant skirts. Both men and women sport long, luxurious locks. The action, which centres on two sets of twins separated at birth and caught up in a web of mistaken identity, takes place in a town square awash in mediterranean blue and antiqued yellows in front of the village church. A fountain bubbles, the church bell rings. The scene opens in early morning as the town is called to life with sound of a bouzouki.
The music is woven throughout the show by Evagelos Lyberopoulos and Ciarán MacGillivray. The pair open the second act with a kind of musical duel between Lyberopoulos' Greek bouzouki and MacGillivray's Irish version. "The effect is magical," says Austin.
"George [Pothidas, Neptune's artistic director and The Comedy of Errors' director] has created a whole world on the stage," says MacGillivray, a recent graduate of Neptune's Pre-Professional Training Program. "And I think the music is a really important part of what brings it to life."
The Comedy of Errors marks MacGillivray first foray onto Neptune's mainstage, but not the first time he's worked with Austin. "Mauralea was my teacher for "voice for acting". I'm feeling some pressure to be sure I'm putting what she taught me into this production," he says with a smile. "I'm so proud," Austin replies. "For me, there's nothing better than seeing one of my students on the big stage at Neptune."
When asked what they think audiences will like best about this version of The Comedy of Errors, both Austin and MacGillivray cite its accessibility. "People are going to appreciate how approachable this play is. The actors bring out so many colours and variations in it," says MacGillivray, "I was amazed how much I got from it on my first read. It's very accessible." Austin agrees. "Shakespeare can be enjoyed by everyone. This is essentially a simple story filled with complications. The humour is so accessible in that it's broad, bawdy and physical. The language is gorgeous. I predict people will be laughing and dancing on their way out of the theatre."