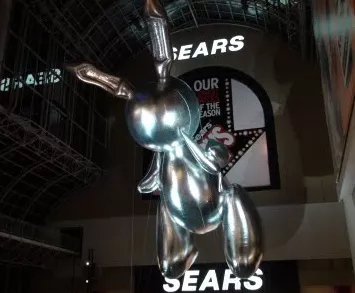 Jeff Koons' Rabbit Balloon, in the Eaton Centre
When I go to Toronto, I binge on cheap noodles, beer, burritos and art, so for me, Nuit Blanche, the city's all-night contemporary art festival, is an art mess dream come true.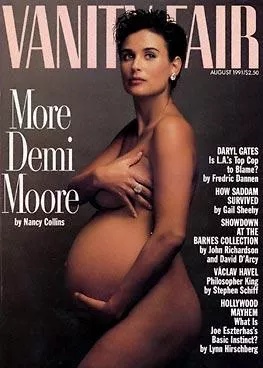 Wisely, I decided to visit the galleries during the day, guessing that there was no way you could get close to the Vanity Fair photos (an extensive collection of iconic photography from the mag) at the ROM with millions of other art-lovers, or observe all the nuances of the paper fish-penises created & worn by Isabella Rossellini for her bizarro Green Porno videos and installation (my favourite moment: a little girl looking up a paper whale, and going 'ewwwwwww' at its rather large vah-jay-jay, and then watching her mom try to explain it all away).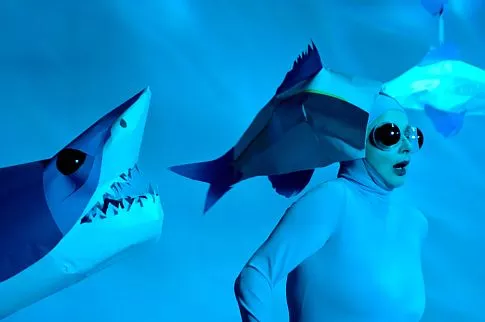 I went to MOCCA to see Arena: Road Fame, a smaller version of the AGNS' hockey and art exhibition. The original show at the AGNS was so huge, it was nice to see this show pared down, where the pieces has room to breathe. I wouldn't call it a "best of" necessarily (otherwise there should have been Lisa Lipton's knitted hockey gear), but it's a tight show, and it was the first time I saw Graeme Patterson's sculpture and stop-motion animation of Darryl Sittler's 1976 10-point game. I loved the little Lanny McDonald, with his bright-red 'stache.
My last stop before Nuit Blanche was the Power Plant, and Candice Breitz's exhibition Same Same. Breitz does these tightly edited multi-channeled video pieces which use pop music and culture and film. She strips down Hollywood to its barest, extracting archetypes and recontextualizing mass culture. I got weirdly weepy sitting alone in a dark room with "Legend (A Portrait of Bob Marley)," a 30-channel video of people singing along to the Bob Marley album, stumbling over words and adding their own unique moves. Energized and full of art-love, I went next door to York Quay, where my love was popped, thanks to a sketchy, cranked-out dude who told me there were "more really great videos" down an abandoned hall, and a sweatshirted sweaty dude who declared to his wife that "galleries are bullshit." Luckily, a lovely gallery attendant offered me a swing set—the show was about the idea of play—and all was well again.
from Candice Breitz's Same Same
Then it was off to Nuit Blanche, scarf on neck, extra socks and supplies in bag. Half the fun, like any good vacation, is planning out your routes ahead of time, and the festival has really great apps for navigation, and a well-done paper guide for those who are iPhone-deprived.
We started in Zone B, where artists have taken over the financial district! Mahaha. What an incredible exchange of power as thousands of people who would never be in this 'hood gain control over the space, thanks to Shawna Dempsey and Lorri Millan's Wild Ride. The smell of cotton candy wafted through the crowds, lined up for a ride on the Avalanche and the giant slide. It looked like a country fair.
Best of all: the carnies are all downsized Bay Street workers dressed in suits.

Iain Baxter& organized a celebrity Monopoly game with real money: there was a dealer passing out real hundred-dollar bills. Funny to watch under the stock exchange ticker. But nothing seems to be happening, someone is missing...

Oh hi, K-OS
Eventually we made our way over to Queen Street West, which, at 2am, might as well have been early afternoon. So many people.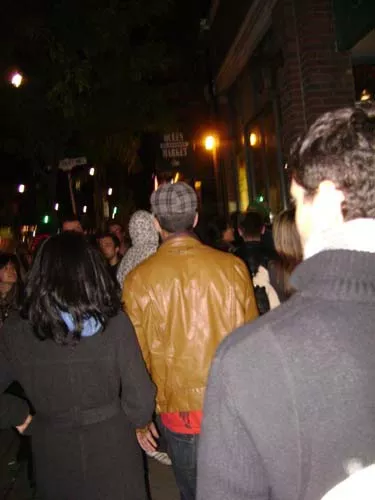 But we were on a sugary mission: to bounce on a cake. Performance artist Cathy Gordon built a 10-foot-tall, by 25-foot-wide wedding cake, with a trampoline in the top. Projected on the cake are stories of divorce (celebrating her own and others), and there are presents and a DJ! That's the way a marriage should fall apart.
After signing a waiver (no drink, no drug), you take the stairs to the top of cake, where a bride waits for you. And you jump, like an overexcited wedding topper!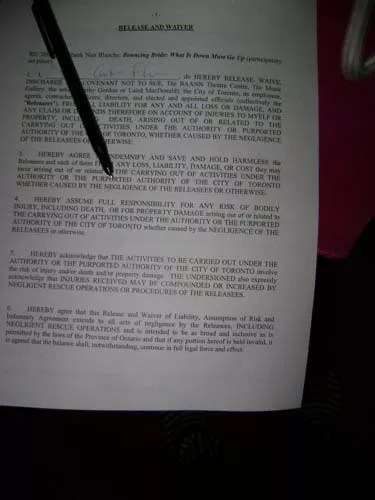 I had way too many questions. Next time: less talking, higher jumping.
It was around this time we discovered the tenor of the event started changing. Are we at a rave? is beat-making cupcake dude art?
Earlier, at a party filled with lots of artists, designers and media types, no one else was heading out. in fact, they thought we were nuts for heading into the crowds. But cupcake kids made me feel kinda like I was nuts too. Spectacle vs. art and all that. But then we found people quietly watching this group of dancers, a 12-hour piece choreographed by Susie Burpee. So obviously everyone found something they loved.
This is city hall at 4:30am. D.A. Therrien's 4 Letter Word Machine lit up the sky. It makes codes, words and DNA sequences. Not sure what this sequence means, and I was distracted by the guy mooning.
Nathan Phillips Square in the wee hours
Everywhere you turned, there were food carts. Under the city's new food program you could get Thai
Ethiopian (East African), South & Central Asian, Afghani / Central Asian, Mexican and Greek food. I saw roasted corn carts, organic burgers and best of all, old-school Tiny Tom Donuts. Of course people started using the city as their own dumping ground, but when I went back the next day, it was as if no one had ever been before.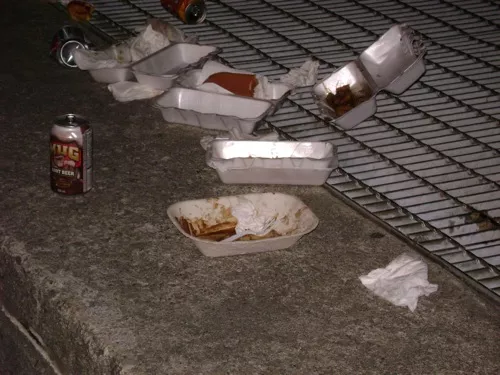 Trying to get home at about 5am was no problem for us, but certain streetcars lines weren't running very frequently, and apparently one of the major routes had its power cut, which made for a lot of angry Torontonian Twitters. I had purchased a $9 all-day/night pass and it served me well. As did my pillow.
Summing up a crazy night, here are my Nuit Blanche Yes and No piles...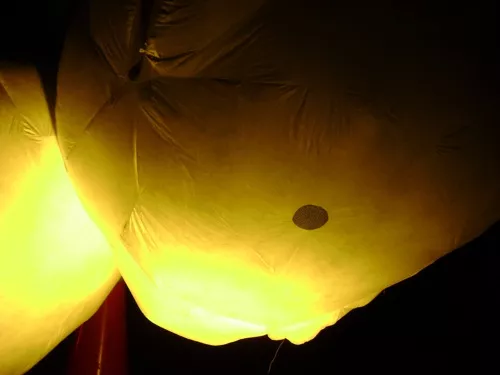 —Line-ups: I really wanted to see Gordon Monahan (who was here for Sound Bytes) at Massey Hall, where performers played 30-metre-long piano strings, stretched across the interior, but from my calculation, at 4:30am, the sun would have come up first. The line stretched around the block. It would be great for some of the popular events to be open for an extended time. I don't know how you solve this one.
—A bad case of FOMO: My fear of missing out makes these events so stressful! There is no way you could see all of this festival.
—Camera face: After awhile you start noticing that people aren't engaging with each other or art: they're too busy behind their phone/camera, which is why the Witches' Cradles (where you're put into a sensory-deprived pod and hung from a tree), is such an amazing idea.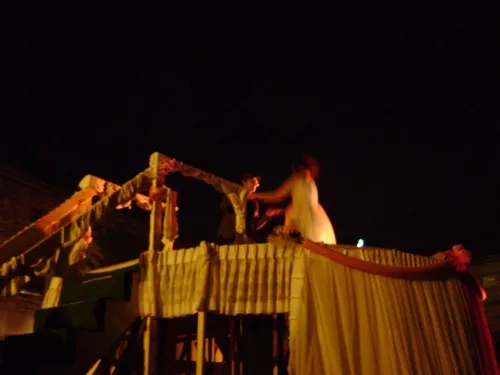 —People!: so many people on the street out to see art! Walking around at 5am, like it's nothing. Even if it got staggeringly messy at points, it just proves that we're all looking for some sort of communal experience.
—The Cost: an event like this really democratizes the city—anyone can go see art, eat sausages with Jamie Kennedy, take a ride down a giant slide, and it's free!
—Nocturne: Now I'm really excited for our own festival, which happens next Saturday night.